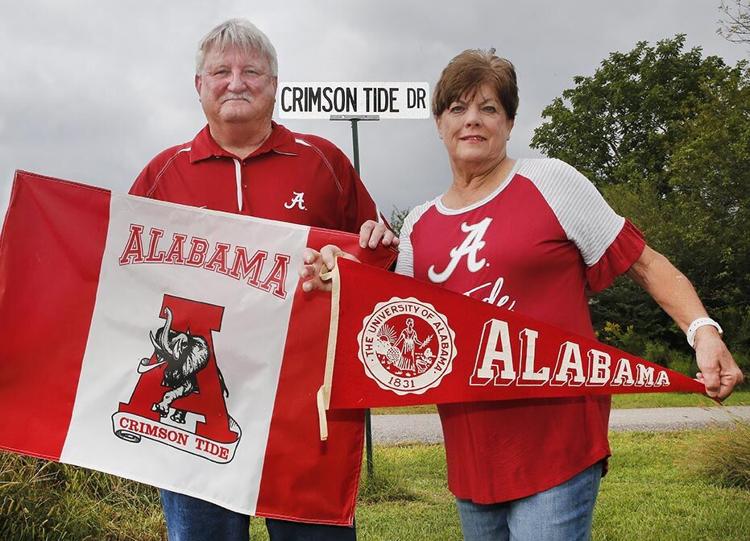 Teddy Grogan is one of those University of Alabama football fans you hear about but rarely meet. His bonafides jingle like Army medals: a Crimson Tide fan since JFK, a 1973 graduate of the university, a longtime Tide Pride member, a season-ticket holder. He hasn't missed an Alabama-Tennessee game in nearly 50 years. Bandwagon Bama he is not.
He and his wife, Lynn, reside in a quiet space near Piedmont, close to cropland and the Chief Ladiga Trail. In the mid-1980s, Calhoun County's switch to an enhanced-911 emergency system allowed him to give the short, horseshoe-shaped road in front of his home a proper name.   
He christened it Crimson Tide Drive.
"We had the majority," Grogan says, because his family owned two of the three houses on the road. The third family didn't object.
"They said, 'Great,'" Grogan says, and he chuckles. "They must have been Alabama fans, too."
Welcome to the 2020 college football season — the Southeastern Conference football season — that's awkward (too short) and flawed (thanks, COVID-19) and controversial (for some). But it is here, imperfect as it is. And it introduces us to people like Teddy Grogan, Southerners who literally wear their adoration for, if not obsession with, their universities for all to see.
Or, in Grogan's case, drive on.
Northern Calhoun County is Grogan's lifelong home, and it's from there that his Tide pride blossomed. In the early 1960s, just as Grogan began paying attention to these things, three Piedmont boys, Carlton Rankin, Thomas Bible and Jim Simmons, starred at Alabama. Grogan, a longtime public school teacher who now is grand secretary of the Grand Lodge of Alabama Masons, remembers them still. "They were my childhood heroes," he says. 
His father, Theodore Roosevelt Grogan, also cheered for Alabama. (TR was running for president the year his dad was born, 1912, which likely explains the name; Grogan is Theodore Roosevelt Grogan Jr., but prefers to be called Teddy.) His dad's preference for UA was stone-cold solid.
"So there was no other choice for me where I wanted to go to school," Grogan said. Tuscaloosa, it was.
Which in a narrative sense returns us to Crimson Tide Drive, a place so quirky that it has to be unique, or at least an outlier anywhere but Tuscaloosa. But it's not.
Near Anniston Army Depot is a Roll Tide Road, minuscule and hard to find. And Grogan's Crimson Tide Drive isn't the only Crimson Tide Drive in Alabama. There's one in Atmore. And in Grove Hill. And in Phil Campbell. And in Fruitdale, too. 
There's another Roll Tide Road in Blount County, and Roll Tide Drives in Talladega, Murphy, N.C., and Milton, Fla. And if you're a fan of a different persuasion, be forewarned that every War Eagle Drive and War Eagle Road in the United States may not reference Auburn University, but, gosh, they are ubiquitous, even outside of Lee County. 
In Alabama, there are War Eagle Drives in Guntersville, Equality, Bessemer and Phenix City, plus ones in Crossville, Tenn., Colorado Springs, Colo., and near the Colorado River in western Arizona. And click on Google Maps, because there are War Eagle Roads in Idaho, Arkansas and Georgia, and a War Eagle Boulevard not far from Cape Canaveral in Florida.
There are hardships with this level of fandom, however.
"The hardest thing is keeping that street sign," Grogan says. "People steal them."
Since 2003, Calhoun County Administrator Mark Tyner says the county has replaced the Crimson Tide Drive street signs 13 times.
"I don't know if the county buys them in bulk or not," Grogan said.
 It's not as if the county has given up. "They've tried everything," Grogan said. County workers installed the signs on a taller post. That didn't work. County workers tried protective fencing. That didn't work.
Given Alabama football's usual path — winning, and lots of it — Grogan is convinced the signs are pilfered more frequently during national championship seasons. Which politely indicts Nick Saban, who's led Alabama to five national titles but isn't billed by the county for those missing signs, though the Tide's coach surely could afford it.
If he's troubled by all the thievery, Grogan doesn't let on. He picked the road's name, he loves his university and its football team, and the signs always get replaced. If that's a cross to bear, it's not much of one.
"It's been quite a great conversation piece through the years when you tell people where you live," he said.