For the past year and a half, Tamara Woodard has shared her Piedmont home with her grown daughter, her son-in-law, and her two grandkids, an arrangement that required some creative use of space.
"We turned our living room into a dining room," Woodard said.
That living arrangement ended Saturday in the best possible way. Elizabeth and Jeremy Jester and their sons Wyatt and Jackson are now owners of a 1,300-square-foot house on Piedmont's Hill Avenue, not far from Woodard's place.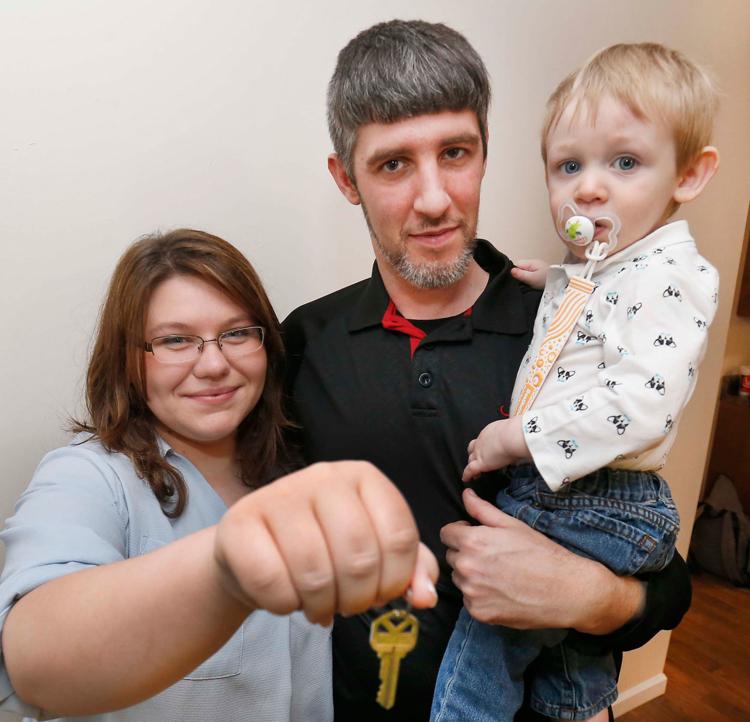 It's the latest project by Habitat for Humanity of Calhoun County, which has built 156 houses in the county since 1993. It's also the first home built from the ground up by the local chapter's Veterans Build program, an effort to reach out to former service members both as potential clients and potential volunteers. That program started with the national Habitat organization in 2013, not long after the U.S. withdrew the bulk of its troops from Iraq. 
"With veterans coming back from the war, we were expecting a need for housing, and we wanted to give veterans a chance to volunteer, and even give them some job opportunities," said Amanda Pinson, director of the local Habitat branch. 
Habitat gives a chance at home ownership to people who couldn't otherwise afford it by employing volunteers to do much of the construction work. Clients get a house at a lower-than-usual cost — Pinson said the Hill Avenue house cost about $75,000 — and are required to put in "sweat equity" by working on the construction site themselves. 
New homeowner Jeremy Jester said he did much of the wiring on his new house. Jester is an Army reservist, and maintaining electrical generators is part of his military job.
"To be quite honest, I'm looking forward to sleeping," Jester said, while holding his sleepy 20-month-old son Jackson. The new house is on more or less an open floor plan. Jester said Jackson and Wyatt, 5, will share a room on one end of the house with their parents on the other. 
Elizabeth Jester said the family was living in a small apartment when she first happened across a mention of the Veterans Build program online.
"Facebook," she said. "A friend of mine said they were looking for military people, so why don't you go down there and apply?"
Pinson, the Habitat director, said that the group's call has mostly elicted responses from older veterans. She said the group has done roof replacements for two veterans and has built a wheelchair ramp for a veteran in Golden Springs. 
Asked if Habitat's work has been affected by those factors, Pinson said the Jesters' house, completed for around $75,000, had already been appraised at $135,000. She said the group actually takes out a second mortgage on every house, a tool to discourage homeowners from quickly re-selling for a profit in tight housing markets. 
But the Jesters gave no indication Saturday that they intend to leave their new house any time soon. At least, until their kids grow up and move away.
"I've got two young boys and I'm trying to enjoy life with them while I have a chance," he said.