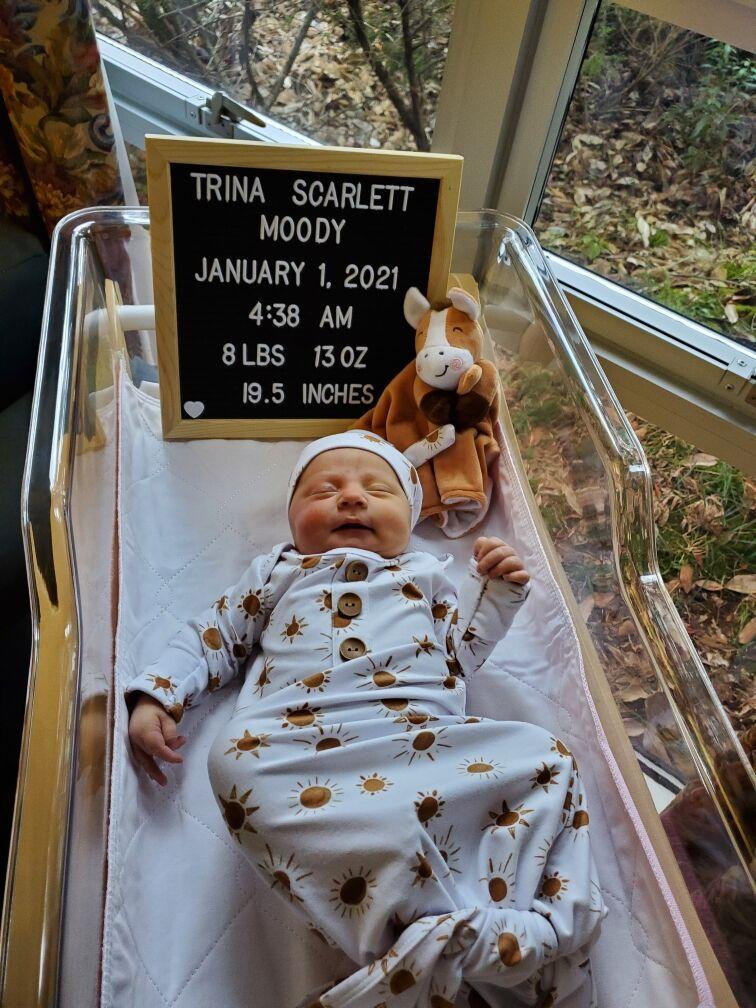 For 31 hours, stretched across three days and the calendar's turn from one year to the next, Trina Scarlett Moody made her parents wait, which her family may remember as either a childhood tantrum or a stroke of sentimental genius. 
The Moodys, Charlotte and Zach, arrived at Regional Medical Center on Dec. 30, hoping to greet their first child as a welcomed coda to a very unwelcoming 2020. 
Charlotte's induced labor began that night at 9:15. Then, nothing.
Thursday became Friday. Charlotte was adamant about refusing an epidural anesthetic to ease the pain. But on New Year's Eve, her second night at RMC, she gave in. The jig was up. "I was so exhausted," she said, "but after 24 hours I knew I wouldn't be able to make it any further."
Plus, Trina Scarlett "had other plans," Charlotte said. She delayed her parents' celebration, prolonged her mom's labor, and — here's the funny part — submarined her family's chance to earn a 2020 child tax deduction.
Hours later, at 4:38 a.m. on New Year's Day, Trina Scarlett became the first baby born in 2021 at RMC and likely the first arrival in Calhoun County this year. Turns out her tardiness, or stubbornness, protected her from being born in a year the world wants to forget.
Trina Scarlett weighed in at 8 pounds, 13 ounces, measured 19 ½ inches, and made her mom work harder than expected. Charlotte calls her "a tough little cookie." No grudges, I guess.
"I think it's really special because we closed out that awful year of 2020 and on the first day of 2021 (we) have such a blessing come into our life," Charlotte said. "It shined some light on the new year … It's a good way to start 2021 for us."
Trina Scarlett and Anniston are now permanently connected, a child and the city of her birth. Let's welcome her to the city's family, a brief respite from the awfulness of the pandemic and the death it's causing. But how she and her parents ended up at RMC isn't as straight-forward as you might expect.
Charlotte and Zach are Georgians. They're both 27. She's a Navy brat but considers Franklin, Ga., her childhood home. (Franklin is about 22 miles east of Roanoke.) Zach grew up in Newnan. They married six years ago. 
They were eager for the "farm life," acres of land and quiet surroundings. They'd like to buy a few cows, or maybe more. After getting married they bought a place in Wedowee, down in Randolph County. Their '70s-era house teemed with termites and suffered from water damage, so they lived in a trailer for four years while they rebuilt it.
When they learned last spring that Charlotte was pregnant, the Moodys began researching obstetricians on both sides of the Alabama-Georgia state line. Charlotte zeroed in on Dr. Joshua Johannson of Anniston-based Cheaha Women's Health and Wellness. 
The choice and the timing — a pregnancy during a pandemic — didn't make for easy sledding. 
A 55-minute drive separated Johannson's Anniston practice from the Moodys' Wedowee home. Zach couldn't accompany Charlotte to doctor's appointments because of Alabama's COVID-19 regulations. (The only exception was Charlotte's 20th-week ultrasound.) And Charlotte was hardly knowledgeable about Anniston.
That unfamiliarity didn't last, though.
"Now that I've had to come up there so many times for doctor's appointments, I love it up there," she said. "I'm like, 'We're totally switching all of our shopping and all that stuff to Anniston as much as possible.'"
All of this makes Trina Scarlett a unique little girl: An Anniston-born Wedowee resident whose parents are Georgia transplants and die-hard University of Georgia football fans. Not to mention that she avoided having a 2020 birthday by a few stubborn hours of labor. She'll forever be a '21 kid, which should mean something. 
Trina Scarlett won't remember any of this, obviously. But she'll know because Charlotte will tell her, because it's important she understands this sliver of her story. "Even though she was born in 2021," Charlotte said, "she was conceived in 2020 during all of this craziness."
And, if you're wondering, Trina Scarlett may be an Alabamian by birth, but our allegiances aren't automatically determined by state lines. "She's definitely going to be a Georgia fan if my husband has anything to do with it," Charlotte said. "If she chooses Alabama or Auburn, that will be interesting."