OXFORD — Saks resident Debbie Ramer has a pretty good idea of what she'll do once the immunity from her second shot of COVID-19 vaccine kicks in.
"My husband just asked me out on a date in 14 days, when I'm immune," Ramer said. "I'm thinking I'll probably say yes."
Ramer was one of hundreds of people who showed up at the Oxford Civic Center Monday for a second dose of the COVID-19 vaccine. She was among the 5,000 people in Calhoun County who got their first dose of the Moderna vaccine in a mass-vaccination event in February, and who are expected to return for a second dose this week.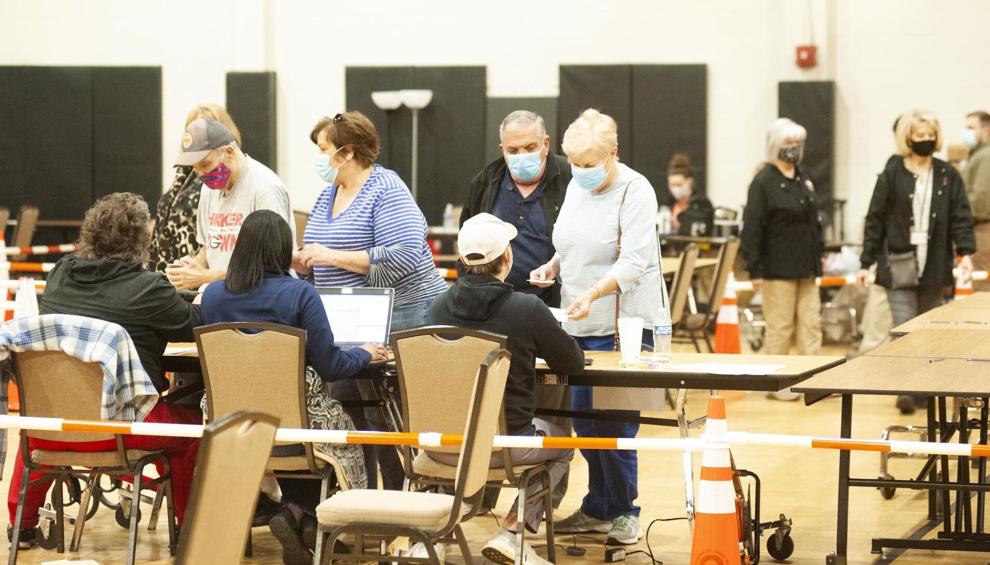 The second mass-vaccination event comes as the Centers for Disease Control and Prevention on Monday released new guidelines for social distancing behavior for people who've completed vaccination. Among other things, the CDC declared the fully vaccinated can:
— Visit other fully vaccinated people indoors without a mask.
— Visit people who aren't vaccinated, if they aren't at risk of serious complications from an infection due to advanced age or underlying conditions.
According to the CDC, there are still restrictions on what vaccinated people should do. They should:
— Wear masks in public, and in groups that include people from more than two households.
— Avoid travel.
— Avoid congregating in large and moderate-sized groups.
Those restrictions remain because it's still possible for vaccinated people to pass the virus on to others, according to health and emergency officials.
"The vaccine doesn't always keep you from getting COVID," said Myles Chamblee, acting director of the Calhoun County Emergency Management Agency. "You could get it and still be asymptomatic, but able to infect someone else."
At the end of Monday's vaccination drive, Chamblee said he hadn't yet seen the CDC recommendations. He said workers at the vaccine drive were encouraging people to keep wearing their masks despite being vaccinated.
Calhoun County Circuit Clerk Kim McCarson said she's looking forward to the change to put the mask aside. McCarson has already had the virus, and she lost her father, County Commissioner Eli Henderson, to COVID-19 last year as well. She was in line for her second shot not long before noon Monday.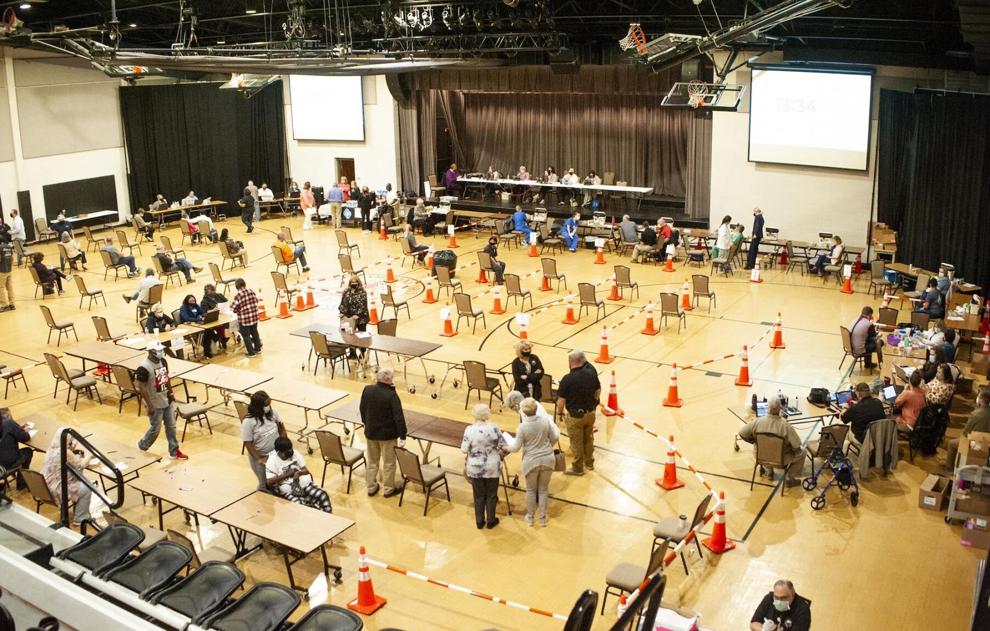 "It's very scary," she said of the illness. "I thought I wasn't going to be able to breathe."
McCarson said she intends to keep wearing a mask in public until April 9, when the statewide public health order requiring mask use expires. But she said she hopes she and her co-workers at the county courthouse will be able to take them off after that.
"It's made work a lot harder," she said. "It's a lot harder to hear people. I feel like we're yelling all the time and we still can't hear each other."
Joann Turner of Oxford said she wants to go on a trip, perhaps to Gatlinburg, when it's possible to do so. She arrived at the vaccination site less than an hour after the CDC announced its new rules. She said she wasn't sure she was clear on all the complexities of those rules, though she expected to continue using a mask most of the time.
"First of all, I want to see what happens after this spring break," she said.
The Alabama Department of Public Health on Monday released a statement warning Alabamians that travel to spring break destinations, particularly those frequented by people from other parts of the country, could facilitate the spread of new variants of the virus.
The spring break warning was one cloud in an otherwise relatively sunny day of coronavirus news. Hospitalizations for the virus statewide were down to levels not seen since last summer, according to ADPH numbers. The pace of deaths from the virus has slowed in recent days, though 10,150 people in the state have died since the pandemic began.
For some, getting access to a vaccine remains a frustrating challenge. George and Toni Glass of Coldwater showed up at Monday's vaccination site even though neither had received a first dose. Both were looking for someone who could help them get that dose.
"We don't have access to the internet," Toni Glass said. "It makes it difficult to get an appointment."
George Glass said that when he does get a shot, he hopes it's with the newly approved Johnson & Johnson vaccine, which requires only one dose.
A final dose is a moment of personal liberation for some. Debbie Ramer, the Saks resident, said it particularly pained her to not be able to care for a granddaughter who fell ill with COVID last year. A second shot will bring an end to all that.
"It's a very big day," she said.