OXFORD -- The somber, poignant moment when wreaths are laid in memory of others creates a sense of appreciation for those who make the final sacrifice. Such was the moment in Oxford Saturday when Jacksonville Fire Marshal Chris Collins and Sgt. Hunter Johnson of the Oxford Police Department placed a wreath of red, white and blue onto the waters of the reflection pond at the Oxford War Memorial Garden. The same breeze that unfurled the giant American flag hanging above the 9/11 Memorial Service blew the wreath toward the center of the pond.
The laying of the wreath followed a message of welcome by Anniston Fire Chief Jeff Waldrep, presentation of the colors by members of the Oxford firefighters and police officers, and the singing of the "Star-Spangled" Banner by Robert Sparks, an Oxford fireman.
The Rev. Chris Spurlin, president of the Oxford City Council, led a prayer, and Mayor Alton Craft told the 70 or so gathered for the service that one evil man wanted to see Americans fleeing, but he learned that Americans showed acts of bravery.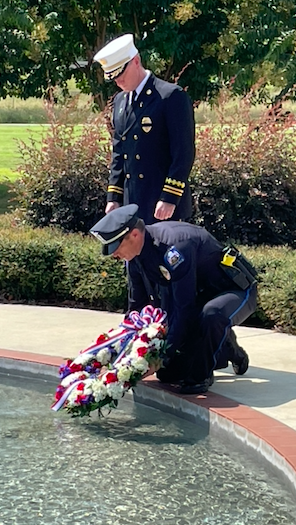 "We showed we would not run and hide," Craft said.  
He shared how he had watched a documentary in which a unit of firefighters on the 33rd floor of the World Trade Center calmed those trying to evacuate the building.
"The firefighters proceeded up through the floors saying, 'This way, this way, this way,'" Craft said.  "It is against the human spirit to not get out, but the firefighters kept going up toward their death."
After seeing the documentary, Craft once asked a group of first responders why the firefighters would have reacted that way. They unanimously said the goal is always to save one more life. He pointed to different groups of responders at the service and said, "Thank you, thank you and thank you."
Another moving moment was when Lt. Rodney Ball rang a bell nine times to honor the tradition that occurs when a comrade's duty is completed.
Spurlin, when asked what Sept. 11 means to him, answered without hesitation.
"It is freedom," he said. "It is sacrifice, not only are lives taken, but first responders' lives are given to save others. Freedom comes with a price."