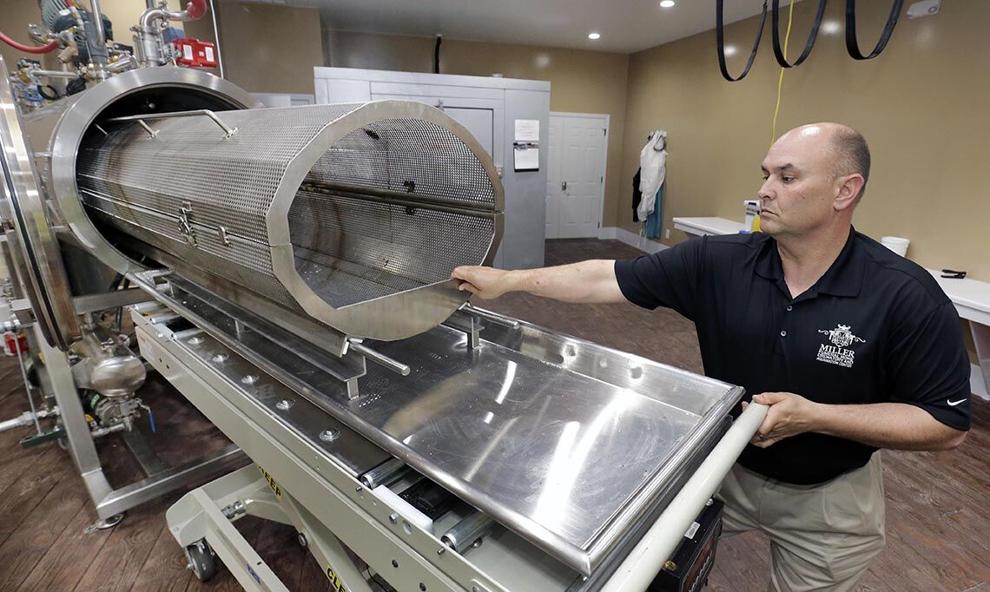 OXFORD — From the body's point of view, death invites the decay that follows life, the molecular destruction of flesh and blood. Oxygen-deprived cells perish. Putrefaction follows. Skin shrinks. Rigor mortis stiffens limbs. Bacteria digests much of what's left.
Unless a human — a living one, obviously — chooses a different disposition.
In a majority of states, the options for families of the deceased are fairly standard: In-ground burials and mausoleum interments preserve corpses; flame cremations incinerate them. But one of the mortuary industry's newest options —  aquamation, a water-based form of cremation — has found its initial Alabama adherent at Miller Funeral Home. 
Owner Patrick Miller is so sold on the process that this spring he installed the state's first $250,000 aquamation machine in a new facility behind the funeral home's main building on Hamric Drive. His trepidation over the expense or the public's response to another form of disposition is non-existent.
"No, no, I liked it," he said. "If I had my choice now between flame (cremation) and aquamation, after seeing it, it would be aquamation. It's a cleaner, gentler process."
The process itself isn't new. Amos Herbert Hobson, of Middlesex, England, patented alkaline hydrolysis in the United States in 1888 for the destruction of large animal carcasses, particularly those that were diseased. Today it remains essentially as it was when Hobson filed for his patent: Bodies are slowly dissolved in heated water mixed with a chemical solution. When finished, only bones remain, which can be buried or turned into ash. 
Veterinarians began using aquamation in the 20th century. But two decades ago the process' popularity kickstarted a slow movement to include it among options available to funeral homes. Minnesota became the first state to legalize alkaline hydrolysis in 2003. Today, 21 states allow it, including Alabama.
"Actually, we were kind of surprised that Mr. Miller has done the number of aquamations that he has," said Charles M. Perine, executive director of the state board, who isn't aware of any other Alabama funeral directors with immediate plans to offer aquamation to their clients. "Honestly and truly, if you had asked me this a year ago, I would have said it would never have taken off in Alabama. Alabama tends to be a more traditional state."
Photos: Miller Funeral Home Aquamation Machine
Photos of the Miller Funeral Home aquamation machine.
'So glad this is an option'
Miller agrees that the prevalence of conservative values and strong Christian beliefs among his clients is often illustrated in families' burial choices. Traditional in-ground burials in which bodies are embalmed have long been the state's dominant burial option. 
Flame cremation, in which bodies are incinerated into ash at a fraction of the cost of in-ground burials, is now the prevalent choice in America (53.8 percent), according to data from the Cremation Association of North America. Most Southern states, though, have lower cremation rates than states in the West and Northeast; 29.56 percent of Alabama burials were cremations in 2017. But Southern states also are among those with the highest rates of acceleration in cremation use.
Aquamation provides families an option that essentially mixes the lower cost and quick disposition of flame cremation with a process that doesn't use fossil fuels to incinerate bodies and doesn't bury corpses embalmed with toxic chemicals.
"There are some religions that still see it as a form of cremation and are against it," said Miller, who is initially offering the service at half the cost (starting at $1,295) of flame cremation. When families inquire about cremation, "We let you know that we have two options. You can do the normal flame cremation or we have the cremation by water now. We just explain the difference between the two. This … is a softer, gentler process."
Thus far, that data doesn't seem to be the overriding selling point for families that choose aquamation, Miller said. 
"We've had one other person who said, 'No, Daddy was scared of water.' And we've had other folks saying, 'I was having a hard time with Momma wanting to be cremated. I just couldn't burn Momma, I'm so glad this is an option now.'"
To aquamate human remains, Miller measures scoops of potassium hydroxide and sodium hydroxide, based on body weight, and pours them into a stainless-steel vessel that resembles a long tube. Bodies are placed into a cylindrical "cage" that is slid into the vessel, which is then tilted to roughly 45 degrees.
Miller programs the machine's computer with the body's measurements, which determine how much water fills the vessel. (On average, it's about 150 gallons per use, Miller said. Bodies can weigh as much as 500 pounds.) The water is then heated to 300 degrees and constantly stirred by a motor. All soft tissue is dissolved. The process takes about seven hours.
When finished, the water — which Miller compared to Coca-Cola in color — is returned to Oxford's sewer system after it's treated with carbon dioxide to lower its pH level back to neutral, per city guidelines.
Bio-Response Systems is quick to dispel the notion that aquamation dissolves bodies in acid, explaining that the water-and-alkali process "produces a sterile solution of amino acids, sugars, nutrients, salts and soap in a water solution. These are byproducts of decomposition."  
Bones, which are not dissolved in the process, are removed, dried and processed into ash, if that's the family's desire. Metal from tooth fillings, pacemakers or orthopedic surgeries is removed and recycled.
Miller isn't sure if aquamation will become as popular as in-ground burials or flame cremation in Alabama, but he is convinced it's good for his clients to have the option.
"Most of them, once you tell folks about the process and how it works, most of them are like, 'Oh, yeah, we're good,'" he said.