The tornado that killed five people in Calhoun County Thursday was at least a strong EF-2, with winds around 135 mph, a National Weather Service forecaster said Friday.
"I'd say at a minimum it was a half-mile wide," said Chris Darden, meteorologist in charge at the National Weather Service office in Calera.
Darden joined local emergency management officials in Jacksonville Friday for a press conference on the storm that struck Ohatchee and Wellington Thursday, part of a wave of storms across the state. Nowhere was the tornado more deadly than in Calhoun County, but local officials are still struggling to measure the extent of the damage. 
Darden was in Calhoun County as part of the weather service's effort to measure the storm's strength — something that's done by looking at the damage on the ground.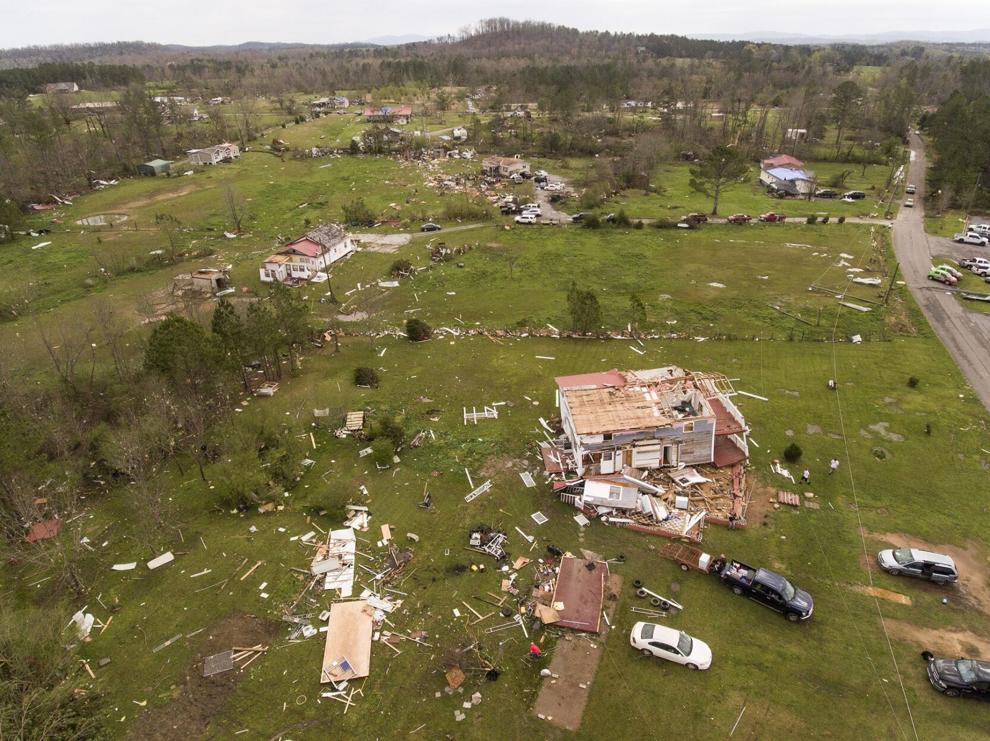 Even before that assessment was done, forecasters knew they had a strong storm on their hands. Darden said that based on his observations along Alabama 77 in Ohatchee — where Ragan Chapel Church and Precision Materials were destroyed — the storm was toward the high end of EF-2 range, able to rip the roof off a house and entirely destroy a mobile home. 
He said he was particularly interested in the damage at Precision Materials, where a metal building collapsed in the storm. That's typical of an EF-2, he said, through twisting of metal inside the building could indicate still stronger winds. 
There's still much forecasters and local officials don't know about the storm. One of the deaths in Calhoun County occurred in Wellington, near Ohatchee, and buildings were damaged through Angel and Pleasant Valley and into northern Calhoun County around Knighten's Crossroads.
Four National Weather Service assessment teams are investigating seven tornadoes that touched down in Alabama on Thursday, and they were still working their way through the Calhoun County storm, Darden said. They were still working in Ohatchee Friday, with plans to move into Webster's Chapel Friday afternoon and then to other parts of the county.
Darden said he saw what looked like EF-1 tornado damage on his drive to the EMA headquarters for the Friday press conference. He said he took Alabama 204, the road through Duke and Angel. 
It's likely the Calhoun County tornado was from the same storm that caused damage in Mississippi early Thursday — a storm that may have skipped across Alabama for around 200 miles, dropping to the ground and then lifting into the sky again.
Transition to 'recovery mode'
Calhoun County Emergency Management director Myles Chamblee said the county is seeking a disaster declaration that could help the area receive state and federal assistance. There's typically a dollar threshold of damage that must occur before emergency declarations kick in, and Chamblee said local crews are still trying to assess that damage. 
Chamblee did not have a count of the number of homes destroyed or damaged in the storm, but he did say the count of the dead was likely to remain at five. Rescue crews overnight and Friday morning checked and rechecked houses in the storm zone, and Chamblee said he was not aware of anyone still considered missing. 
"We're now transitioning to recovery mode," he said.
Along U.S. 431 near Wellington's post office Friday afternoon, dozens of electrical repair trucks were lined up with multiple cherry-pickers in the air. Alabama Power spokeswoman Jacki Lowry said Friday afternoon that 1,400 customers in the county were still without electricity.
Tornado relief fund raises $27K 
Jessica Smith of the United Way of East Alabama said that by midafternoon Friday the nonprofit had raised more than $27,000 for a Tornado Relief Fund created earlier the same day. People can donate to the fund at uweca.org/tornadorelief.
People who want to volunteer for the recovery effort can do so beginning at 8 a.m. Saturday at Oak Bowery Church on Alabama 144 in Ohatchee. 
Donations for storm victims can be dropped off at the Calhoun County Agricultural Center on Bynum-Leatherwood road in Anniston, EMA officials said. Volunteer organizations do not want donations of clothing, but are seeking bottled water, tarps, hygiene products, paper towels and items for infants.