Willie Harris Sr. and Barbara Harris were inseparable during their life together, their family said, so God knew what he was doing Thursday when they died together.
The Harrises and their daughter, Ebonique, were three of the five people killed by the tornado that ravaged parts of Ohatchee and Wellington on Thursday afternoon.
Their daughter, Latashia Harris-Ramos, said Barbara had made a quick trip to the store. When she came back to their house on Grayton Road South, Harris-Ramos said, the weather had taken a turn for the worst.
Instead of seeking shelter, Harris-Ramos said, Barbara ran straight to the house, where Willie, Ebonique and her granddaughter were.
By the time she got there, the tornado had hit.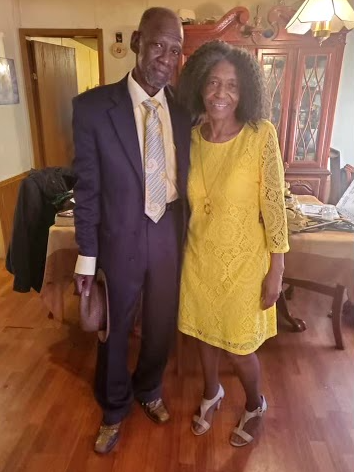 "My mama couldn't run, but she tried to," Harris-Ramos said. "The love was real. That's the kind of love you don't see every day."
One of the Harrises' sons remained Friday at Regional Medical Center in Anniston, and was set for hip surgery that afternoon.
Ebonique's daughter was at Children's Hospital in Birmingham awaiting surgery on her back.
The past 24 hours have been hard for Harris-Ramos, she said, and she is clinging to her faith.
"I know that God has a plan," she said. "He allowed it. I've got to be OK, because I trust what he does."
On Friday afternoon, dozens of family members had gathered at what was left of the Harrises' home and the homes on either side, where other relatives lived. They looked through the wreckage and comforted each other.
A triangular patch of mud, concrete and cinder blocks marked where the Harris house once stood, while the actual structure lay in a heap about 200 yards away.
Many seemed close to tears, but found themselves laughing and smiling when talking about their lost loved ones.
Harris-Ramos said her parents' marriage was one of opposites. Willie, she said, loved to laugh and sing, while Barbara was more shy and serious. 
But they made it work, she said, and would have celebrated 52 years of marriage in May.
"He said my mom was everything he wanted," she said.
Harris-Ramos was 10 years and a day older than her sister Ebonique. Despite the age gap, she said, they were close.
Ebonique was whip smart and athletic, and passed that trait down to her two children, Harris-Ramos said. 
Though Ebonique had been through a lot, her sister said, she had a mellow personality.
"She was more like my mom in that aspect," she said.
'Believers in Jesus Christ'
According to Harris-Ramos, her parents were devout members of 16th and Noble Street Church of Christ in Anniston.
"They were believers in Jesus Christ," she said.
Her father loved hunting, fishing and playing dominoes with family.
Barbara's sister, Leanna Anderson, said Barbara was the oldest girl of 11 siblings. 
"She tried always to keep calm and sweet, and she treated everyone the same," Anderson said. "Willie was the best brother-in-law anyone could ask for."
The couple had four children together.
Anderson credited Ebonique for her own children's success.
"I have three daughters," Anderson said. "With her help, all of my daughters graduated and went through college."
Ebonique spent four years in the National Guard, earned a bachelor's degree in criminal justice and worked for the Calhoun County Department of Human Resources for nearly eight years, Harris-Ramos said.
Ebonique's oldest son, Domonique Thomas, was a star football player at Ohatchee who went on to play for Union University in Kentucky. He planned to play a game Friday in his mother's memory before he comes home, Harris-Ramos said.
Her daughter is also involved in sports at Ohatchee.
'Something told me to go Sunday' 
Margelena Bowers, the Harrises' niece, said they held their family in high regard.
They were the life of the party, she said, even at their age.
She and Ebonique share a birthday — April 3 — and had grown up celebrating it together. As they grew older, they began holding separate birthday events, but had talked in recent weeks of throwing a joint celebration once again.
"We wanted to make our comeback," she said.
Bowers said she plans to get a shirt made with Ebonique's face on it for her birthday next week. 
The Harrises used to watch Bowers' children while she worked. Her uncle would pay them each a dollar to sing for him.
And she would call him on the phone to sing for him, too.
"He loved music," she said.
In 2017, Bowers said, she lost her baby. Three days after the funeral, her house flooded.
Her aunt and uncle immediately opened their home to her.
"My auntie and uncle took my whole family in and took care of us," she said.
LeAndra Bowers, another niece of the Harrises, said she saw them last Sunday, and spent the afternoon reminiscing and planning a trip to Kentucky.
She said her aunt invited her over that Saturday to give her some wipes and hand sanitizer, but she wasn't able to make it then.
"Something told me to go Sunday," she said.