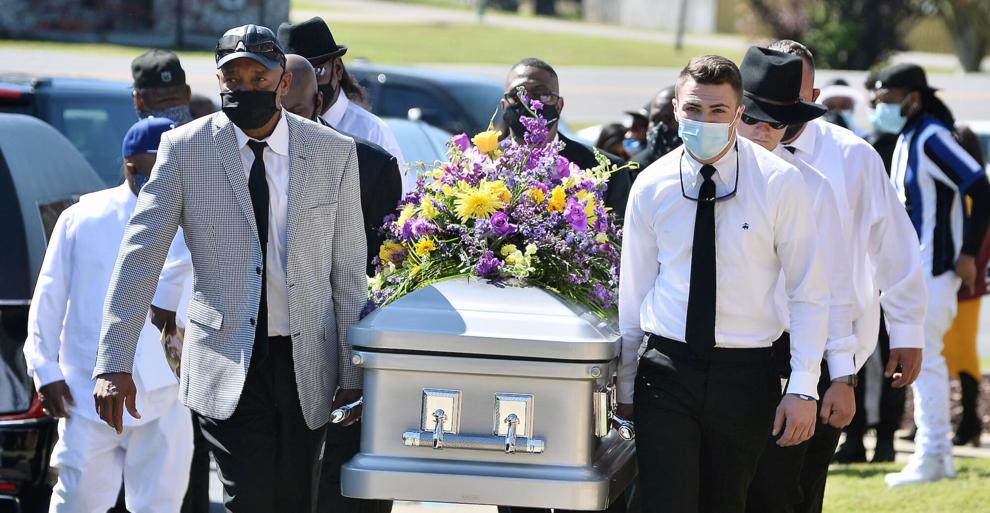 Family members, friends and co-workers held each other as they wept in front of the caskets of a family of three who were killed in a tornado that hit Ohatchee last month.
Some of them nearly collapsed, others cried "why?" as a procession of mourners walked by the caskets on Saturday afternoon at a funeral at Leatherwood Baptist Church. And many of those who looked on in the pews wept, too.
In the open caskets lay Willie Gene Harris Sr., Barbara Harris and their daughter, Ebonique. The family were three of the five people killed on March 25 when a tornado tore through buildings and lives in the Ohatchee and Wellington areas.
Large photos of each of the Harrises stood beside their caskets.
Relatives told The Star the family were at their shared home on Grayton Road South in Ohatchee when the tornado hit, sending the wooden structure nearly 200 yards backward. Of the four people inside, only Ebonique Harris' 13-year-old daughter survived.
Much of the crying ceased when Loyial Williams III, a relative of the family, led everyone on singing "Just a Little Talk With Jesus."
A funeral was held April 3 for Willie Gene Harris Sr., Barbara Harris and their daughter, Ebonique -- three members of the same family killed …
Marvin Jones, pastor of 16th and Noble Street Church of Christ in Anniston, where Willie and Barbara Harris regularly attended, urged funeral-goers to cling to their faith.
"Many times in this life, things happen," he said. "But if we put our faith in the almighty, we can overcome any difficulties, any tribulations in our life."
Eric Thomas and a Rev. Massey read scriptures from the Old and New Testaments of the Bible, and Cecelia Green sang "I Don't Know Why."
Williams, who gave the eulogy, said Jones remembered Willie Harris as a devout Christian and avid truthteller. Joyce Williams, his sister, also recounted stories of his faith.
"He said, 'my vision become so clear after I lost my sight," she said of Willie Harris, who had gone blind in recent years. "He thanked God for it."
Barbara Harris' niece, LaKeshia Bowers-Love, said her aunt had a huge heart and always made her feel safe.
"When you were hungry, she fed you. When you were naked, she clothed you. When you were hungry, she sheltered you," she said. "My auntie Bob gave what God put into her heart to give."
Brittany Stevens, a co-worker of Ebonique Harris', said she was kind and cared deeply for others. She excelled at her job as a social worker, Stevens said.
"She always told me not to fuss over her, but I did anyway, because she deserved it," she said.
Another family member, Ernesto Ramos, thanked everyone for their support of the surviving family. He also read poems written by Willie and Barbara Harris' daughter, Michelle, and by Ebonique's son, Domonique Thomas.
Hundreds lingered outside the church at the end of the two-hour service, before the hearses headed toward Oak Bowery Baptist Church in Ohatchee, where the three Harrises were laid to rest.