MONTGOMERY — The number of students in Alabama's schools is on the decline, and the trend will continue as the population ages, the state's top school official said Tuesday.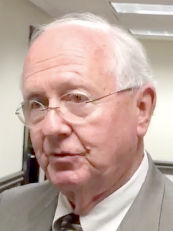 Ed Richardson, the state's interim school superintendent, spoke to lawmakers in State House hearings on the state's education budget. He asked lawmakers for an increase to the "foundation program," a state fund that spreads money across school systems to even out gaps between wealthy and poor school systems.
Earlier in the day, budget writers from Gov. Kay Ivey's office predicted a $17 million decrease because there will be about 3,200 fewer students in schools next year.
Richardson said it's true: There are about 738,000 children in Alabama's public schools now, he said, a dip of 3,000 to 4,000 since last year.
Some are leaving public schools for private options, he said, though even recent school choice programs haven't move the needle much. About 88 percent of the state's students are in public schools, he said, a number similar to earlier years.
It's not clear that the state is losing young families to other states, he said. The number of students nationwide is declining and only a few economically booming states are seeing more kids.
"We'll see this for several years as the population gets older," he said. "It will level off or go down."
It wasn't immediately clear how much of an increase Richardson was requesting. Funding for the foundation program is governed by "divisors" that allow more money or less money per student across the state. Richardson said his divisors would increase overall foundation money. Even though there are fewer students, he said, schools still need more teachers and more support for bus fleets that often ran on financial fumes in the years after the 2008 recession.
Education budget hearings in Alabama are an unusual spectacle. Lawmakers don't decide how much money the state's schools will get: the state's education budget is essentially a giant earmark, with schools getting a projected $6.6 billion in 2019.
K-12 schools are sometimes at odds with universities and community colleges over how that money is divided, but Richardson said he expects the same 63 percent K-12 schools got last year. More contentious debates come at the end of the process, when lawmakers hammer out individual line items for various programs.  
Lawmakers said nothing about a proposed pay raise for teachers, likely a courtesy to Gov. Kay Ivey, who did indeed make that proposal later in the evening in her State of the State address.
Rep. Terri Collins, R-Decatur, mentioned some of those concerns in Tuesday's hearings.
"Do you plan to suggest language that will suggest that those ARI funds will do what they used to do?" Collins said.
"Bureaucracies have a tendency to get really casual," Richardson said.  "Somebody was asleep at the wheel, with ARI, one of our best programs."
Richardson returned from retirement last year to assume the interim superintendent position after the ouster of former schools chief Michael Sentance. A lawyer who once ran the Massachusetts school system, Sentance initially dazzled school board members as a veteran of one of the country's top-performing school systems.
Within a year, school board members claimed he'd blindsided them with poor communication and surprise announcements.
Richardson said the search for a new superintendent started in earnest this week.
"How can we be assured that the same situation's not going to occur with the state board?" said Sen. Paul Bussman, R-Cullman.
"I do know the board recognizes that it was a disaster," Richardson said.
Richardson urged lawmakers to reject any bills this year that would change the composition or powers of the school board. He said they would drive potential superintendent candidates away.