Monday's solar eclipse drew gazes skyward across Alabama and the rest of the nation Monday, as the moon passed between Earth and the sun and cast its shadow on a wondering world.
The darkening peaked in the Anniston area just after 1:30, when all but a slim crescent of the sun's disc was blocked from view. Because direct sunlight can permanently damage the human eye — even during a partial eclipse — plastic filters set in paper frames had become a hot item nationwide over the last few days.
Calhoun County Solar Eclipse
Images from the 2017 Calhoun County solar eclipse at Alexandria Middle School.
Andrew Sheldon stood outside the Public Library of Anniston-Calhoun County at 1:20 p.m. Monday and borrowed eclipse glasses from someone nearby to peer at the quickly shrinking sun. He didn't have his own pair, even though he works at Wal-Mart, because his store sold out before he could buy any. So too did the public library and the Anniston Museum of Natural History.
"I couldn't believe how fast they sold," Sheldon said.
Sheldon recalled the last time he saw a total eclipse at age 17 as a Boy Scout in 1970, when his troop visited Moody Air Force Base near Valdosta, Ga., and watched as the sky grew dark, the birds went quiet and the blue runway lights automatically lit up. As he spoke, the sky above Anniston slowy dimmed to a grey haze and cicadas began chirping nearby.
Holly McLean took a break from her job at the Calhoun County Courthouse to watch the eclipse with her husband, Shane McLean, from the cab of their truck parked in front of Calhoun Pickers on Eighth Street. She recalled seeing an eclipse as a child using a cereal box as a pinhole projector.
A cluster of people wearing eclipse glasses stood outside the Regions Bank on Wilmer Avenue craning their necks to see the sun. All along Noble Street and Quintard Avenue it was the same: people taking a break from their day to witness something remarkable.
Outside her office near Regional Medical Center, speech pathologist Elizabeth Yarbrough and a group of friends watched the moon's shadow mostly by looking at the sun's reflection in a car window. After all the warnings about eye damage, Yarbrough admitted that she was nervous about looking straight at the sun even with her eclipse glasses on.
At the hospital, crowds of workers in scrubs emerged into the parking lot as the eclipse hit its peak. By 1:30, the moon's shadow dimmed the scene like an Instagram filter, but the real show was in the sky, where the Sun became a slight crescent behind the moon.
""I call it God's fingernail," said hospital cafeteria cashier Paula Keesler.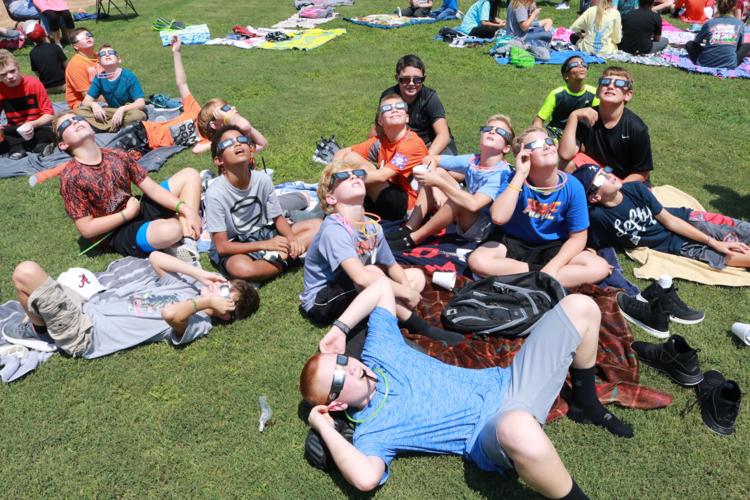 In Alexandria, teachers and administrators watched over nearly 600 fifth- through eighth-graders who sat or laid on towels on Alexandria High School's baseball field to watch the partial eclipse.
Eleven-year-old Hayden Rickson sat with four of his friends, and described the event seen through his shaded glasses as "awesomeness."
"I think it's going to be really cool," said Christian Sampson, one in the group who would watch as the moon slid across the sun. Through the specially-shaded glasses the children were required to wear, the obscured sun appeared as a lemon slice, waning and then waxing.
The school was one of only a handful locally to allow students the opportunity to view the event as part of the academic day, Alexandria Middle Principal Shannon Finley said Monday. She'd signed off on the "solar-bration," as other teachers called it, after speaking to local optometrists about the risks involved when viewing the eclipse through specially-ordered glasses.
Each student took home a permission slip warning parents of those risks, Finley said, and waiving the school's liability. Of 577 students, only 37 did not bring one of those back signed, she said.
In Heflin, third-grade teacher Jeromy Owen took his Cleburne County Elementary School class outside several times to take in the view of the moon covering the midday sun.
"Seeing science take place right before their eyes, the outside has become our lab today," Owen said.
Finley's teachers, meanwhile, turned the event into a teaching moment. Scott Ginn, an eighth-grade science teacher, said he'd had his students study eclipses in the weeks leading up to Monday.
"Any time you can make something relevant ... They feel like they can become a part of it," Ginn said. "It's not just studying anymore — they're living it."
Collin Gunnoe, meanwhile, part of Rickson's group, had little to say. His thoughts were turned toward home and his family's dachshund terrier, Daily.
"I hope my dog doesn't get blind," he said.
Ron Cypher, 79, of Jacksonville, stared straight up at the sun through his protective glasses while sitting in a folding chair beside his wife, Dorothy, around 12:30 p.m. The couple were but two of hundreds of residents and students who attended an eclipse party hosted by the Jacksonville State University school of science in front of the Theron Montgomery Building on campus.
2017 Total Solar Eclipse from Cleveland, TN
Images from the 2017 Total Solar Eclipse at Cleveland, Tennessee August 21.
Cypher said he'd wanted to see the eclipse since he couldn't remember much of one he witnessed in his youth.
"We'd been thinking about doing this for a while ... we had planned it several days ago," Ron Cypher said. "This is sort of a once-in-a-lifetime thing."
The couple shared a single pair of protective glasses a friend had given them.
The school of science had hundreds of free pairs of glasses, all of which were claimed within minutes before the eclipse started just after noon. Members of the science department spent much of their time after the giveaway making pinhole eclipse viewers out of poster board and popsicle sticks.
Many people brought food and towels to sit on in the grass while they viewed the spectacle. Others found large shade trees to set up camp with lounge chairs.
Jonathon Wood, 32, of Saks had binoculars mounted on a tripod pointed toward the sun. Wood held a white cardboard box under the eyeholes to show the moon's shadow as it eclipsed the sun.
Wood said he runs the Calhoun County Amateur Astronomy group and has had a lifelong love of science.
"I'm glad to see so many people out here," Wood said. "I hope this sparks more curiosity in this kind of stuff."
By 3 p.m., the moon completed its course across the face of the sun, and the normal summer afternoon returned. In a few years, the phenomenon will darken the sky over the United States again, along a path from Texas to Maine on April 8, 2024. That eclipse won't be as impressive-looking from Alabama, but patient skywatchers need only wait until Aug. 12, 2045, when another coast-to-coast eclipse crosses a path including Tuscaloosa, Montgomery and Dothan.
Eddie Burkhalter and Tim Lockette reported from Anniston; Patrick McCreless reported from Jacksonville; Zach Tyler reported from Alexandria; Bill Wilson reported from Heflin.
Students at Alexandria Middle School viewing today's partial eclipse. Science teacher Scott Ginn says sun will be between 95-97% blocked. pic.twitter.com/hkjhm3NBXb

— Zach Tyler (@ZTyler_Star) August 21, 2017
It's a dull gold kind of light. Kind of looks like late afternoon, early evening. Sun looks like a lemon peel in the sky behind my glasses. pic.twitter.com/BP9g2kteQE

— Zach Tyler (@ZTyler_Star) August 21, 2017
"It's like the twilight zone out here," one eclipse viewer said about the darkening sky standing outside the courthouse #Eclipse2017

— Kirsten Fiscus (@KFiscus_Star) August 21, 2017