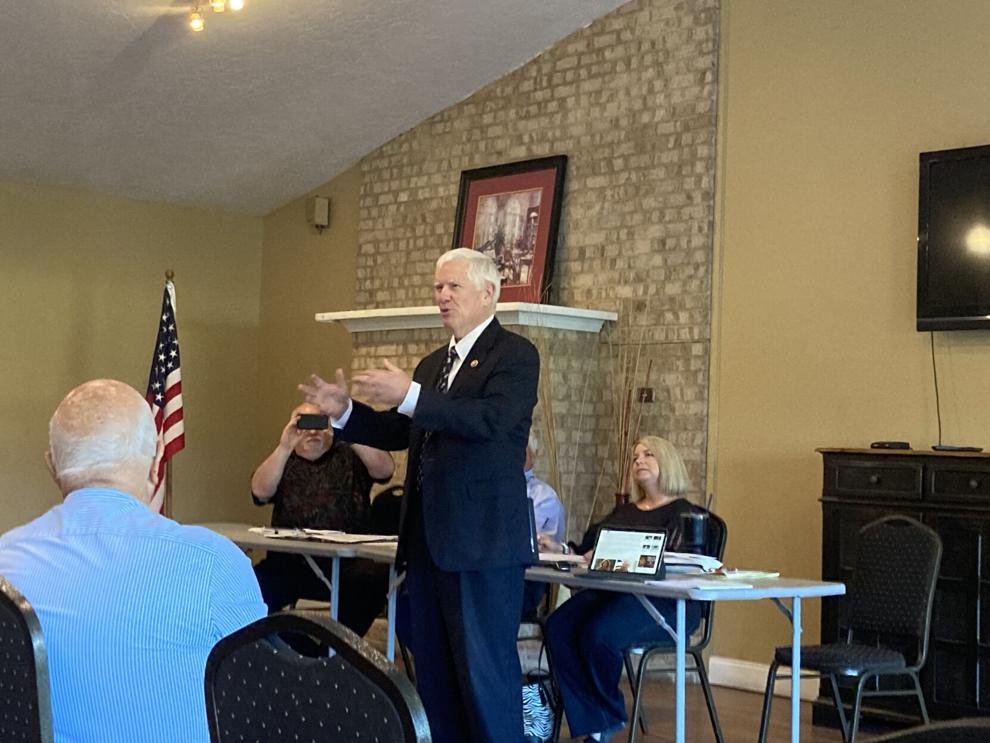 U.S. Rep. Mo Brooks said he was served a second time with a lawsuit regarding his role in the Jan. 6 Capitol insurrection on Monday in Saks, following what he called a related trespassing attempt at his home in Huntsville the day before.
"Someone comes in, another process server drops it on the floor and says you've been served," Brooks said at a meeting of the Calhoun County Republican Party Monday at the Saks Community Center. 
Brooks said this is the second time he has been given the papers, filed by California Congressman Eric Swalwell. The first time, he said, was Sunday at his home. Brooks alleged a man had followed his wife, Martha, into their garage while filming her, reaching about 12 feet into the house before dropping the papers on the ground.
"There's this man towering over her. He's got his cell phone right in her face," he said. "You can imagine her shock."
According to Brooks, his wife got the man's license plate number and reported the incident to Huntsville police. 
Brooks posted a one-minute video to his Twitter account Monday night. In the video, a silver sedan pulls into a driveway, a man jumps out and runs offscreen, then walks back into the frame followed by an angry looking woman, presumably Brooks' wife. The woman then gets behind the car for a moment before walking out of the frame. 
.@ericswalwell's lying attorney falsely claimed that the process server never entered my house (aka trespassed).If so, why do I have this video showing the man chasing my wife into my home? pic.twitter.com/JdlgAdia1a

— Mo Brooks (@RepMoBrooks) June 8, 2021
Brooks claimed he was served a second time so Swalwell's team would no longer have the affidavit given by the man at their home.
Brooks, who is running for a seat in the U.S. Senate, said after the meeting he was feeling positive about his chances of being elected.
Brooks officially is running for the seat against former U.S. ambassador Lynda Blanchard. Business Council of Alabama president and CEO Katie Britt has not officially announced her candidacy, but because she has been campaigning for the past six months, Brooks said he considers her an opponent as well.
During the meeting, Brooks declined to endorse any candidates for his replacement in the U.S. House.