Leon Smith, Oxford's longtime leader, dies at 77
Alton Craft had just graduated from Oxford High School in 1979, the year that Leon Smith picked him.
Smith coached Craft on a youth league football team, where he was hard, Craft said, but fair — known to pick tiny players up by their facemasks, but also to make sure they had socks to wear.
When the man asked a teenaged Craft if he'd be a defensive coach of the youth team, Craft said yes. Smith needed time away from the field to plan one of his first campaigns for public office.
He'd lose two races before becoming mayor of Oxford in 1984, and often had advice for Craft regarding the children he'd coach: "'Remember their home life, what they're going through,'" Craft recalled Monday. "'Try to be understanding.'"
Smith, mayor for more than three decades and to whom many attribute Oxford's growth, died Sunday, according to city officials. His funeral service is set for 2 p.m. Wednesday at First Baptist Church of Oxford, with a visitation scheduled to start at 12 p.m.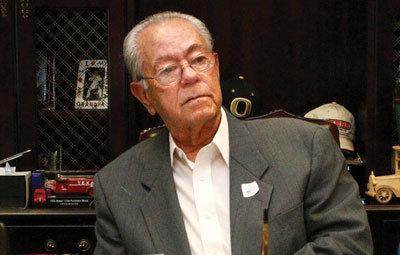 Smith, his friends and fellow officials said, had his flaws — but was unflinchingly loyal to the people he loved and to the city of Oxford, an often hard man who hid a generous heart. During his long tenure, Oxford became the retail hub of Calhoun County, a landscape that includes the Oxford Exchange, and a location for several manufacturers. The former mayor gave up his position and a ninth term in favor of time spent with family, but Smith also had several health problems keeping him from his duties.
Smith, who died at 77, grew up between Corinth, Miss., and Selmer, Tenn., with his grandparents, Laney and Amy, after his parents divorced when he was young, the former mayor told The Star in 2008. He told those close to him that his childhood had been one of poverty.
"The lesson he took from it was that people shouldn't grow up that way," Craft said.
Smith dropped out of school at 15 and left for Chicago, where he worked in a steel mill for a few years. There he met his wife, Delone, and they moved back to Alabama in the 1960s. Smith began his career as a businessman in Calhoun County when he opened a beverage store on Quintard Avenue in Oxford, he said.
Smith and his wife had four sons, Johnny, Gary, Terry and Danny. Three of his sons and his wife preceded him in death, Craft, Smith's successor as mayor, said by phone Monday. Craft said he believed their loss deprived Smith of his health.
"A man or a woman shouldn't see his children die. He saw three of his," said Craft.
The current mayor, picked by Smith to be his finance director and in 2016 his successor, said that a special concern for children and the elderly guided the former mayor.
"That was part of his philosophy in life," Craft said. "Take care of the elderly and the young people, and the rest of us can take care of ourselves."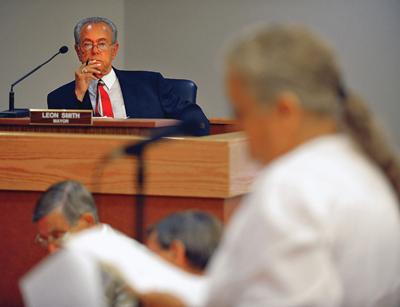 Smith served as mayor 32 consecutive years before he bowed out of the 2016 election to spend more time with his son and grandsons, he said in a letter to his constituents.
During his last term in office, the City Council voted at least once to transfer Smith's power to then-Council President Steven Waits while Smith had an extended stay in the hospital.
Most people knew Smith as a tough businessman who wanted his employees to do what was right and stand their ground if they had to, Sparks said.
"When he ran for mayor in 1984, I was working with the Parks and Rec department and was a volunteer fireman," Sparks said. "As far as a boss, he was the type of person his first answer was always no."
Smith was not one to mince his words, either, Oxford police Chief Bill Partridge said Monday. Employees who'd run afoul of Smith or let him down learned what to expect next.
"He'd blister you," Partridge said. "But when it was over with, he'd say, 'OK, where you want to go to lunch?'"
Sparks said that as a part-time firefighter, it was his task to make requests of Smith for the Fire Department.
"If you asked to do something or for something he wanted you to prove why it was needed," the chief said. "If you couldn't do that, in his mind it must not be that important."
Smith's long turn at Oxford's helm gave him reach beyond the city's limits, too. The connections he built with state lawmakers and other officials over decades often served the Alabama League of Municipalities, the organization's executive director said Monday.
Ken Smith noted the mayor's death with a statement posted to the league's Facebook page Sunday afternoon. Leon Smith served as the league's president for one year, and was president of the Municipal Workers Compensation Fund Board's legislative committee. Smith also served on the National League of Cities' board of directors.
"I always felt like we could depend on him," Smith said of the former mayor. "If he told you he was going to do something, he did it."
Smith was credited with making Oxford a model for economic development in the county.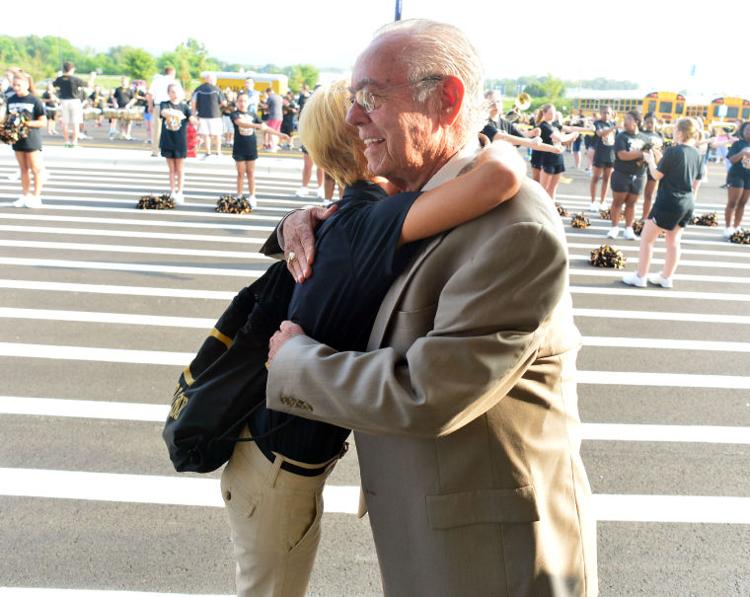 The city bought 270 acres including the portion that would become the Exchange in 2003 for $10 million. When the center was announced in 2005, Oxford officials said the area would bring in millions of dollars in sales tax and also provide jobs.
Revenue from the Exchange and other retail centers has helped pay for several projects including the downtown performing arts center, improvements to schools and the construction of Choccolocco Park, Craft said in May.
Manufacturers have also moved to the city, including Kronospan and various suppliers for the Honda auto manufacturing plant in Lincoln. Don Hopper, executive director of the Calhoun County Economic Development Council, said by phone Sunday afternoon that Smith was "a stalwart of economic development."
"If we had a project that needed incentives, if it made sense he was 100 percent behind it," Hopper said.
Smith had a knack for knowing what was right for the city, Hopper said.
"Today we will put things through a feasibility study, the mayor didn't necessarily do that," he said. "He always knew if it made sense for the city or not. He had an uncanny ability to determine if it was good for the city without the extra steps."
There was "no question," former Anniston Mayor Bill Robison said by phone Monday, that the two cities competed for at least some of the growth that Oxford saw. Robison said he "got along fine" with Smith. The two were first elected the same year.
Like two football coaches, Robison said, "I pulled for my team and he pulled for his." Robison declined to elaborate on the competition. Those days are long past, he said.
The growth in Oxford that Smith presided over was "maybe, you can say, at Aniston's expense," Robison said, "but I want to believe his interest was in promoting Oxford, and not demoting Anniston."
Smith could be abrasive at times, he acknowledged to a reporter in 2006. That was after used profanity in scolding the City Council over a library contract and routinely bickered with council members over spending.
"There's probably not any of us that worked with him that didn't see that side of him from time to time," Sparks said. "He may chew us out, he may have been a little rough around the edges to us, but he wouldn't let anyone else be like that with us."
Near the end of his eighth term, Smith was seldom at city events.
Smith last attended a council meeting in April 2015, according to reports, and that meeting was the first Smith had attended in the preceding six months.
City officials said Smith spent most of his time at home or a local gas station owned by a family member, but would stop by City Hall each morning. Those visits mostly ceased in June 2016, Craft said.
City officials and residents spoke highly of Smith on Sunday morning on social media.  
Oxford police Chief Bill Partridge on Facebook called Smith a "longtime friend."
"His big thing was helping people," Partridge said. He has a note from the mayor flattened beneath the glass that covers his desk in the police department's headquarters — a request to "see if you can help this man," signed "Leon."
Partridge, who'd accompany the mayor to annual Alabama League of Municipalities conferences and other meetings, said he'd seen Smith give a stranger he'd overheard talking about a lost job "a couple hundred dollars."
"He did a lot of things that nobody ever knew about," the police chief said.
Star Writer Kirsten Fiscus: 256-235-3563. On Twitter @KFiscus_Star. Staff Writer Zach Tyler: 256-235-3564. On Twitter @ZTyler_Star.