Sunny King Honda in Anniston struggled to keep up with demand for vehicles last year and Dan Jordan couldn't be happier.
The general sales manager at the dealership said new models from the Japanese-based automaker, including some made in Talladega County, helped boost 2015 sales.
"I have never seen a car with this much demand," Jordan said of the latest model of the Pilot SUV, made exclusively at Honda Manufacturing of Alabama in Talladega County. "2015 was a very good year for us."
Last year was good for Honda sales nationally, too.
American Honda Motor Company reported Tuesday a 3 percent sales gain for 2015 for a total of approximately 1.59 million vehicles sold — an all-time record for the manufacturer.
According to the Honda report, the company's sales of Pilots jumped by 25.1 percent year-over-year. Meanwhile, the Odyssey minivan, also made at the 4,500-worker Talladega plant, had a 4.1 percent growth in sales.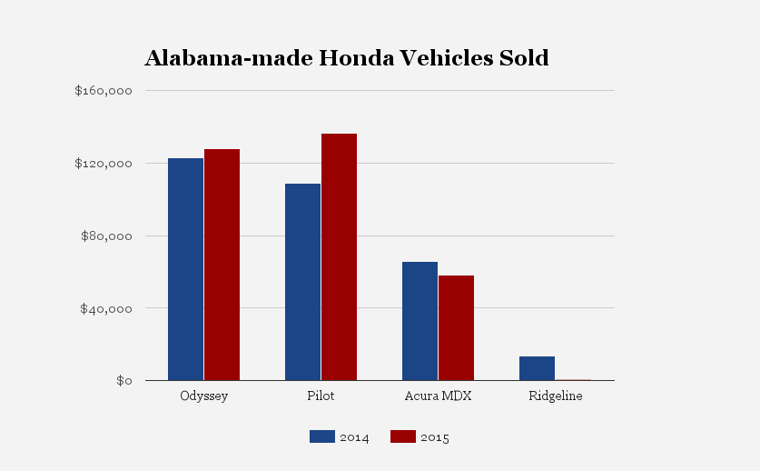 The Acura MDX luxury SUV produced at HMA saw an 11.3 percent decline in sales year-over-year. The report noted that 2015 marked the fourth straight year that more than 50,000 MDXs were sold.
Dennis Virag, auto industry analyst for the Michigan-based Automotive Consulting Group, said Honda was mostly on par with other domestic automakers in regard to sales growth last year.
"Honda is a steady performer," Virag said. "They do not make gigantic gains, but they do make steady gains."
Jordan said his dealership had a jump in sales last year even with less inventory than usual.
"We did more with less — inventory has been lower and sales have been higher," Jordan said. "There was an inventory change because of the new models."
According to a Tuesday press release from HMA, the plant produced a total of 349,386 vehicles in 2015 — 14,033 fewer than it manufactured the prior year.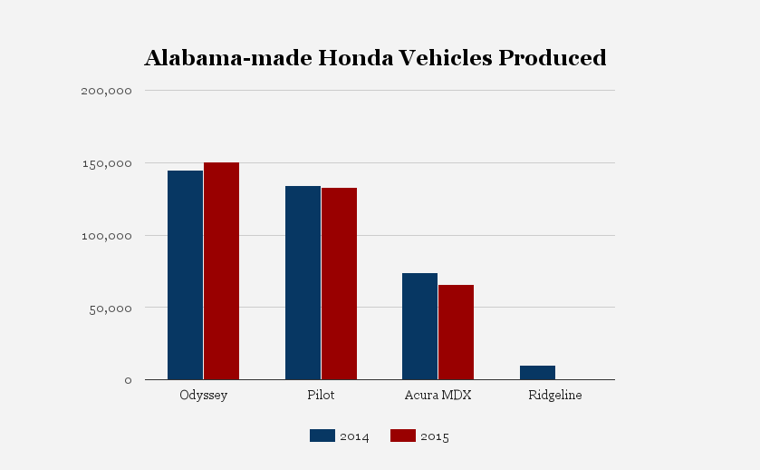 "Though overall production numbers are slightly lower than 2014, the adjustment in annual output for 2015 is a normal part of our overall production plan as we continue to develop new products to bring in the marketplace," said Ted Pratt, spokesman for HMA.
The plant made fewer MDXs and Pilots in 2015 than the previous year, but the biggest difference was with the Ridgeline pickup truck, which the facility stopped producing in July 2014. Honda put the truck on hiatus to develop a new Ridgeline, which will be unveiled Monday at the North American International Auto Show in Detroit and manufactured exclusively at HMA later this year, Pratt said.
Virag said the old Ridgeline had become stale. He said the new version, as well as other new Honda models set for release this year, will further increase the company's sales.
"Honda will get an uptick in sales … they'll do better this year than they did last year," Virag said.