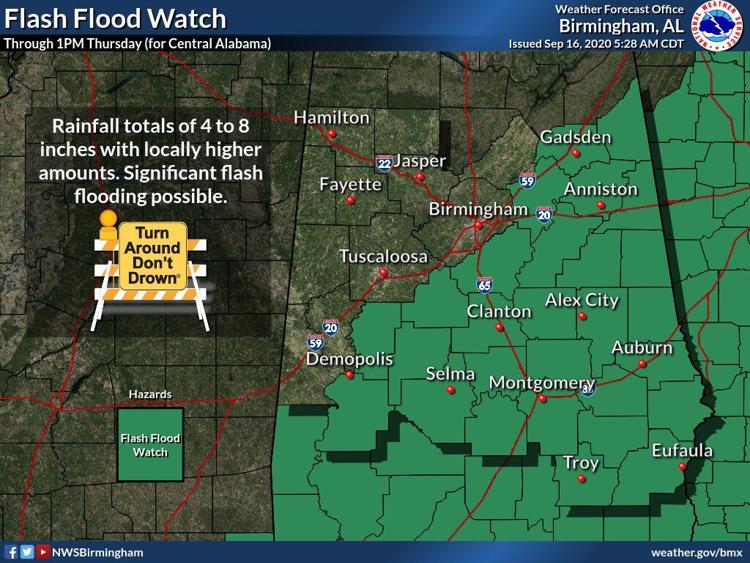 Hurricane Sally, the slow-moving storm that has brought flooding and high winds to the Alabama Gulf Coast, will likely spare the Anniston area the worst of its high winds and flooding, forecasters said Wednesday.
Sally made landfall as a Category 2 hurricane early Wednesday morning near Gulf Shores, with maximum sustained winds of 105 mph, according to the National Hurricane Center. The storm is headed northeast at about 3 mph, said Jason Holmes, a forecaster for the National Weather Service office in Calera.
The forecast track now has Sally passing through the southeast quarter of the state, well south of Calhoun and surrounding counties.
"That's good news for the Anniston area, as well as Birmingham and Tuscaloosa," Holmes said. "The strongest winds and the tornado risk are found on the right side of the system."
Winds and rain from outer bands of the storm passed through Calhoun County on Wednesday morning, but Holmes said the Anniston area is now forecast to see 2 to 3 inches of rain from the storm, less than in the weather service's original predictions. A similar amount is expected in Talladega County.
Holmes said flash flooding remains the biggest threat from the storm and the area remains under a flash flood watch through 1 p.m. Thursday. The weather service is still advising local residents to monitor weather news and be on the lookout for flooding, particularly if they live in low-lying or flood-prone areas.
East of Anniston, in Cleburne County, rainfall of up to 4 inches is still in the forecast.
"We do expect the system to speed up a bit," he said. "That's also why we're calling for less rain."
Holmes said that when the storm system passes, it's likely to usher in a cold front that will bring lows in the 50s by the weekend. Holmes said it will be fall-like weather.
"We'll get through this and we'll be rewarded," he said.