While many in Calhoun County kept indoors Wednesday, sheltered from the below-freezing temperatures, first responders continued to patrol the streets and respond to emergencies.
Most Anniston police officers worked in pairs Wednesday, except for Officer Stephen Garmon.
Schools and businesses across Calhoun County are closed this morning, as a light snow overnight — combined with unusually cold weather this morning — made roads impassable.
"We had one officer who couldn't get to work from Randolph County," he said, as he maneuvered one of the department's SUVs down a frosted roadway.
Near the crest of Greenbrier-Dear Road on Wednesday morning, another police patrol vehicle was stopped, its blue lights reflected on the blanket of white powder across the road. Two officers stood in the westbound lanes talking to the driver of a tractor trailer, which was stopped diagonally across the lanes. Tire marks cut through the snow, revealing a snake-like pattern of ice where the truck had skidded off the roadway.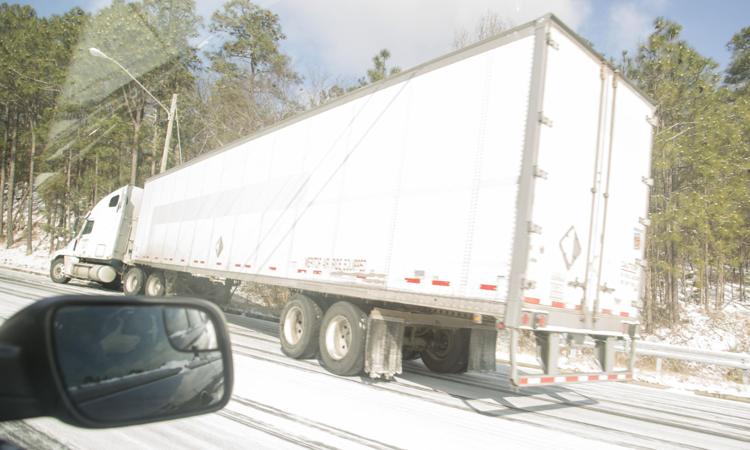 A short time later Garmon stopped to pick up a woman who'd walked from Regional Medical Center to South Noble. She was on her way to Oxford; her car had broken down.
"It's too cold to walk," Garmon said.
Patrol on Wednesday was relatively slow, but that's how Anniston police Chief Shane Denham said he preferred it.
"It's quiet, which is the way we like it around here," Denham said.
While Garmon said he was happy to have a largely incident-free day, the time passed slowly. During lunch, Denham cooked hamburgers for those at work, a rare occurrence, he said.
Calhoun County sheriff's deputies spent much of the day shepherding their own employees to and from work.
"We also have been picking up nurses and doctors and taking them to the hospital too," Chief Deputy Jon Garlick said as he drove down U.S. 431 around 3 p.m.
By the afternoon, U.S. 431, and Alabama 21 were cleared of any ice.
"It's been pretty uneventful," Garlick said. "I think everyone believed the weather predictions this time. They heeded the warnings."
As local school systems closed for the second day in a row, Garlick said the county's school resource deputies spent Wednesday serving warrants with other deputies.
"It sounds like we've been successful serving a lot of those today," the chief deputy said. "Everyone is home. No one wants to be out in this cold."