Calhoun County deputies were able to talk a man out of suicide after he was caught at the end of a highway chase Tuesday afternoon, according to Sheriff Matthew Wade. 
Dustin Lee Strong, 31, of Gadsden, was driving a gray Ford Expedition south into oncoming traffic on U.S. 431 in Anniston, before abandoning his vehicle on the roadside south of the intersection with Gen. Gerald Watson Way, where it ran out of gas. 
Wade said the pursuit started in Etowah County; Gadsden police and Etowah deputies handed the chase over to Calhoun County deputies, who joined the pursuit near Mount Zion Baptist Church in Alexandria.
Photos: 431 Chase
Photos of a Calhoun County Sheriff chase on US Hwy. 431.
Wade said deputies found Strong with a knife to his own neck, threatening suicide. Deputy Jimmy Woodard spent as much as a half-hour talking Strong down, Wade said. 
"He got him to put the knife down and took him into custody with absolutely no force whatsoever," Wade said, standing beside the road as police and EMS left the scene. "That's the best outcome we could have." 
Strong was taken to RMC in Anniston for a medical check. He would be taken to the Calhoun County Jail afterward, Wade said. 
Gadsden police Sgt. John Hallman said an officer spotted Strong's vehicle being driven recklessly near the former Gander Mountain store on East Meighan Boulevard, and when police investigated, the vehicle sped away south.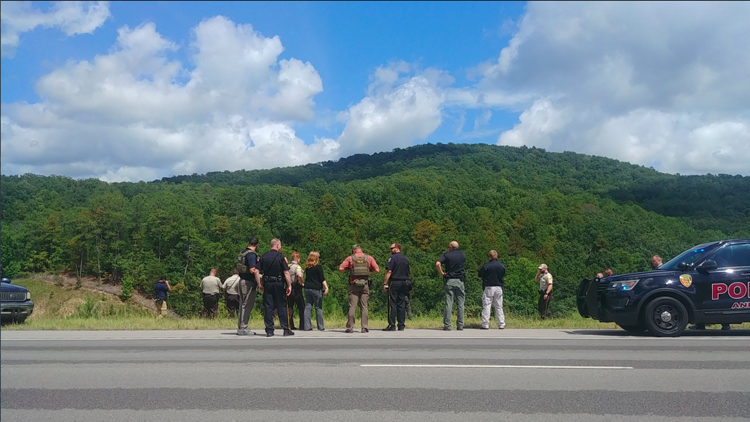 Strong faces probation violation charges in Etowah County, Wade said, and appears in the Sheriff Department's mugshot lineup as recently as June. 
A warrant was issued for his arrest in Calhoun County on Aug. 22 for failing to appear in court the day before, after he was ticketed for driving without a license and without wearing a seat belt in May. 
Hallman said Strong would likely face his charges in Calhoun County before returning to Etowah County.