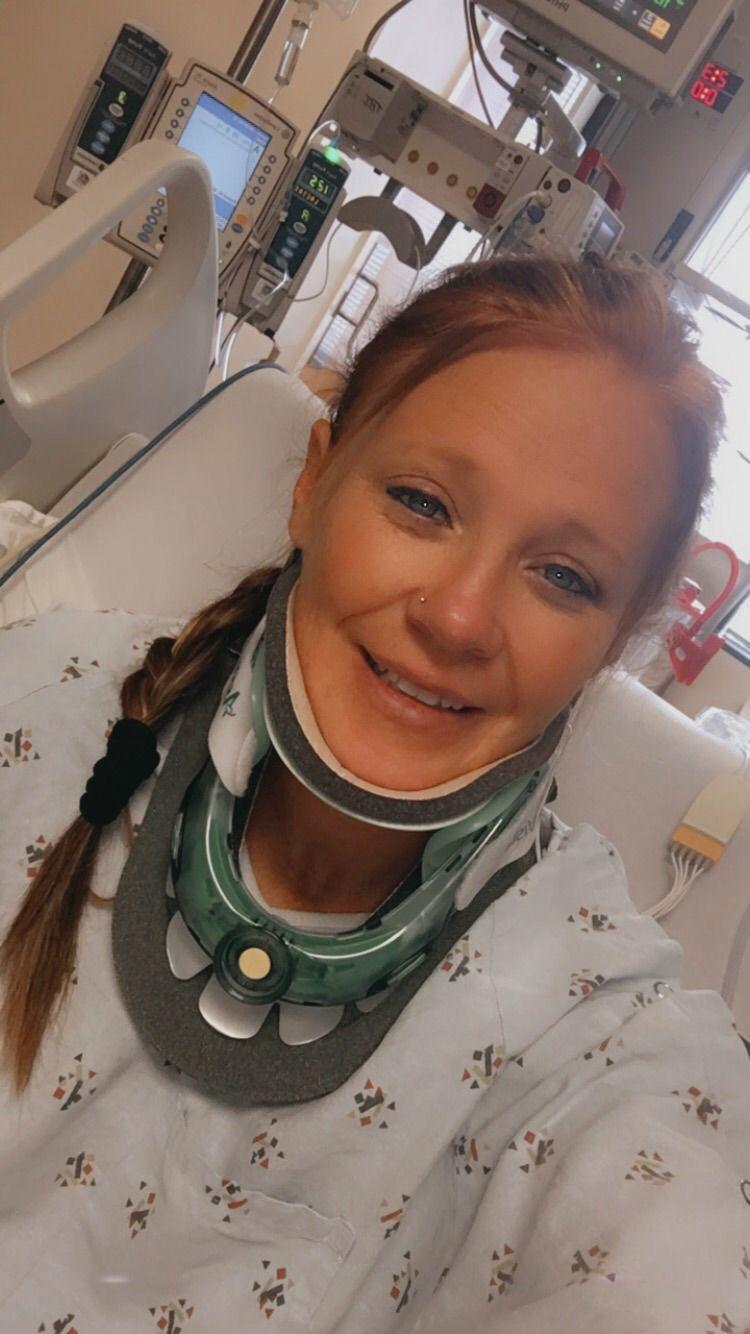 Evie Waddell got hit by a falling tree. A huge tree, probably an oak, that sideswiped her head and struck her back and left her dazed in an Anniston mobile home park. Her humor, though, seems intact, which isn't insignificant. "I have a dent in my head, and my back is broken," she says.
It's actually worse than that.
The Anniston EMS paramedic has a basilar skull fracture — specifically, a fracture of an occipital condyle bone. The upper four vertebrae in her back are fractured. She has fractured ribs, left and right. And a bone bruise on her right clavicle. 
She's at home now in Weaver and has started physical therapy. And when she heals, as doctors say she will, she's hopping back in the ambulance — but not as a patient. 
"I hate missing work," Waddell says. "I love my job. I'm a single mom. I've been a single mom for a long time, and I'm used to being independent. (This) has been real difficult."
I'll be honest. When Anniston firefighter Walker Kent, Waddell and two other first-responders were injured April 23 in an accident involving a falling tree, I must have been in a coronavirus-news fog. But after visiting with them, here's the truth: Waddell and Kent are lucky to be with us.
Kent, a six-year member of the Anniston Fire Department, stands about 6 feet tall. The tree impact left him with a 20 percent compression fracture of his second lumbar vertebrae and several other spinal fractures. But why'd I tell you his height?
Because the compression fracture literally shortened him. "(The doctors) said I'm probably about 3/16th of an inch shorter now than before the accident happened," he said.
As for the accident — the "freak accident," they call it — it's almost too freakish to believe.
From AFD's Station 1 on Quintard Avenue, Kent and his fellow firefighters responded to two calls and were headed to a third when a fourth call came in. Kent's truck switched with another AFD unit because they could get there faster.
"It just made sense," Kent said.
The call: tree on a structure, possible entrapment.
Walker has memorized the address: 101 W. 35th St.
Waddell had just clocked in for her 8 a.m. shift. Firefighters were already on the scene when she and her EMS partner arrived on scene just west of Edgemont Cemetery.
Downed trees were scattered around the damaged camper, Waddell recalls, and a firefighter stood in the camper's door. Extracting the woman didn't take long.
"She actually walked out the door with the help of firemen holding her hands," Waddell said.
They sat the woman in a chair. Waddell spoke to her, and then she noticed the trees.
"The wind is still blowing," she says. "And I hear a tree cracking."
"We heard it start to break, and I guess everybody looked up at the same time," he says, guessing the tree broke off about 30 feet from the ground. "I actually thought it was falling in a different direction than it was."
He took "maybe two good running steps." And then the tree hit him square in the back.
The tree hit Waddell in the head and upper back, at a slight angle. She landed about 12 feet behind Kent.
"I was kind of balled up a little bit under the limbs and stuff, and I could hear Evie behind me hollering a little bit, so I knew she got hit, too," he says. "I knew she was hurt, but I knew she was conscious."
"I don't remember being hit by the tree," Waddell says. "I just remember bits and pieces." Being carried, upside down on a man's shoulders, away from the tree. Riding in the ambulance. She told someone to call one of her daughters, but she doesn't remember doing so.
Another firefighter "sort of drug" Kent from underneath a pile of limbs because they feared more trees might fall. First taken to Regional Medical Center, Kent was transferred to UAB Hospital later that morning. And get this: He swears no more than five minutes lapsed from the time the tree hit him until paramedics had him in the ambulance and headed to the emergency room.
"Whenever you get a call that one of your fellow firefighters is hurt," he says, "it kinda ramps things up."
Waddell, 41, spent four days at UAB, including two in intensive care, before being sent home in a neck brace. She wore that contraption for 2 ½ weeks. Kent, 32, couldn't walk or get out of bed the first week he was at his Calera home with his wife, Ashley, but the "past four or five days I've been able to get around pretty well," he says, though he still can't tie his shoes and wears a back brace during the day.
What matters, though, is the obvious.
They're alive, mending, optimistic.
"It was within inches of me being paralyzed or death," Waddell says doctors told her. "I still have a reason to be here."