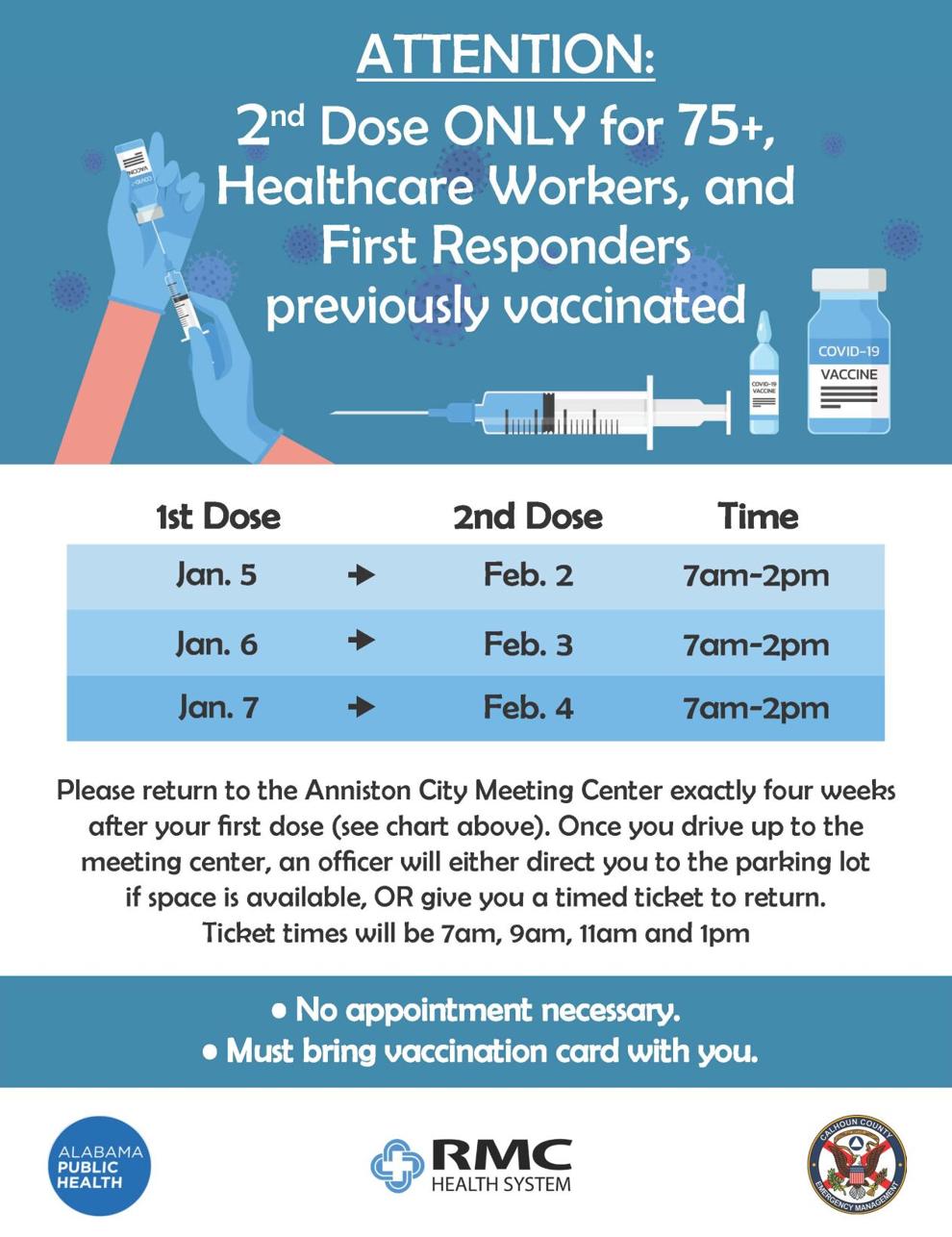 New cases of COVID-19 have been on the decline in the last week, numbers from the Alabama Department of Public Health show, and so has the number of coronavirus patients in hospital beds.
The decline may be a sign that the virus is coming off its post-holiday peak, health officials say.
"I think we are through the surge from Christmas and New Years," said Don Williamson, president of the Alabama Hospital Association. "I think people behaved better than we anticipated."
As of Monday morning, according to ADPH numbers, 6,662 Alabamians have died from COVID-19, 206 of those deaths in Calhoun County. More than 440,000 people in the state have had the virus since the pandemic began.
Early in January, the spread of the virus strained the capacity of hospitals, with more than 3,000 COVID-19 patients in hospital beds — about twice the number the state saw during the summer surge. By Monday, that number had declined to 2,264.
Anniston's Regional Medical Center saw a similar drop, with the number of hospitalized patients down to between 40 and 50 over the weekend, after peaking at 80 to 85 earlier this month, according to local officials.
"We like to look at the trend over a couple of weeks or a month," said Tiffany DeBoer, a spokeswoman for the Calhoun County Emergency Management Agency. "But yes, it is looking good."
DeBoer was quick to caution that a single outbreak could cause those numbers to change fast.
Williamson, the hospital association president, said the decline in hospitalizations could be because patients are now able to be treated with monoclonal antibodies, which the Food and Drug Administration describes as "laboratory-made proteins that mimic the immune system's ability to fight off pathogens."
That treatment wasn't widely available in Alabama until recent weeks, Williamson said, and may have kept some cases from becoming serious enough for a hospital stay.
Williamson doesn't think the state's vaccination campaign has had an effect on Alabama's coronavirus numbers just yet.
"Nobody thinks so," Williamson said. "You might start seeing an effect on the numbers in the middle of February."
Alabama has been criticized for a seemingly slow rollout of the COVID-19 vaccine. By Monday, around 255,000 doses of vaccine had been administered, according to ADPH. Most of those have gone to health care workers and people aged 75 and up. People in that age group are the most likely to die or need hospitalization if they catch the virus, health officials have said.
Most of those who have been vaccinated still need to get the required second dose, given weeks after the first.
In Anniston, nurses at Regional Medical Center began getting their second dose last week, making them likely the first group in the county to be completely immunized.
Local emergency management officials are planning to hold an immunization event at the Anniston City Meeting Center Feb. 2-4 for people 75 and up who got their first shot in early January. People should return to the Anniston City Meeting Center on the same day of the week they received their first shot.
Vaccines will be given between 7 a.m.-2 p.m. each day. No appointment is needed. Those who wish to participate should bring their vaccination card with them, reflecting first dose administration on Jan. 5-7.
DeBoer was quick to note that there will be vaccines on hand for everyone who got their shot the first time around.
DeBoer said local officials hope to avoid the long lines they saw when the first round of shots became available in early January.
Shots at the February event will be available only to people who got the first shot at the same site a month earlier, DeBoer said, so there should not be a rush of new people trying to get immunized.
When arriving at the meeting center, an officer will either direct patients to the parking lot or give them a timed ticket to return. Timed tickets will be at 7 a.m., 9 a.m., 11 a.m. or 1 p.m.
"Hopefully they won't believe this time that they need to show up at 5 a.m. to get in line for their shot," DeBoer said.
Workers at the Calhoun County Health Department have also been giving shots to older people by appointment since last week. Those appointments will all be completed by the end of the month, state and local officials have said.
For more information on how to schedule an appointment for first dose vaccines as they become available, call the Alabama Health Department at 256-240-7857.
More contagious strains emerge
Despite this week's seemingly good news, it's not at all clear that the worst is over in the fight against the virus. Most importantly, people have to continue wearing masks and keeping a distance, DeBoer and Williamson both said.
Another concern is the rise of more contagious strains of COVID-19 that have emerged in the United Kingdom, South Africa and Brazil, Williamson said.
"If in fact the UK strain becomes the dominant strain — and it is projected to be the dominant strain by March — that's a problem," Williamson said. "It is 50 percent more infectious."
Williams said it's inevitable that the more infectious variants will become dominant precisely because they spread faster than the virus now circulating in the state.