A movie crew in downtown Anniston is making new things old and old things new.
On 10th Street, on the side of a building adjoining the Peerless Grill, there's now a faded, 1960s-style ad for Royal Crown Cola. City officials say it was painted this month.
Across an alley, a long-empty service station has a crisp new green-and-white coat of paint, as if the place were about to re-open.
It's all part of the preparation for "The Devil All the Time," the feature film for Netflix that's set to begin shooting in Anniston sometime in March.
"It does a lot of good to see these buildings being taken care of," said Reilly Johnson, director of Main Street Anniston, the city's downtown development agency.
Filming could begin as early as next week on the movie, based on Donald Ray Pollock's novel of the same name. Set in small towns in Ohio and West Virginia from the 1940s through the 1960s, the film will star Tom Holland, Sebastian Stan, Robert Pattinson and Mia Wasikowska, among others, according to movie website IMDB.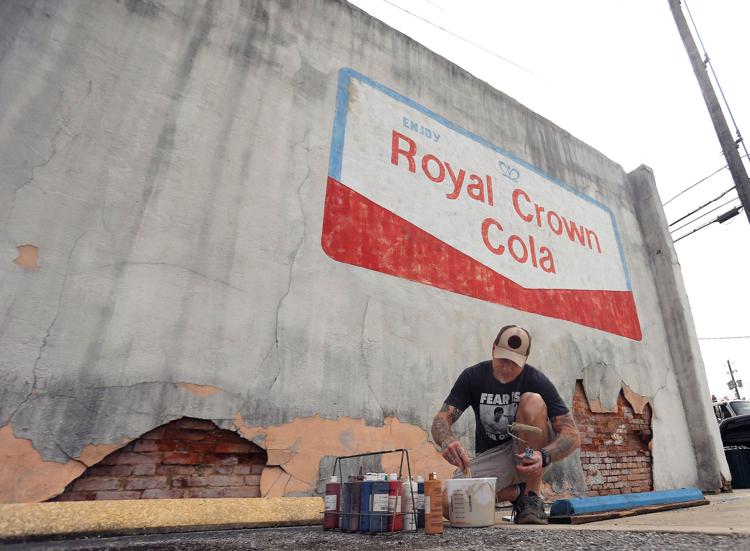 Producers of the film have rented the Peerless as a filming site, though owner Kristy Farmer has declined comment on the project, citing confidentiality agreements with the production company. There are a number of restaurants and bars in Pollock's book — a bar called the Tecumseh Lounge and restaurants called the Wooden Spoon and the White Cow Diner — but it's not clear what role the bar will play in the film.
Johnson, the downtown development director, said the film crew will paint the interior of the bar for some scenes in the movie. There may be touch-ups at other local businesses, she said, including painting of some of the trim at the Kress Building built as a dime store on Noble Street.
Johnson said the production crew has agreed to repaint those locations when filming is done — if the owners actually want a new paint job. Appearing in a well-known film could be a boost to the popularity of Anniston's downtown, she said.
"I think we're all kind of surprised that this landed at our doorstep," she said.
Mayor Jack Draper in a meeting earlier this week said filming would begin in the first week of March. The film's producers so far have been quiet about the work, save for a casting call for extras earlier this month.
"We try not to do much press before filming," said Cid Swank, a publicist for the movie. "It increases the chance of looky-loos."
Crowds of onlookers typically make it harder to film, she said.
There likely won't be much for an outsider to see anyway, Swank said.
"Watching a movie being made is like watching paint dry," she said.