Louisville police said an Anniston 2-year-old was taken to a youth home in the Kentucky city after she was found Thursday morning following her alleged abduction by her father the day before.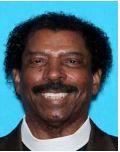 According to its website, Home of the Innocents provides children and families with residential and community-based programs. A message left with Home for the Innocents on Friday was not returned.
An Amber Alert was issued Wednesday night after, officials said, Catalina Rimpsey was last seen that morning. The alert said Rimpsey and his daughter might have traveled in a 1999 navy/tan Ford Econoline E150.
Washington said Louisville police did not take Rimpsey into custody. Rimpsey's name did not appear in the online inmate rosters at the Louisville Metro or Calhoun County jails on Friday, and was not included in the Calhoun County Sheriff's Office's online list of outstanding warrants.
Repeated attempts to contact officials at the Calhoun County Sheriff's Office on Friday were unsuccessful. Attempts to reach Rimpsey on Friday were also unsuccessful.
Dottie Rimpsey, who identified herself as Rimpsey's oldest daughter, told The Star her father and his wife had been involved in a custody battle over the toddler.
The girl's mother asked Tuesday for a protection from abuse order against Rimpsey, claiming that he had threatened to kill her and assaulted her in front of their daughter.
"He said that he would see me dead rather than giving me a divorce," the mother wrote. "He said that if I leave him for someone else and he finds out he has ways of making me disappear."
Calhoun County Circuit Judge Tom Wright granted the protection order Tuesday and awarded custody of the child to her mother Wednesday afternoon.
Rimpsey said family members were concerned and are waiting to see how the case unfolds. Hopefully, Rimpsey said, both her father and his wife are satisfied by the outcome.
"It's just an unfortunate event between Reverend Rimpsey and his wife," Dottie Rimpsey said.