Jacksonville State University President John Beehler released a statement via email Monday addressing his upcoming family medical leave.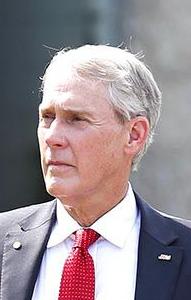 "As you have already been made aware by the Board of Trustees, I have requested and been granted a 90-day leave of absence effective October 1 so I may give my full, immediate attention to close family members suffering from serious medical issues," Beehler wrote in the email, which was addressed to JSU faculty, staff and students. "I am grateful to the Board for allowing me to use my sick leave during this time so that I may provide care and support to loved ones."
Attempts to reach Beehler for additional comment on his absence were unsuccessful.
A written statement from the university Monday evening further detailed Beehler's absence.
"Effective Oct. 1, President John M. Beehler will take a 90-day leave of absence from Jacksonville State University to care for several close family members suffering from serious medical issues," a portion of the statement reads.
Randall Jones, chairman of the university's board of trustees, on Sunday clarified to students in a separate email that Beehler's absence was not related to recent reports of second-degree rape on and near JSU's campus.
"Our hearts go out to him during this time, and we wish him and his loved ones the very best," Jones wrote in the Sunday email. "Although the timing is unfortunate, his leave is in no way related to the accusations of second-degree (statutory) rape alleged to involve JSU students." 
"This is really not fair to Dr. Beehler and his family," Jones said Monday. "I think it is just unfortunate with the timing of all this. The two items are completely unrelated."
Jones said that the timing of the reports led to unfair connections being made about the relation between the reports and Beehler's leave. 
"We feel like it was appropriate to be open, because people were asking questions," Jones said. "It was appropriate to let students know."
The statement released by the university Monday also stated that Beehler's absence is not related to the reports.
Beehler is set to take the 90-day leave of absence, beginning Oct. 1. The announcement came during an emergency meeting of trustees on Saturday. After a closed-door executive session that lasted more than three hours, the leave was approved at the request of the board's evaluation committee.
JSU spokeswoman Buffy Lockette said Monday that Beehler's absence would be covered under his normally accrued sick leave rather than under the Family Medical Leave Act. Don Killingsworth, JSU's chief external affairs officer, had originally told reporters after the announcement Saturday that the absence would be covered by the act.
According to the U.S Department of Labor's website, the Family Medical Leave Act allows employees "to take unpaid, job-protected leave for specified family and medical reasons with continuation of group health insurance coverage under the same terms and conditions as if the employee had not taken leave."
In Beehler's absence, a "management team" consisting of Killingsworth; Christie Shelton, provost and vice president for academic affairs; and Jim Brigham, vice president for finance and administration, with Killingsworth serving as chief operations officer.
The next scheduled meeting of the board of trustees is a regular quarterly meeting at 9 a.m. on Oct. 22, which is set to occur during Beehler's absence.