In just five days, Pokeman Go has gotten people in northeast Alabama, the United States and beyond traveling and exploring the real world to collect animated characters from a virtual world.
Brandy Muller of White Plains said she and her 10-year-old son, Xander, started using the smartphone-based game Monday, and it already had them up and moving.
"It's got us out the house looking for Pokemon," Muller said Monday on a visit to the Anniston Museum of Natural History. "We've been to the museum, Cottaquilla and several churches."
+1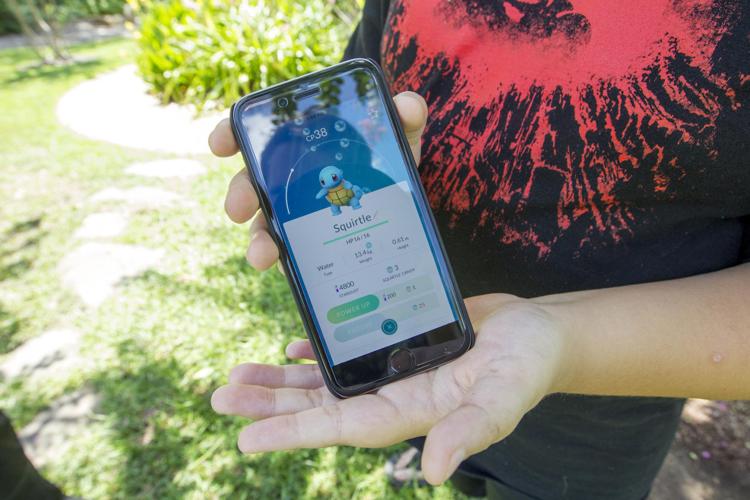 Pokemon Go, released Wednesday, is a free game that allows players to explore different places around them with their smartphones. The object is to capture Pokemon — Japanese cartoon, game and movie characters that became popular in the 1990s. The animated characters are displayed on the smartphone's screen, on a background image of the real world taken from the phone's camera — a technology known as "augmented reality."
Players are tasked with visiting "Pokestops," recognizable real-world locations such as parks, museums and historical sites, to collect the characters. The app was created by Niantic Inc. and the Pokemon Company, which owns the characters.
Chris Kramer of FortySeven Communications, a public relations company representing Niantic, said Pokestops are chosen through a revised version of Google Maps data of notable locations and four years of locations submitted by players of similar games developed by Niantic. Currently, people in the U.S., New Zealand and Australia are playing Pokemon Go, Kramer said via email Monday.
The game had already touched down on Jacksonville State University's campus Monday.
Darian Forman, a JSU sophomore, said she was in Bibb Graves Hall for only 10 minutes, when she noticed four people outside the building playing the game.  She said she has seen people gather in different spots in Jacksonville to collect Pokemon.
"A lot of people say it's a shame that's how people can get together," Forman said Monday.
Down the hall, Connor Teems, a JSU junior, said he's not obsessed with the game, but he does enjoy it during his free time. He said he heard about it on Facebook, and enjoys running into other Pokemon Go users while playing the game. Teems has also visited a few new places because of the game.
"I've learned where a few historic buildings, cemeteries and churches are because they're Pokestops," he said. "It gets you out a lot."
The Anniston Museum of Natural History is a popular Pokestop, Susan Doss, registrar of the museum, said Monday.
"We've had a lot of people coming to the museum specifically for the Pokestops throughout the Bird of Prey Trail," she said, referring to a collection of predatory birds that live in cages outside the museum. On Sunday, she said, children were looking for game characters inside the Berman Museum.
Museum visitors weren't the only ones with Pokemon Go fever on Monday. Doss said she's hooked.
"I'm thoroughly addicted," she said. "I'm not playing it while I'm driving, but it's very addictive."