An Anniston minister and nonprofit leader accused last week of abducting his toddler daughter, sparking a July 3 Amber Alert, said Monday that he didn't realize he was doing anything wrong when he took her out of the state.
The Amber Alert was issued around 11 p.m. July 3 and claimed that the 2-year-old girl had been abducted by her father, 75-year-old Freddy Rimpsey Sr. Both were located that night at Rimpsey's son's home in Louisville, Ky.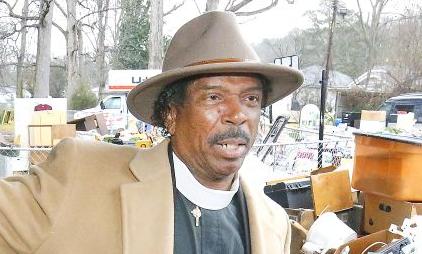 According to Rimpsey, he and his wife had lived separately for nearly a year while their daughter stayed with him.
"How could I kidnap my own daughter?" he asked.
Upon his return from Kentucky on Thursday, Rimpsey said, he was served with a protection order from his wife and was charged Friday by the Calhoun County Sheriff's Office with obstructing governmental operations. An order from a judge July 3 had awarded custody of their daughter to his wife.
On Friday, Rimpsey said, a sergeant with the Calhoun County Sheriff's Office called him and asked him to come to the county jail, where he was served with a warrant for obstructing government operations, a misdemeanor.
Rimpsey said he sat in a holding cell for a couple of hours while his bondsman worked on paperwork. Rimpsey said his bond was set at $300 surety, meaning he paid $30 out of pocket to his bail bondsman before he was released. Attempts Monday to reach the sheriff were unsuccessful.
Rimpsey's wife requested a protection order July 2, claiming Rimpsey had threatened to kill her and assaulted her in front of their daughter. The order was signed that day by Calhoun County Circuit Judge Tom Wright.
Rimpsey denied the allegations of the protection order, and claimed the protection order was the result of a family dispute from September. 
On July 3, Wright granted custody of the toddler to the baby's mother. Rimpsey said he received a call that morning from a woman claiming to be from the Calhoun County Department of Human Resources, who told him about the protection order and said she was on the way to take his daughter.
Rimpsey said he and his wife had no problems before then, which led him to believe the call was bogus. Rimpsey said he already had plans for to take his daughter to visit family in Louisville and Chicago, so they left shortly before noon.
Calhoun County District Attorney Brian McVeigh said Rimpsey told him that he left out the back door of his home when the social worker arrived. 
Because he forgot his cell phone at his home, Rimpsey said, he didn't know an Amber Alert had been issued until his son told him when he arrived at the Louisville home. Once he knew, Rimpsey said, he called McVeigh.
According to McVeigh, Rimpsey asked if he could just bring his daughter back, and was reluctant to reveal his whereabouts. McVeigh said he gave the phone number Rimpsey called from to Sheriff Matthew Wade, who located him and contacted Louisville police.
Rimpsey said Louisville police came to his son's house around 3 a.m. and took his daughter, who on Monday was in her mother's custody, he said.
Rimpsey is well known in Anniston for his work with several nonprofit organizations involving children. He is currently the CEO of the Rimpsey Foundation and the president of the New Alabama Voters' League.
To those who don't know him, Rimpsey said, he fears the Amber Alert unfairly painted him as a monster.
"For something like this to happen ... is damaging to my reputation," Rimpsey said. "I'm a peacemaker here. I'm working with black people and white people to make things better."