Around 50 people gathered at Centennial Memorial Park on Sunday afternoon, some holding signs, many chanting "Justice for all, equality for all," as they crossed Quintard Avenue.
The group just after noon trailed through downtown Anniston before stopping under the Martin Luther King Jr. Pavilion at Zinn Park and chanting "black lives matter."
Hours later, more protesters gathered under the pavilion and walked around the edge of Zinn Park before stopping across the street from the Justice Sollohub Center, the Anniton Police Department's headquarters, chanting "No justice, no peace."
Eugene Leonard, pastor of the Life Center church, spoke briefly about the importance of voting before the group continued its march around the park.
"I'm just sick of it happening over and over, the killings on our black men," said Keenan Warren of Oxford, who organized the second protest.
The earlier protest's organizer, Amber Satcher of Anniston, said the demonstration was held in response to instances of police brutality and racial injustice, most recently the death of George Floyd in Minneapolis. 
Floyd died on May 25 during an arrest by Minneapolis police. A video of the incident shows officer Derick Chauvin pressing his knee on Floyd's neck for several minutes. Chauvin has since been charged with third-degree murder and manslaughter.
"Everyone already knows what's going on in the world: police brutality," Satcher said. 
Satcher said she chose for the protest to begin at the park, where memorials bear the names of fallen police officers and members of the military, because they fought for freedom and equality. 
"This is what our nation stands for," she said. "Justice, equality and freedom for all."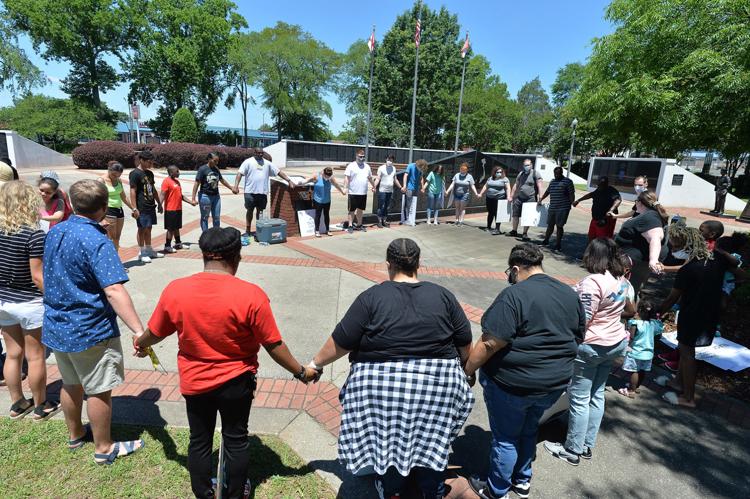 Satcher said she wanted the protest to be peaceful. Police were not present during the gathering, but city manager Steven Folks was nearby.
"Me stealing products from the Gucci store is not helping the cause," Satcher said. "I really wanted to set a good example, especially for the young generation."
Warren said he and Satcher had planned their protests separately, but had been supportive of each other. Many protestors had gone to both, he said.
Warren said another protest was planned for Thursday, but a time hadn't been decided on.
Willie Lauderdale of Anniston, who flew a drone over protesters, said he wanted to show that locals in the city "had the will" to change things for the better. 
"I came from a generation when we felt like we didn't have anyone," said Lauderdale, 29. "We couldn't rely on the police. We had to police our own neighborhoods."
Lauderdale said he especially wanted to see change because he had a 10-month-old son.
"I just don't want my son to grow up in this type of world," he said. "I don't want him to grow up being afraid to be a black man."
An Oxford woman who declined to give her name for fear of being targeted said black men had been dying for years at the hands of racist police.
"They should get the same treatment as they give others," she said. "Fair prosecution."
She said she worried for her husband and son.
"I shouldn't fear that my son, when he's going to the store to get something for me, will not come back," she said. 
TALLADEGA -- A march down Battle Street from Walmart to the Courthouse Square in Talladega on Sunday morning to protest the death of George Fl…
Valencia Pass of Anniston, who draped an arm around her son's shoulders, said she also had him in mind during the protest. She said she brought him because she wanted him to see positive examples of leadership.
"It's more than just police brutality. My generation right now is coming to take the places of people who are in power," Pass said. "I want my son to understand he could be one of those leaders."
Jasmine Heard of Anniston said she wanted to raise awareness for the systematic oppression she and other black people face every day. She said it felt empowering to speak out against police brutality.
"A lot of black people, as we know, have been experiencing injustice, and we're tired," Heard said. 
Demonstrators on Sunday in Anniston Reacting To the Death of George Floyd
Demonstrators Reacting To the Death of George Floyd on Sunday in Anniston
Heard said her grandmother marched for civil rights in Anniston during the 1960s, which made Sunday's demonstration especially meaningful for her.
Adrienne Cash, who came with her teenage son and sister from Muscadine, said that as a white woman, she didn't share the same struggles as black people in her community, and that was unfair.
Cash and her family wore masks with "I can't breathe," written on them and held signs.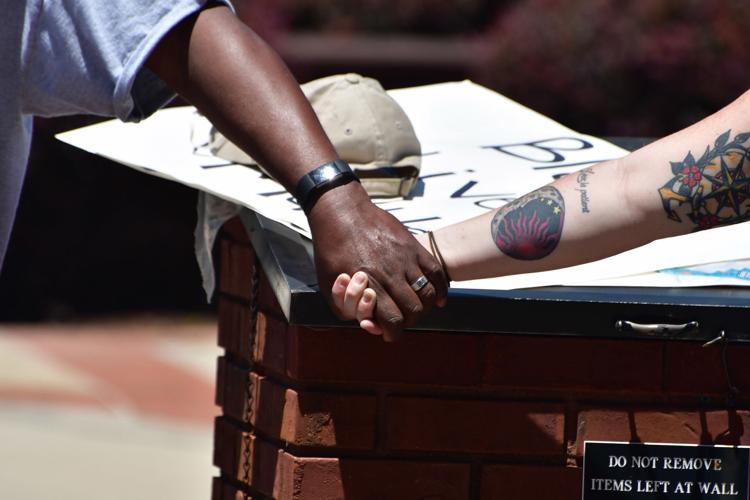 "We watched the George Floyd story on the news and it was just outrageous," Cash said. "There's not much risk of me going out and getting shot or held to the ground because of the color of my skin."