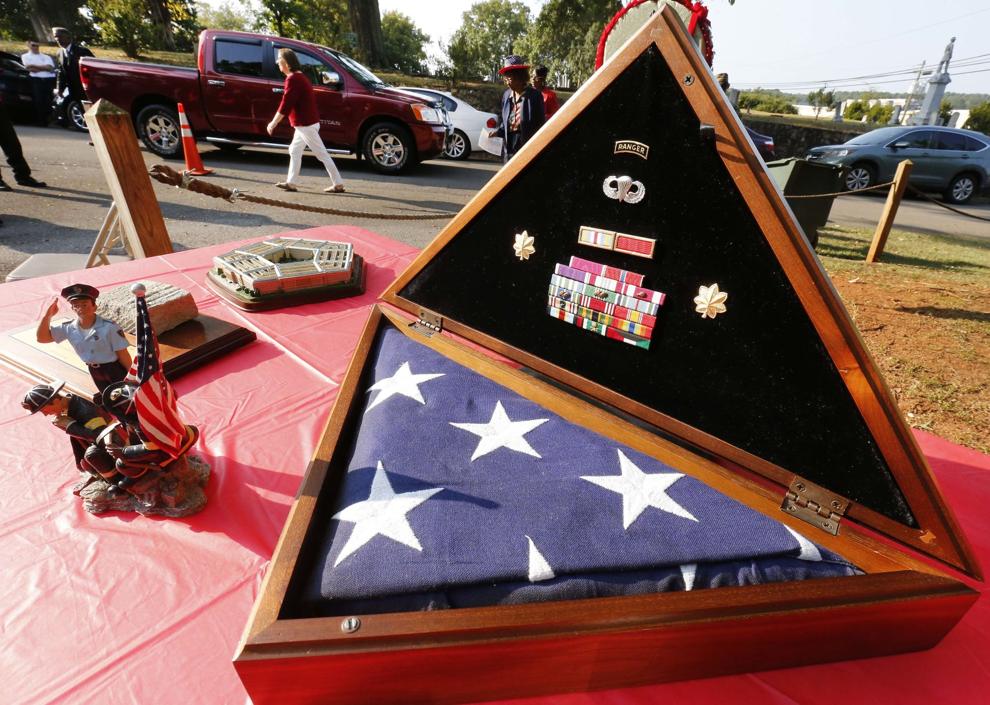 Several events are planned in Calhoun County to commemorate the 20th anniversary of the Sept. 11, 2001, attacks on the United States. (The annual 9/11 memorial service at Centennial Park in Anniston will not be held this year due to ongoing construction to install two new memorial walls.)
Remembrance panel, Jacksonville
The Jacksonville State University American Democracy Project will host a Remembrance Panel from 11 a.m.-12:30 p.m. on Sept. 9 at the Stone Center Theatre, 344 Stone St., Jacksonville. The free event will be livestreamed on YouTube. 
Lori Owens, professor of political science at JSU, chairperson of the ADP and director of the JSU Honors Program, will moderate the panel.
• William A. Meehan, former JSU president;
• Col. David McPherson, retired Installation Commander of the Fort McClellan Army National Guard Training Center and the Deputy during the 9/11 attack;
• Angie McPherson, former principal at Loyd Elementary School during the 9/11 attack, a Department of Defense School at Ft. Benning, Ga.;
• Miranda Killingsworth Pate, an educator in Calhoun, Ga., and JSU SGA president from 2001-2002;
• Robert Hayes, JSU's SGA president in 2002-2003 who is currently the associate dean of the University of Alabama's College of Continuing Studies;
• LTC Travis J. Easterling, Professor of Military Science/Aviation at Jacksonville State University; deployed once to Iraq, three times to Afghanistan, once to Pakistan, and to Operation Atlantic Resolve;
• Pearl Williams, the Gold Star Mother of U.S. Army Maj. Dwayne Williams, who was killed in the 9/11 attack on the Pentagon. She is a retired police officer and JSU counselor;
• Ben Cunningham, who was editor of the JSU campus newspaper on 9/11, former managing editor of The Anniston Star, a U.S. Air Force veteran and now instructor of communications at JSU.
"We would like to invite those on the JSU campus and from the greater community to attend this event, since it has been 20 years," Owens said. "We have a number of students that participated in that war after 9/11. Also, we have a lot of connections to 9/11. This is a time to come together and reflect on the impact it has had on their lives."
---
Williams memorial service, Jacksonville
Pearl Williams will host a memorial service for her son, U.S. Army Maj. Dwayne Williams, at 9 a.m. Sept. 11 at the Jacksonville City Cemetery.
Williams was killed on 9/11 while working at the Pentagon.
The cemetery is located on Church Avenue, and the memorial stone is near the entrance.
Maj. Williams is buried at Arlington Cemetery in Arlington, Va.
The speaker will be retired Brig. Gen. Jeffrey Newton from the Alabama Department of Veterans Affairs.
If it rains, the ceremony will take place at First Baptist Church of Jacksonville.
Roy and Patrice Williams of Birmingham, brother and sister-in-law of Williams, will lay a wreath on the monument. 
---
Jacksonville High homecoming
In addition to these two events, Jacksonville High School's homecoming celebration, set for Sept. 10, will feature an acknowledgement of the sacrifice made by Maj. Dwayne Williams, a former football player at JHS. At 6:55 p.m., a speaker will read a short biography and conduct a moment of silence prior to the playing of "The Star-Spangled Banner."
---
A 9/11 memorial service will take place at 11 a.m. Sept. 11 at Liberty Park on the south side of the Oxford Civic Center.
Representatives from area fire departments will be present, along with members of the Oxford Police Department. Oxford Fire Chief Gary Sparks and others are to speak.
"As December 7, 1941, is the date that one generation will always remember, September 11, 2001, is the date that our generation will never forget," Sparks wrote on Facebook.
"We remember where we were, what we were doing, and we can never forget the lives that were lost that day. It's important that we as a country, and as first responders, remember the innocent lives lost and the sacrifices made by the first responders."
In case of rain, the event will move into the Oxford Civic Center, 401 McCullars Lane.
---
There will be a moment of silence at the opening of the Weaver Heritage Day to honor those who died on 9/11. The festival is from 8 a.m.-3 p.m. on Sept. 11 at Elwell Park, which is behind the Weaver Police Station.
Wayne Willis, mayor of Weaver, invites the public to attend.
"Of course, 9/11 will be recognized," Willis said, "and will be on everyone's mind."