A Calhoun County judge on Wednesday ruled that an expert is not needed to determine whether an Anniston man is mentally competent to stand trial in connection with the 2011 death of a Wellborn Elementary School teacher.
Tyrone Thompson, 30, was indicted by a Calhoun County grand jury in May 2011 on a capital murder charge in connection with the kidnapping, robbery and killing of Kevin Thompson, whom the defendant knew.
Circuit Judge Debra Jones deliberated for more than a week before finding that such an expert was not needed to determine Thompson's competency. Jones at a hearing on Oct. 20 listened to prosecutors and defense attorneys make cases for and against the need for that expert.
In her ruling, Jones states that evidence and testimony at the hearing showed that Thompson does not posses an intellectual disability that would require the court to request an an expert.
"The mental retardation, or intellectual disability, of the defendant is not an issue in this trial," Jones wrote in her order.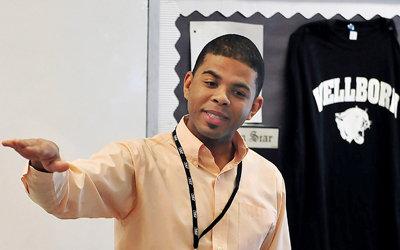 Defendants with intellectual disabilities are excluded from the death penalty, according to the 2002 U.S. Supreme Court ruling in Atkins vs. Virginia. That decision set a court precedence for the requirement of a preliminary hearing to determine mentally competency in death penalty cases. If a court finds any evidence of an intellectual disability, courts must ask for an expert's testimony, according to the ruling.  
Jones did order a mental evaluation of Thompson, she noted in her ruling, and the result showed him competent to stand trial.
Thompson was classified as eligible for special education services in the 3rd grade and dropped out of school after 9th grade, according to Jones' order, but he was able to communicate well with friends, family and jail administrators after his incarceration on the  charge.
"The defendant is able to read and to learn from reading resources as evidenced by his requests for certain law books and other reading materials from his mother while at the jail," Jones wrote.
Tyrone Thompson is the second of three suspects to be tried in connection with the teacher's death. A judge in September sentenced Nicholas Smith to death after being found guilty for his involvement in the killing.
Prosecutors in Smith's trial alleged that Tyrone Thompson, Smith and Jovon Gaston, of Jacksonville, kidnapped Kevin Thompson, drove him to several ATMs in Anniston and Jacksonville and robbed him of $ 400 at gunpoint.
Those men also drove the victim to a secluded portion of U.S. 278 outside of Piedmont where Thompson was stabbed to death and left by the side of the road, prosecutors have said.
Attempts to reach Thompson's defense attorneys for comment weren't immediately successful Thursday.
Tyrone Thompson and Gaston were in the Calhoun County Jail Thursday. Thompson's trial is to begin Feb. 2.