JACKSONVILLE — Kim Foss and her daughter Sydney were busy lugging boxes, crates and bags of belongings up the fifteen white stone steps at Fitzpatrick residence hall on the campus of Jacksonville State University Saturday morning.
Everyone was wearing masks.
"She's my youngest," Foss said as she caught her breath in the Alabama humidity.
This weekend is move-in time for many JSU students, a milestone of traditional excitement and anticipation — but this year one of wariness and curiosity as parents and students alike consider how everyone will negotiate the rules of living together during a pandemic.
Foss is from Cincinnati, Ohio, and the mother-daughter pair were coming to terms with not just JSU COVID-19 protocols but the weather.
"It is hot and humid down here, this is crazy," said Foss.
Foss, like other parents trudging up the Mount Kilimanjaro-type steps, was awarethat JSU is doing everything it can to protect students.
"From everything that they said here at JSU they're doing a really good job in terms of protecting the kids so I'm not really that concerned about it. I feel really comfortable in what they're doing here," said Foss.
Sydney — who will be studying forensic investigations — was taking her belongings to her room and said she was excited for her future despite the pandemic.
"I think it's a struggle but with all of the procedures it will keep everybody safe, so that's a good thing," she said.
Foss grabbed a laundry basket topped with her cat-patterned blanket to conquer more stairs inside as the residence hall has no elevators.
According to Rochelle Smith, director of residence life at JSU, the university is now using a four-stage residence hall visitation process that will allow visitors on a color-coded system depending on the COVID-19 numbers.
Saturday's color was yellow meaning only enrolled students can visit a friend in a residence hall.
Smith said the least restrictive level is green, meaning anyone can visit, and the next level up is yellow. Orange level means only students in a particular residence hall can visit with each other and red means no visitation at all.
The parking lot across from Brewer Hall on Alabama 21 was converted into a drive-through registration process for students.
Brooke Lyon, director of housing operations at JSU, said due to social distancing guidelines each student made an appointment at their respective residence hall to move in.
There were three stations with JSU personnel  where parents and/or students visited in their vehicles.
"The first one is a temperature check and a QR code that allows them to sign our roster. The second stop is where we activate their housing contract, which means they're here and they're dorm rights will kick in," said Lyon.
Lyon said that the last station students get their keys and a "Cocky Cares Kit."
"We've gotten a lot of good feedback from the parents that they like signing up for a time and it's not a big rush at the halls at once," said Lyon.
Lyon said other measures to protect students from the virus include increased cleaning with stronger disinfectants and reducing contact points.
Students are now going to use their ID cards to swipe to gain entry to their hall instead of using their ID number and pin.
Back at Fitzpatrick Hall, Sheila Richardson from Birmingham was helping her daughter Sa'Myah move in.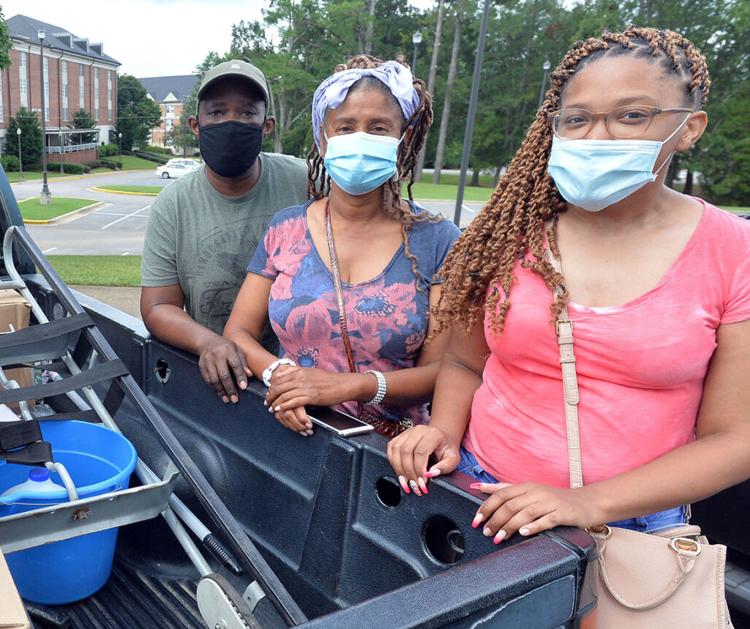 Richardson was concerned about her daughter's safety during the pandemic.
"That is my unexpected gift and the last one of three," Richardson said about her daughter, "I have a lot of concerns about this pandemic."
Richardson said she has told her daughter to follow the accepted protocols of mask wearing and using disinfectants.
"Is the school going to do their part in making sure the students are safe? Because if they come back home and visit parents, we want them to be healthy," said Richardson.
"I know people during this pandemic who have passed away because of the covid and I have great concerns about it," she said.
All manner of stuff was piling on the sidewalks outside the residence hall Saturday — including flat screen TVs, mini-refrigerators, coffee makers and boxes — as parents and students unloaded SUVs, U-Haul trailers and jam-packed sedans 
Mike Barber, 70, was catching his breath after carrying belongings to his granddaughter's dorm room. He said the COVID-19 situation is going to be a "wait and see."
"Obviously if they get all the kids back up here and a lot of them end up getting covid then it was a bad choice, hopefully they'll keep everything under control," Barber said. 
 "They're trying to get us old people into shape," said Barber as he started down the front steps of the residence hall to get more of his granddaughter's belongings.