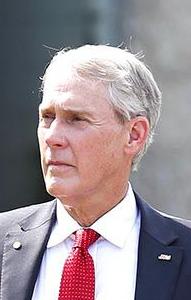 "Four years ago, I was blessed with the extraordinary opportunity of serving as the President of Jacksonville State University," the release began. "I took the helm of JSU knowing that l had an opportunity to have a major impact by rallying JSU's faculty, staff, students and alumni to improve certain elements of the University and position JSU for a very bright future."
Beehler was terminated without cause Tuesday after a two-hour closed-door executive session during a regular meeting of trustees. Trustees Clarence Daugette and Gale Saxon Main abstained from the vote, while all other present trustees voted to terminate Beehler. The termination is effective on Nov. 21, at the end of a contract-required 30-day period.
John Beehler's tenure as Jacksonville State University's president has coincided with high points, low moments and big headlines for the campus. JSU's board of trustees on Tuesday voted to terminate his employment.
"As for me, by necessity my own focus during the coming months will continue to be on tackling the serious health challenges my family faces," Beehler said in Thursday's release. "I will be thinking fondly of all of you and thanking you for your prayers and support as I continue in that important endeavor. "
"Clearly, JSU has been moving with enormous momentum in a very positive direction over the past four years. I am extraordinarily proud of JSU and how far we have come together," Beehler wrote in the release. "I realize that, during the past four years, we've set quite a very high bar for future administrations, but the First Lady and I dearly love JSU, and extend our very best wishes to our successors in meeting or exceeding our accomplishments!"
After voting on Beehler's termination Tuesday, trustees appointed chief external affairs officer Don Killingsworth as acting president. A university news release said the first steps in selecting a permanent replacement would likely be discussed at the trustees' January meeting.
Zach Smith, the managing partner for the education practice at executive search firm WittKieffer, said presidential searches often begin with the formation of a search committee.
"The first order of business is to establish a search committee, and that's usually set up by the board," Smith said. "There's an initial meeting, and they'll put together qualifications for the kind of candidate they want."
Smith said that searches can often take time, and an acting president, like Killingsworth, is often put in place to keep clear leadership visible at a university in the case of a removal of a president.
Beehler was tabbed as president in 2015 at the end of a 10-month search to succeed the retiring Bill Meehan, who stayed on until Beehler took office.
Smith said sudden terminations of a president could cause hesitancy among new candidates for the position.
"It all depends on why," Smith said. "If there are some signs of challenges between the board and presidents, candidates will want to know what those challenges are."
In the weeks leading up to Beehler's termination, the university has been in the news for several alleged rapes.
Though JSU officials have mentioned no link between Beehler's departure and the rape allegations, Smith said issues at universities could affect the search for a new leader.
"These things happen at universities all over the country, and how it would affect a search really depends on the situation," Smith said. "If they see a systemic cultural problem at a university that might need to be cleaned up, that might give some candidates pause."
"You can have situations on a campus and still find a great leader," Smith said. "At Michigan State, they ended up hiring a great president after all the issues they had."
Michigan State University hired Samuel Stanley as president in March on the heels of former employee and gymnastics team physician Larry Nassar's sexual misconduct scandal, which broke in 2016. MSU's president at the time, Lou Anna Simon, resigned and was eventually charged with lying to police. 
"You can never stop these things from happening, it's all about how you handle and respond to it," Smith said.