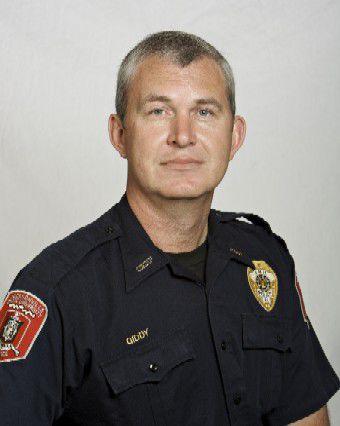 Shawn Giddy is a big man at 7 feet tall, but his sense of justice is bigger.
"What I liked about policing was the rules, policies, procedures … and doing what's right," said Giddy, former chief of the Jacksonville State University police department. "You treat people the way you wanted to be treated and I thought that if you did that, you'd be fine … that's what law enforcement was for me."
Giddy's more than 30 years in law enforcement ended abruptly when JSU terminated his employment as chief on June 28. The decision followed Giddy's allegations that university administrators interfered with an investigation into a teenager being raped on campus by a student athlete last year. Giddy has since filed a complaint with the U.S. Department of Education Office of Civil Rights that JSU retaliated against him — an action, which if true, would be a violation of federal civil rights law.
JSU officials have denied the allegations.
Giddy, 56, of Piedmont, declined to talk about the incident with JSU on Thursday as he has for weeks, but opened up about his long career in law enforcement and his love of the university since his time as a Gamecock basketball player.
"The people at JSU … there's wonderful people there," Giddy said. "Some of the best people I met work there … it's kind of a big family."
Giddy's relationship with JSU began in 1983 when he transferred from Western Kentucky University to play basketball for the Gamecocks.
"I loved Western … I got to play against Patrick Ewing at Western," Giddy said of the former NBA great. "But I moved because I wanted to get closer to home in Marion County, just across the state in Georgia."
Because of athletic restrictions, Giddy had to sit out a year before getting to play as a center at JSU in 1984. At the time, Giddy was JSU's tallest basketball player in years. The previous tallest was Ron Money, who was 6 feet, 10 inches tall and played in the early 70s.
JSU was also how Giddy met his wife, Deirdre, who was a student there at the same time. The couple, who have been married about 27 years and have three sons and a daughter, started out just as close friends.
"I remember when he would come home from big games," Deirdre Giddy said. "Our first date was at a firing range."
Giddy said he initially signed up to work at the JSU police department after he was finished with basketball because he needed just another 15 or 20 course hours to graduate.
"I got on as a student member, got on dispatch, helped with unlocking buildings at night, washing patrol cars, things like that," Giddy said.
Still, Giddy's interest in police work began years before JSU when he was still in high school and found his father beaten and robbed.
Giddy said he and a friend were 16 years old when they stopped by his father's home after a basketball game to check on him.
"I walked in the door and he was lying in the floor because he'd been assaulted," Giddy said.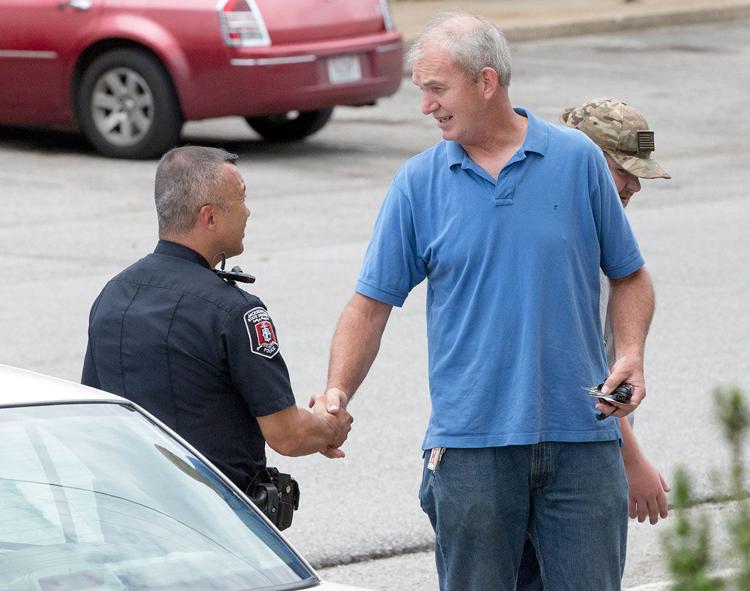 Giddy said the men who assaulted his father were still in the house at the time, one of whom attacked him.
"I slung him and he went into the sheetrock of the wall," Giddy said.
Giddy said his friend escaped through the front door and had neighbors call the police. When police arrived, an officer managed to arrest one of the men after the others had escaped in a truck.
"The police were nice and helped," Giddy said. "That's when I decided that's what I would do."
Giddy started at the JSU police department in 1986 as a patrol officer. He rose through the ranks and eventually became police chief on March 4, 2008.
But during all his years as chief, he didn't exactly look the part.
Giddy said that while many police chiefs choose to wear plain clothes or suits, he always wore his uniform while on duty.
"If you wear a suit, how are you going to help somebody," Giddy asked. "And if you've got on a uniform, people know you're a police officer."
Tommy Thompson, Jacksonville's police chief, said he worked with Giddy often over the years and was impressed with his work.
"He was a good officer … he went up through the ranks at the university," Thompson said. "I thought he did a pretty good job myself."
Terry Schneider, Giddy's immediate predecessor as JSU police chief, said he also remembered Giddy as a good officer. Schneider is currently chief of police and associate vice president of operations at Georgia Gwinnett College.
"I don't recall any issues with him," Schneider said. "He did his job and there were never any issues."
With no more crooks to catch or patrols to make, Giddy has spent much of his newly found free time gardening, one of his long-time passions. Giddy's garden is filled with rows of tomatoes, bell peppers, jalapeños, watermelons, green beans and other vegetables. Hardly able to eat all the produce on his own, much is usually given to friends and neighbors, Giddy said.
"I just like planting and growing things," Giddy said.
Giddy also wants to use his extra time to do more hunting. He's currently planning a trip to Colorado in the fall to bag a bull elk, something he's dreamed about doing for years. And if he does get one, he won't let any of it go to waste.
"I'm going to eat it," Giddy said with a smile.
Giddy said that while his retirement benefits from JSU are secure, he might take a job elsewhere. Still, having spent so many years working and on call as an officer, Giddy is in no rush to be employed again.
"I'd like to spend more time with my family," he said.