Senior Sarah Sumners began her reign last week as Jacksonville State University's 2021 homecoming queen with a number of courtly festivities. 
Sumners was crowned at 5 p.m. Wednesday, Oct. 6, in front of JSU's Theron Montgomery Building at the homecoming carnival. The 21-year-old communication major from Marietta, Ga., was presented with the rest of the court at Saturday's game against Stephen F. Austin State University. 
We spent the morning and afternoon with Sumners.
However, before "homecoming queen," Sumners had many names and titles.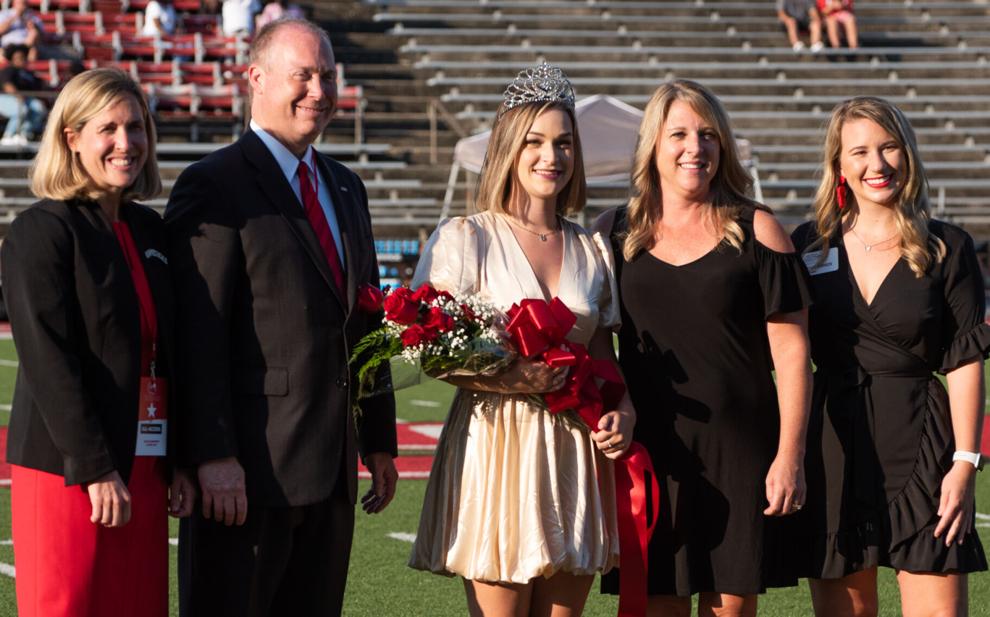 In the beginning: A light comes on
Sumners began her schooling at JSU in the fall of 2018 following her older sister before her. 
President of Delta Zeta, senior VP of Zeta Phi Eta professional fraternity and working with Gamecock Orientation, Sumners is involved in many extracurricular activities. But as Sumners put it, her story at JSU was of unique beginnings. 
"In my freshman year, I almost transferred out," Sumners said. "I applied to so many different schools. I wasn't involved. I had no friends. I went home on weeknights just so I didn't have to be here because I was so lonely."
Sumners said as quickly as night and day, all of that changed and JSU became so much more to her. 
"People saw a light in me and they were like 'come join this organization — come do this with us'," Sumners said. "It's just crazy thinking where I started and where I am now."
Sumners said a lot of times she doesn't tell people that she almost left JSU, but that it was a very important aspect of her story. 
"It was the feeling of being wanted," Sumners said. "I came from out-of-state. I didn't know anybody here."
Sumners said she had met people in her classes who began reaching out to her asking her to give their organizations a chance, and that's where it all began.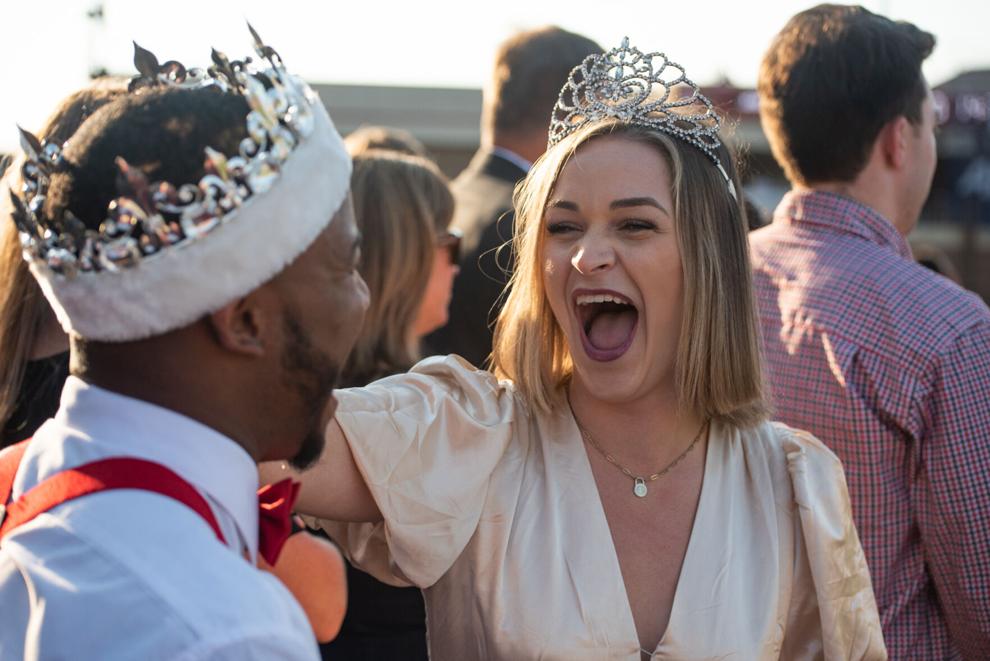 Sumners and the homecoming king, Quadarius Whitson, knew each other prior to being on the homecoming court together. Sumners said she and Whitson were on the same team of orientation leaders for JSU.
A day in the life of royalty 
6 a.m. — In the early morning hours at her home in Jacksonville, Sarah Sumners started her day much like any other — with a shower and a cup of coffee.
"It was a good way to wake myself up," Sumners said. "I had about an hour and a half to get ready." 
She had a long day of festivities ahead. 
 She headed to the Leone Cole Auditorium to meet her parents. There, she attended a breakfast banquet with the Alumni of the Year award winners where they honored the winners, the homecoming court, as well as the King and Queen. 
9 a.m. — Once the banquet ended, she immediately headed to the parade lineup in the Hibbett Sports parking lot. Floats, antique cars, and Jacksonville State students buzzed about the lot while spectators lined the streets anticipating the start of the parade. There, Sumners met up with her grandparents. 
"They actually drove all the way from Marietta in my grandfather's convertible so that I could ride with him [in the parade]," Sumners said. "I rode with my boyfriend who's also on the homecoming court, Trey Caldwell."
10:30 a.m. — In the parade, Caldwell rode by her side in her grandfather's vehicle. Together, they greeted onlookers and waved before the parade ended at the Theron Montgomery Building.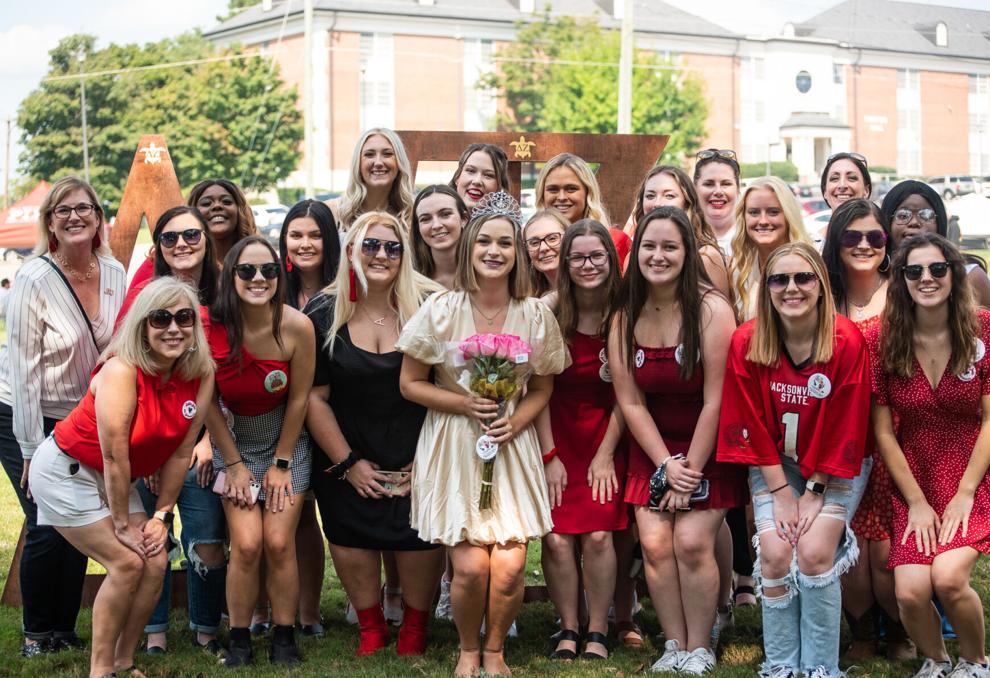 Sumners said her and her boyfriend had met a year before that day and that they were sharing a special moment. 
"It's a really sweet day for us," Sumners said. 
11:30 a.m. — After the parade, Sumners said she and Caldwell grabbed lunch at a nearby fast food restaurant. 
"We sat down and had some time for ourselves," Sumners said. "Then, I just went back to my house and talked to my parents for a few minutes."
12:30 p.m. — From there, she headed over to Dillon Field where JSU was hosting its tailgate party. Various fraternities and sororities were being represented there, kids played on the lawn, jersey clad fans tossed around a football, and the smell of grilled meat and country music filled the air. 
Here, Sumners was met with a constant stream of support as friends gathered to express their congratulations and share in some afternoon fun. 
2:30 p.m. — Sumners' sorority Delta Zeta was recognized by JSU at the tailgate party for all of its achievements for the past year. Current members as well as alumni gathered to celebrate in this achievement. 
"I'm very excited," Sumners said. "It all just kind of fell into place."
Her fellow sorority sisters crowded her for photos in a sea of hugs and congratulations — posing in front of the big Delta Zeta Greek letters with members new and old.
3 p.m. — The JSU vs. Stephen F. Austin game kicked off. Waiting in the wings, Sumners gathered with Caldwell and the rest of the homecoming court and other award winners anticipating their presentation to the crowd.  
Halftime  — JSU Alumni of the Year Winners were each presented with an award with the presentation of the homecoming court immediately following. Sumners expressed excitement that her best friend, SGA President Brooke Robinson, would be there to help present her on the 50-yard line. 
"She's one of my best friends in the whole world, so it's really sweet that she gets to do that for me," Sumners said. 
Her mother was there, and arm in arm they followed the line of her fellow court members beyond the row of clicking photographers to shake hands with JSU President Don Killingsworth and first lady Kristi Killingsworth.
End of the game — Sumners said that at the end of the game, she would watch the Marching Southerners perform.
"I was a Marching Southerner for three years," Sumners said.
 After the game, Sumners' family returned to Marietta, north of Atlanta, and she continued her celebrations elsewhere with her friends.