JACKSONVILLE — The Jacksonville City Council heard public comments Monday from several residents who say a Confederate memorial statue should be removed from the city's public square and some who believe the removal would censor history.
A group of about 30 people dressed in all black clothing gathered in the meeting room to express their support for the removal of the monument, many of whom stood along the back wall when the seats in the room became full.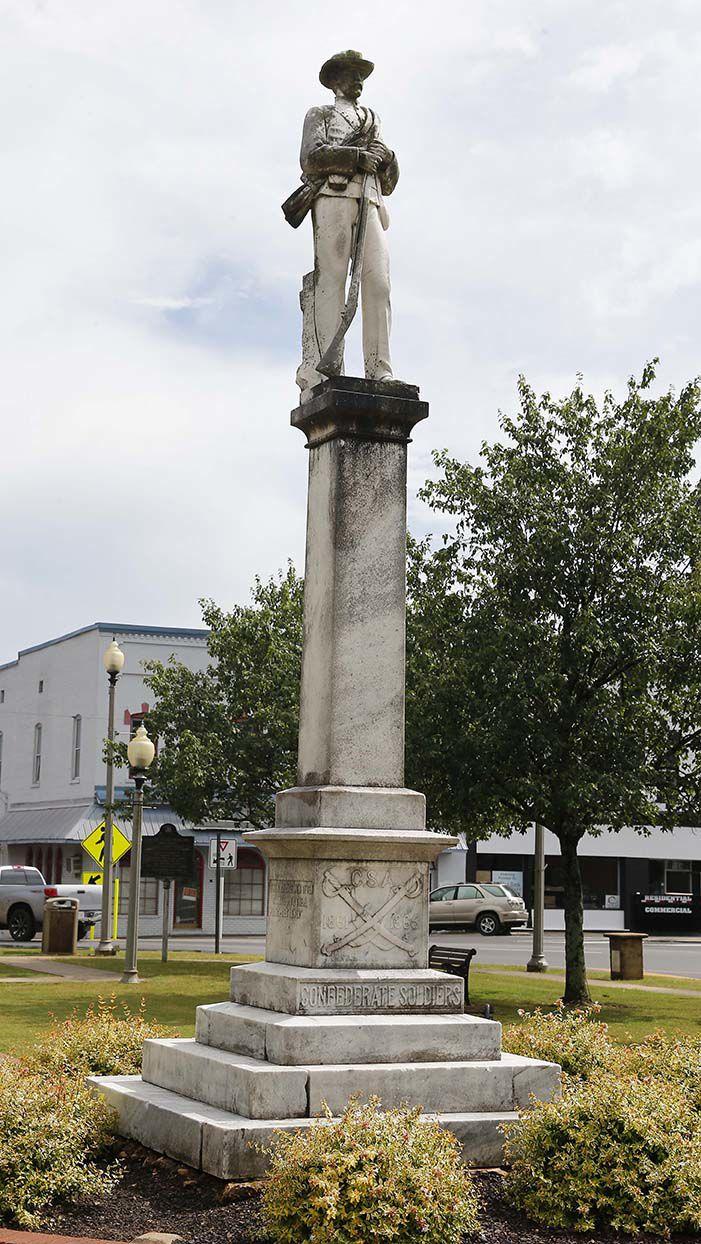 Jennifer Luck said her great-great-great grandfather, William Cox Acker, served in the 30th Alabama Regiment during the Civil War.
"Family and heritage are as important to me as they are to any other Alabamian," Luck said. "But it is possible for us to honor our ancestors without glorifying the cause for which they fought and died."
Luck believes that, as a public space, the Jacksonville square should represent the heart and soul of the city, and that the monument does not reflect the heart and soul of all Jacksonville citizens.
"Many of us view this monument as a symbol of the oppression, segregation and disenfranchisement of Black Americans," she said. "It was placed in the square by the United Daughters of the Confederacy not in 1865 when the Civil War ended, but nearly 45 years later, when Jim Crow laws were working their hardest to silence Black Americans across the South."
Luck recited the inscription of the monument, which says, "Be it ours to transmit to posterity our unequivocal confidence in the righteousness of the cause for which these men died."
"We have spoken with many Jacksonville citizens — including ministers, students, professionals, teachers and community leaders — who don't believe in the righteousness of that cause," she said. "We no longer wish to be publicly represented by this monument or this inscription."
"A monument that honors some citizens at the expense of others does not belong in a public space that purports to represent all," she explained. "We would like to see it moved to a place where it can be preserved and contextualized as a historical object should be."
"We recognize there are obstacles to achieving this," Luck said.
Luck said that she received a letter from John Nisbet III, son of former Jacksonville Mayor John B. Nisbet, saying that he is offering a plot in the city cemetery to the council for the monument's placement and to help pay for the monument removal fine.
Dan Barnwell, a U.S. Navy veteran of the Vietnam War, opposes removing the monument, saying that the "professor, reporter and the mob" who support removal are motivated by hate.
"George Floyd died in Minnesota," Barnwell began. "Jacksonville had nothing to do with that."
Barnwell claimed that there is a mob preparing to cause consequences if the statue is not removed, a statue that he said represents courage.
"I, as a citizen of Jacksonville, am here to tell you that I like that statue of an old, brave soldier," he said. "Because it represents the courage of my family and of my town."
Peter Leavitt, known colloquially in Jacksonville as "Peter the Patriot," took to the podium dressed as Maj. John Pelham, a Confederate artillery officer from Alexandria who was killed in the war and is buried in Jacksonville. 
"Over the past several weeks, many monuments have been vandalized, desecrated with vulgar and profanities, and torn down by the radical leftists," Leavitt said.
Leavitt said that the vandalism of Confederate monuments isn't about race, but about erasing history in a divisive scheme with the end goal of achieving communism.
"When you look up the definition of a patriot, it does not say what color he or she is," he said. "I do not see black or white skin. I do see friend or foe to America as U.S. military veterans have told me."
Allie Blake said that she has been a resident of Jacksonville since the second grade and that she loves the city.
"I can't tell you that that statue being there or not being there makes any difference as to who the people of this community are, what this community stands for," she said.
Blake said that a portion of the community feels "hurt" by the statue because their pain is not being acknowledged.
"It's right there in their face, every day," she continued.
Blake organized two Black Lives Matter protests on the square, sparked by a nationwide outrage following the death of Minnesota man George Floyd in the custody of police.
"I know the youth of this community wants to see art," she said. "They want to see love."
Mayor Johnny Smith said that he thought there were a lot of good comments from both sides of the issue.
"I think we're just gonna have to sit down and kinda go through what we heard tonight," Smith said. "It'll be a council decision because it's public property. It's not an easy answer."
Smith explained that if the council were to move forward with relocation, they would have to do it "appropriately" to avoid paying the fine. However, no process has been codified in Alabama law regarding proper removal of a statue older than 40 years, only a $25,000 fine for violating the Alabama Memorial Preservation Act of 2017. Other local governments in Alabama that have removed Confederate monuments in recent weeks have simply agreed to pay the fine, including the city of Mobile, which reached an agreement with the state attorney general's office last week.
"We just don't know at this point," Smith said.
In other business, the council: 
— Heard from Mike Hindman, a board member of the Jacksonville Commercial Development Authority, who said that the authority is honoring new businesses in the city with a plaque, of which Heirloom Taco received the first. He also touted small business grant programs that many businesses in Jacksonville have benefited from, including Heirloom Taco and Recollected Books.
— Accepted the resignation of Christopher S. Curvin as a police officer, effective July 7.
— Approved a franchise agreement with Southern Light LLC, a fiber optic network provider based in Mobile, to allow the company to place its facilities on public rights-of-way. Southern Light currently operates in Jacksonville, according to City Planner Mark Stephens, and took over facilities managed previously by M2 Connections
— Adopted the 2020 general fund and revisions to the Water Works, Gas and Sewer Board job descriptions.
— Approved the placement of two street lights on Bear Boulevard Southwest on an existing pole in front of the Jacksonville Water Works, Gas and Sewer Board building and on an existing pole in front of Transportation Repair, LLC.
— Authorized the mayor, on behalf of the Water Works, Gas and Sewer Board, to sign the 2020 Public Awareness Program with Enertech.