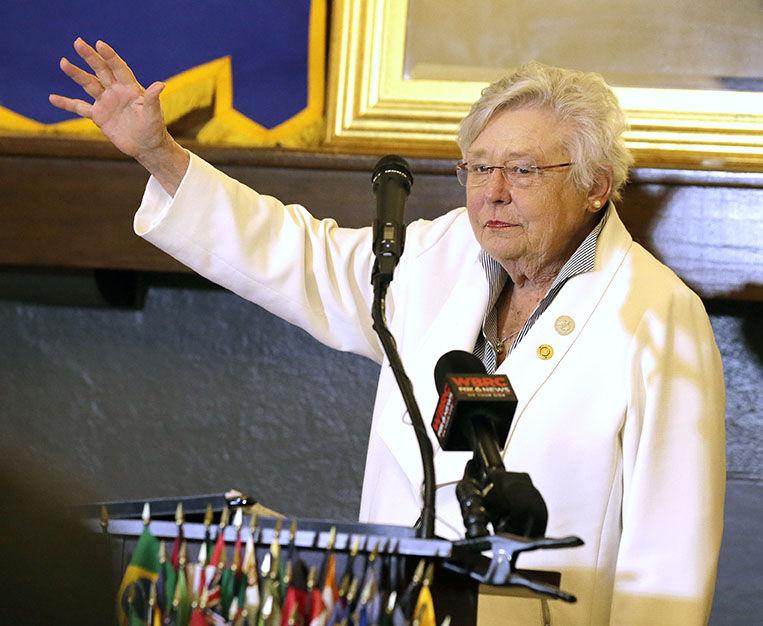 Before a crowd of around 100 maskless people, a maskless Gov. Kay Ivey on Tuesday said Alabama's economy was getting back on track after the decline of COVID-19.
"It's been a roller coaster of a year, I'll tell you that," Ivey said in a brief speech to a local Rotary club at a noon lunch at Anniston Country Club. "But collectively we showed the world that despite whatever unfortunate circumstances we face in Alabama, Alabama will prevail."
In her speech to the Rotarians, Ivey gave part of the credit for the low jobless rate to her decision to end state participation in federal pandemic-era unemployment assistance. Ivey and some of the state's business leaders argued that the more generous benefits were discouraging workers from re-entering the labor force.
"We gave the federal government a 30-day notice that it's time to get back to work," Ivey said.
The jury is in fact still out on the effect of Ivey's decision. Federal unemployment assistance in Alabama doesn't end until Saturday. May unemployment numbers — a snapshot of a world with federal unemployment assistance in place — are expected to come out Friday.
Photos: Alabama Gov. Kay Ivey visits Anniston
Photos of Alabama Governor Kay Ivey visit to the Anniston Rotary Club.
Ivey's post-COVID victory lap comes as deaths from the virus are slowing almost to a halt. In Calhoun County, 325 people have died of the virus, the vast majority of them before April. The Alabama Department of Public Health no longer provides updates on new cases daily.
In Anniston, the last holdout among Calhoun County's cities, the council was set to vote Tuesday afternoon on an end to the mask requirement in city buildings.
Still, it's increasingly clear the state won't reach the Biden administration's goal of having 70 percent of people vaccinated by July 4.
In Calhoun County, according to ADPH numbers, 31 percent of the eligible population has had at least one dose of vaccine, while 26 percent are completely vaccinated.
Ivey didn't address the vaccination campaign in her speech. She did speak about the state's ongoing struggle to build new prisons, something that has been on the front-burner — at least rhetorically — for Alabama policymakers for several years.
Federal judges, overseeing lawsuits against the Alabama Department of Corrections, have repeatedly issued orders taking the state to task for inhumane conditions in the state's decades-old prison buildings. 
"Our prison infrastructure dates back to the 1960s, and simply put, it's been failing to get the job done," she said. "Most of these facilities are falling apart, and in the process are costing the state hundreds of millions of dollars."
Ivey had backed a plan to lease new prisons that would be built by private contractors, but that plan failed earlier this year when the prison-builders failed to find financial backers for the venture.
Ivey met with legislators earlier this month to discuss options, according to reports in The Birmingham News and other news outlets.
"If we fail to solve this issue, the Department of Justice will step in," Ivey said.