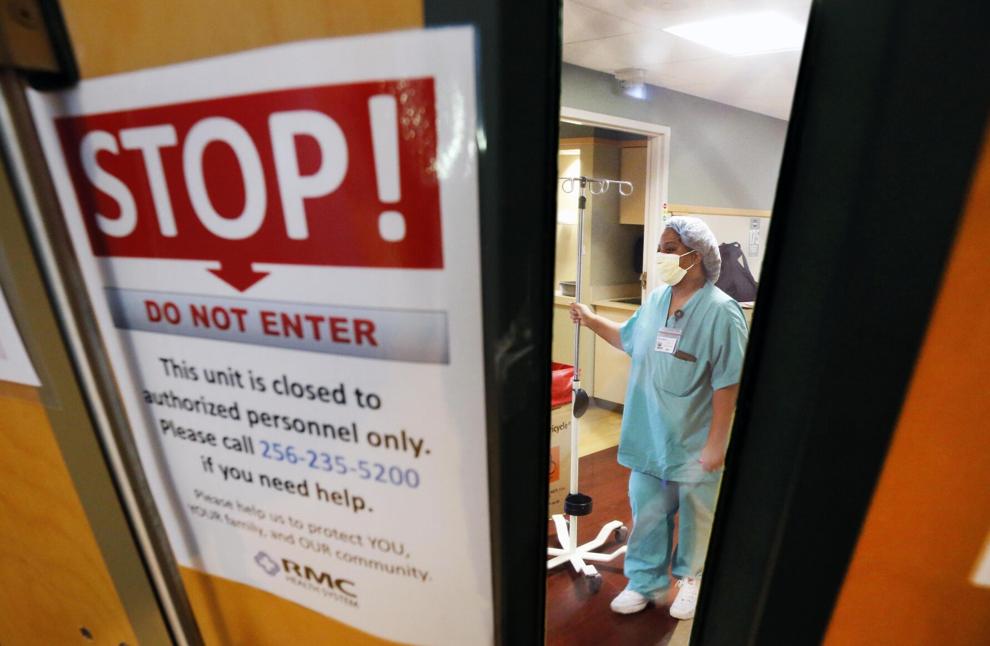 After months as nurse manager in one of Regional Medical Center's COVID-19 units, Cindy Justice thought she understood the emotional impact of a serious case of coronavirus.
Patients would enter the ward, typically short of breath and often fearful for their lives. For days or weeks, their only companions were nurses and the flat faces of loved ones on the screen of an iPad. Some said their final goodbyes that way.
Most of those patients were strangers, though. Then came November, when familiar faces started showing up in the COVID ward.
"One lady that was a patient was my Sunday school teacher when I was a child," Justice said. "Another was a nurse friend that I have known 40 years that passed away."
Attending dying patients wasn't originally in Justice's plan for 2020. A Childersburg resident, she commuted an hour every day to Anniston to oversee nurses in RMC's Pediatrics and Gynecology wing. It's one of three hallways that branch off the second floor lobby of the hospital's Women's and Children's Center, a place of gently curving walls and furniture in calming earth tones. When a child is born in Anniston, it's typically in this building.
Now, though, the door marked "Pediatrics and Gynecology" leads to Covid Two, one of the hospital's wards for coronavirus patients. A hallway marked "Orthopedics" leads to Covid One, an intensive care ward for coronavirus patients. An unlabeled hallway is the path to Covid Three, created when the patient count grew enough to demand another ward.
The lobby, the heart of the COVID wing, is empty and quiet. Sometimes a tired-looking nurse emerges to use a vending machine. Sometimes a nurse comes out to give an interview.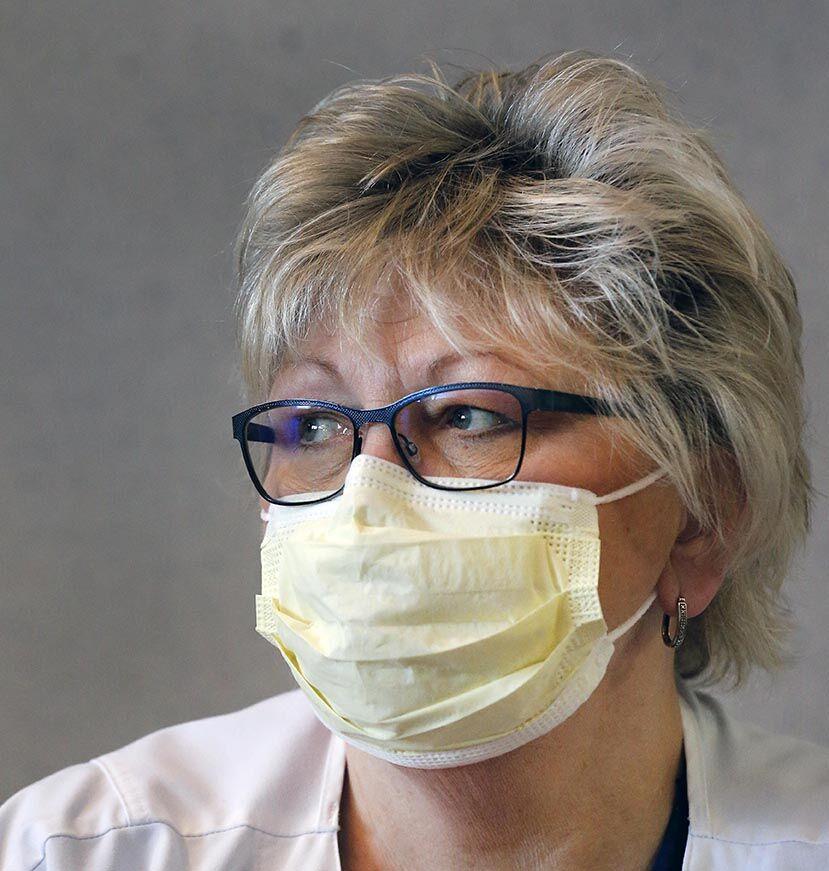 "The fear is very, very real," Justice said of her patients. "Some of them are extremely fearful when they come in the door."
Patients are alone, at least in the sense that they can't bring in family or visitors, from the moment they come into the emergency room. FaceTime is the only contact with the outside world. If there is a hand for a dying patient to hold, it's the hand of a nurse.
When patients hear that they're going to be intubated, with a tube inserted in their windpipe to help them breathe, many are aware that they might not wake up again.
"How they react has a lot to do with their personal religious beliefs," Justice said. "Some of them are more comfortable with the possibility that they might die."
No nurse can stay constantly in the room with a patient. If nothing else, there's the crush of calls and emails from concerned family members, waiting for them every time they emerge.
Justice is looking forward to the day when kids return to her wing for pediatric appointments. She's looking forward to the time when friends and family can sit with an injured person in the emergency room. Because of contagion concerns, even people with broken arms or twisted ankles can expect to wait for the doctor alone.
Justice has yet to catch COVID, and perhaps she never will. On the day she spoke to The Star, she was scheduled for her second vaccine dose. She said it will be a relief to her husband, who has respiratory issues.
"That's the other side," Justice said. "The family members you go home to." 
His youngest patient was 19
Rey Vargas did get the virus, on Oct. 21, 2020.
He remembers the date, though he claims his case wasn't so bad.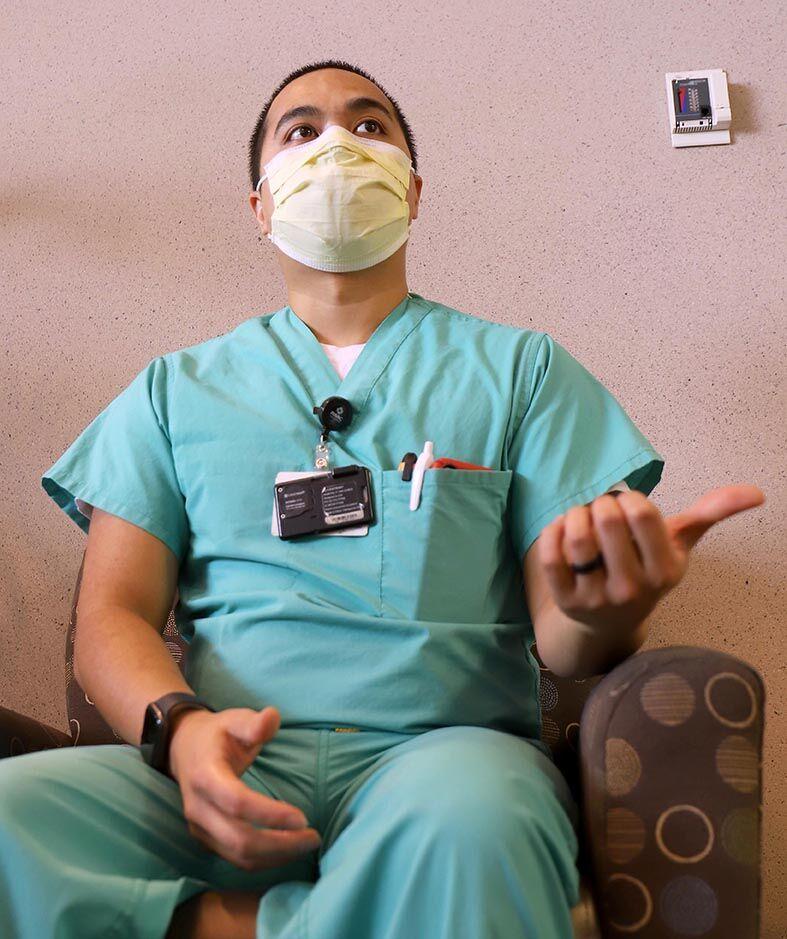 "It was like a man-flu," he said. When he gets a fever, he said, he feels worse than most people would at the same temperature.
He had a fever, on and off, for nine days.
Vargas is a nurse and the clinical team leader for Covid One, where the sickest coronavirus patients go. He's among the staff who have been working on the coronavirus response since before Calhoun County had its first case.
"Everybody needs to work on their own health," he said. Wearing masks and keeping a distance is a must, but Vargas said it can't hurt to exercise, eat right and generally try to be in good shape when COVID hits. That's how he sees it: when.
"Contracting COVID is probably going to be an eventuality for everybody," he said.
Youth and fitness aren't silver bullets, though. His youngest patient in Covid One was 19. That patient had to be intubated.
In the early days of the pandemic, the hospital would invite reporters out to speak to some of the COVID patients as they left the hospital — typically in an ambulance on their way to a long recovery elsewhere. Doctors and nurses would line the halls and applaud.
That doesn't happen so often these days, nurses say. Patients are coming at them too fast. In a Wednesday interview, nurses sounded relieved that the patient count was down into the 50s, a number that would have alarmed them over the summer.
The peak, earlier this month, was 85.
Nurses need 'prayers and patience'
Sloan Bryan has worked as a nurse in RMC's intensive care unit since 1998. Ask him about feelings and he typically responds with facts.
Fact: There are more deaths in Covid One, the ICU for coronavirus patients, than he saw in the regular ICU.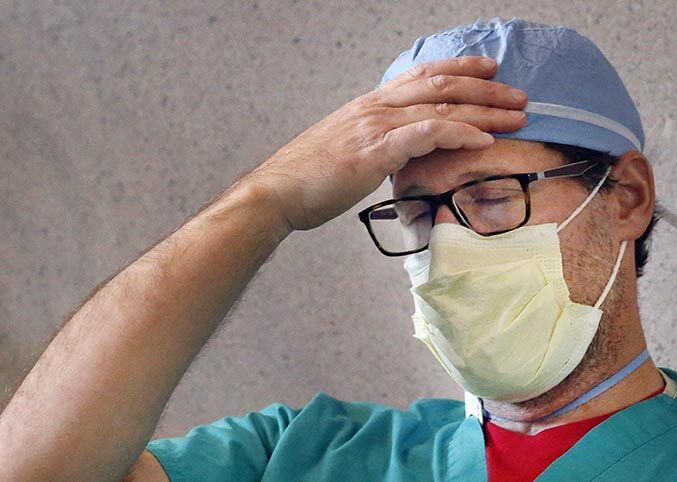 "As it started getting into the elderly population, we saw a lot more deaths," he said. "And, again, the sheer numbers of very sick people, that's something we hadn't seen."
By the time a patient reaches Bryan, there isn't a lot of conversation — typically because they can't breathe well enough to talk at length.
"They present to us typically with a respiratory stress scenario," he said. "They're anxious. They can't breathe."
Many of them wind up with a breathing tube. They're medicated and in a semi-conscious state much of the time. Occasionally doctors will turn down the meds so they can communicate with a patient, he says.
Isn't it terrifying to wake up with a tube down your throat?
"I'm sure it is," Bryan said. He doesn't hear that from patients, though.
"Most of the time, they don't remember," he said.
FaceTime meetings with family members happen here. Even when the patient can't speak, family members want to see them. When they're dying, the one-sided conversations become especially important.
"They tell them they loved them," he said. "That they were a good parent or spouse. That sort of thing."
This work used to be easier.
"When I was younger, I was kind of able to detach from it," he said of intensive care work. "As my parents get older, I'm more apt now to see these patients as like my parents."
Asked if there's anything COVID nurses need from the public, he's quick to say they're well equipped and have a good team. He pauses to think of what else might be needed.
"Prayers and patience," he said. "And if you see a nurse going down the road and they're just crying, don't think anything of it."
The ICU is 'on fire'
Caleb Pope has had the virus, but he's sure he didn't catch it on Covid One, where he works. He got it in Kenosha, Wis., where he deployed in response to the protests over the summer.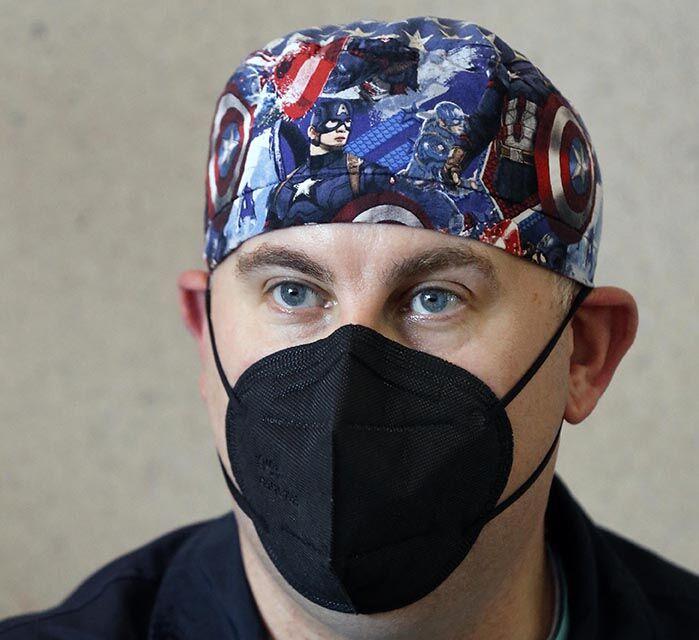 Pope was on a tank crew in the regular Army and is now a reservist in a military police unit. Nursing was a way to get as far as he could from his military jobs, he said. Working in Covid One has been tougher than anything he's seen before, as a nurse or a soldier, he said.
"In the old days, in the ICU, we'd have times when we'd say the ICU was just on fire," he said. "That might be two days a week. Here, we have two days a week when we don't get our butts kicked."
Pope has a sister who is studying in Australia. That country has had 909 COVID deaths, according to Johns Hopkins University. Calhoun County alone has had 201.
"I don't know that, in this area, the discipline is there to do the things we need to do," he said.
Australia puts in place varying degrees of lockdown based on how fast the virus is spreading, Pope said. In the strictest lockdown phase, people can leave their houses only on certain days, he said, depending on the first letter of their last name.
In Alabama, there's a mask mandate, rarely enforced with arrests or fines. Pope describes it as "a piece of paper on the wall in most gas stations." Too many people are ignoring it, he said.
He hopes warm weather in coming months will help slow the spread of the virus. But he's also aware that the virus arrived in Alabama in late spring, past the peak of the spring tornado season. If a Palm Sunday-style tornado hits in 2021, he said, alluding to a fatal event that struck Calhoun County in 1994, it's likely there isn't a hospital in the state that's in a good position to treat all the wounded.
"We are a mass casualty event away from being in a very dangerous situation," he said.
Even now, some claim the virus is overblown. Asked what he'd say to those people, Pope first says he doesn't have anything to say that he can say in the newspaper. Then he thinks again.
"If you saw what we saw on a daily basis," he said. "It would change your mind."