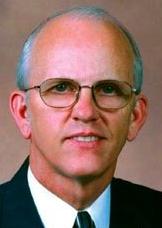 State Rep. Koven L. Brown, R-Jacksonville, said Tuesday that he's not seeking re-election in 2022.
"I'll be 70 years old Sunday," Brown said in a telephone interview. "I've enjoyed serving. But if I was planning to spend my whole life in Montgomery, I'd have started earlier."
Brown represents House District 40, which stretches like a band across the middle of Calhoun County, including the city of Jacksonville. He took office just before the Republican sweep of 2010, winning a special election to fill the seat vacated by the death of Rep. Lea Fite. 
Like Fite, Brown was a well-known local businessman before his political career, known to most in his district as the owner of K.L. Brown Funeral Home. 
Across the state, Brown is perhaps best known for the bill he never managed to pass. Inspired by his own sister's struggle with the pain of cancer, Brown was among the first Republicans in the Legislature — perhaps the first — to propose legalization of marijuana for medical use. 
That bill failed. Brown said lawmakers disagreed on details of the bill, such as whether people should be held accountable for holding a cell phone even while stopped at a traffic light. Brown believes there's a danger even in that: pedestrians could be crossing at a crosswalk unnoticed by a distracted driver. But he said he's willing to compromise. That's how bills move forward, he said.
"You have to pass what you feel like you can pass," he said.
Brown's imminent retirement from politics wasn't exactly a local secret. Even the opposing party knew; Calhoun County Democratic Party chairwoman Sheila Gilbert, in a phone interview Tuesday, said she'd already heard the news. Still, Brown's campaign fund is listed as "active" with the Alabama Secretary of State's office, even though he hasn't raised funds in more than a year. 
Brown said he doesn't recall publicly announcing a plan to leave the House. He said people within his party have urged him to stay on for another election. He said he never intended to run for more than a few terms and won't be coming back. 
Julie Borrelli, now the finance director for the Anniston city government, filed paperwork in May for a run for the seat as a Republican. Attempts to reach Borrelli for comment Tuesday were unsuccessful.
"It's my intent, but I have not made a formal announcement yet," she said.