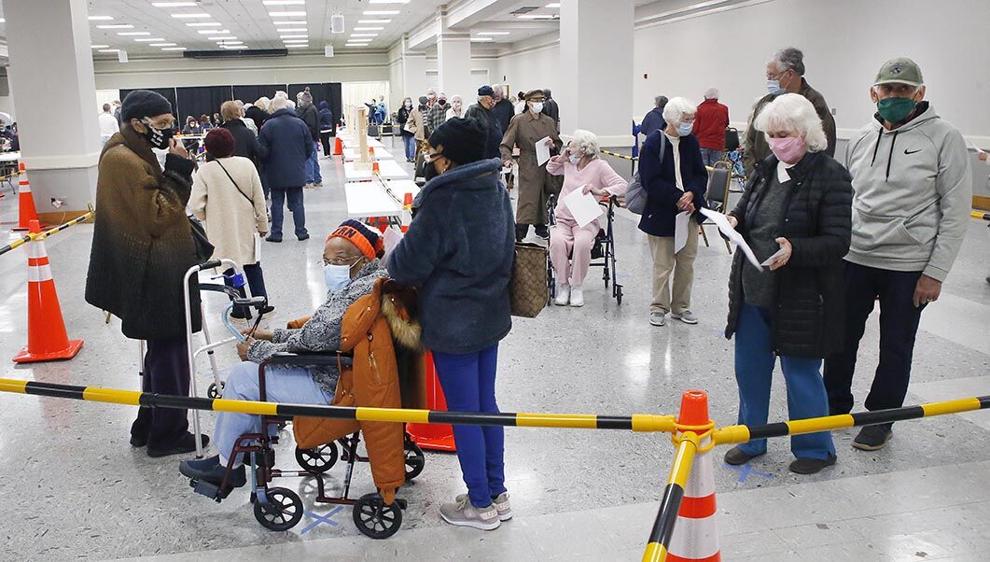 Doctors at Regional Medical Center have treated COVID-19 patients on stretchers in hallways in recent days as coronavirus hospitalizations reached record numbers, doctors said Wednesday.
"I've been practicing for 25 years," said Dr. Almena Free, vice president for medical affairs at RMC. "I have not seen anything like this in all my days."
Free was among the medical and emergency management officials who briefed reporters on the situation in the hospital Wednesday in a press conference at Anniston City Meeting Center, where health care workers were administering COVID vaccine to hundreds of people. 
Free said that on Monday, Regional Medical Center housed 80 to 85 patients with COVID, a record number. Some COVID patients wait in beds in the hospital's emergency room. Nearby Stringfellow hospital, not originally designated as a location for COVID patients, has in recent days housed some COVID patients awaiting transfer to other hospitals. 
Anniston isn't alone in facing a patient surge. Even as people line up for vaccines at various locations across the state, the number of hospitalized coronavirus patients in Alabama passed 3,000 earlier this week — nearly twice the number hospitalized during the summer surge. It's the aftereffect of a December surge in new infections, which most public health officials attribute to travel and social events over Thanksgiving.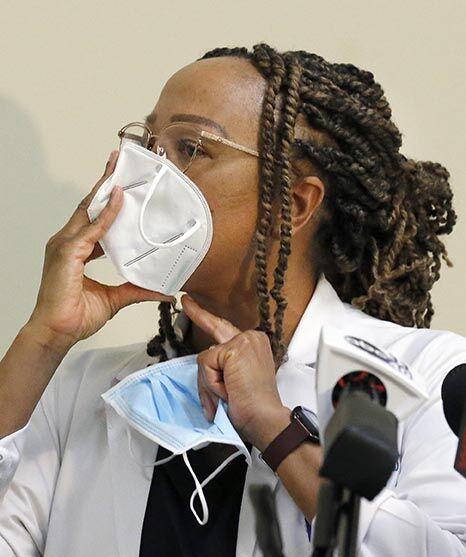 Free said no one can predict before an infection how badly they'll be affected by the virus. Young and previously healthy people are dying, Free said. She urged people to continue wearing masks, to keep a proper distance, to wash their hands and to consider wearing gloves when going out, to prevent infection from touching doorknobs and other objects. 
"Please, I'm begging you," she said.
As of Wednesday morning, 158 people in Calhoun County have died of coronavirus, according to numbers from the Alabama Department of Public Health.
More than 10,000 people in the county have caught the virus since the pandemic began.
Vaccinations continue
Free spoke as health care workers in the meeting center's main hall worked their way through a line of people waiting to receive the Moderna vaccine. Kandi Williams, RMC's infection control specialist, said more than 500 people were in line when the vaccination push opened for its second day Wednesday morning. Health workers had only 500 doses on hand, she said, and had to turn away some of the people in line. 
Photos of a COVID-19 vaccination event for everyone 75 and older at the Anniston City Meeting Center.
If the vaccine push seems at times like a mobilization for a war, it comes with all the fog, friction and improvisation of wartime. Vaccine supply lines determine the pace of the vaccination effort, and local officials say they don't have hard dates for when their next major shipment of shots will come in.
RMC got its first shipment of 2,900 doses in December and vaccinated 1,800 health care workers soon after. Health officials planned to give shots to first responders and any still-unvaccinated medical workers this week at the City Meeting Center — but when they neared completion of that goal, they decided to offer the vaccine to their next high-priority group: people age 75 and older.
Hundreds showed up within an hour after the expanded vaccination began. Williams said 970 people were vaccinated Tuesday. She said that after the 500 shots were given Wednesday, the City Meeting Center would host another vaccination event Thursday from 7 a.m.-3 p.m. with additional doses on hand. 
But health officials are reluctant to promise too much, in too much detail. Williams said organizers expected to hold a second shot clinic beginning Feb. 2 to offer this week's patients a second dose of the two-dose vaccine. She said local officials expect to have a new shipment on hand by then, sent specifically as a second dose for this week's patients.
But local officials can't say exactly when that shipment will arrive, or when there will be enough vaccine on hand to move on to the next high-priority groups, including teachers, people in jails or other institutions, and people in critical jobs such as public transit. Williams said it's not even clear how many shots will be available for Thursday's vaccination event.
"I cannot comment on the specific amount because I do not know the amount," Williams said.
Dr. Raul Magadia, a physician who works with COVID-19 patients at RMC, said it's vital for people who received the first shot this week to return for the second shot in February. A one-shot dose is a little more than 50 percent effective against the virus, he said, while a two-shot dose is more than 90 percent effective. 
Magadia, who was the first person vaccinated in Calhoun County, said that by most accounts, side effects are more pronounced with the second shot. 
"Your body's saying, I've seen this before, and I'm going to react," he said.