Willie Maude Atkinson, known as Hobson City's oldest resident, died last week at age 100. 
Atkinson lived in Hobson City her whole life, only moving once from her house on Draper Street to the house next door, still on the same road — renamed Atkinson Drive in her honor last year — where she passed away peacefully of natural causes around 5:30 p.m. Thursday, according to her daughter, Willie Shortt. 
"She was a beautiful, loving, kind woman; she was a giving person, and she treated everybody with respect," Shortt, 77, said Tuesday. "She said the secret to her longevity was trusting the Lord and treating her fellow man right."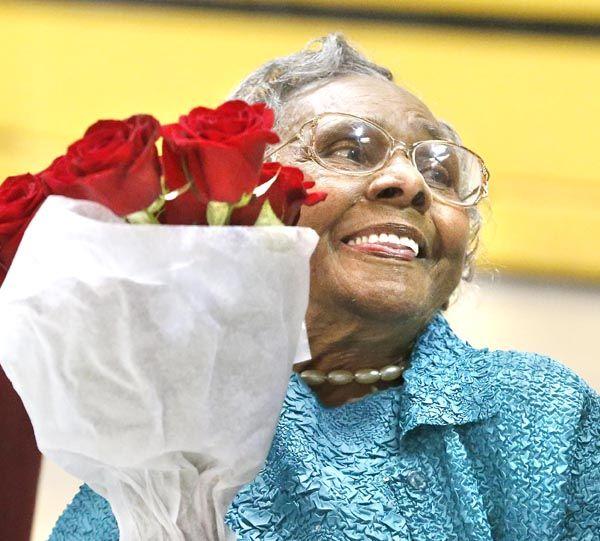 Her mother was more than Hobson City's oldest resident, though, Shortt said. In addition to acting as the living memory of a community founded only 20 years before her birth in 1919, Atkinson was a devout student of the Bible, an exceptional cook and, when she was young, her daughter said, a solid basketball player.
"She played forward, and her fingers looked like a professional ball player," Shortt said. 
Atkinson also kept her yard in immaculate shape, full of roses of any color, and free of weeds she'd dig out by hand with her garden tools. 
"She had no problem telling you not to walk in her yard," Shortt said, laughing. "If she wasn't sitting and taking care of someone or wasn't cooking, you'd find her in the yard." 
Hobson City Mayor Alberta McCrory said Atkinson had been her friend for years, a relationship spun out of front-porch chats and church gatherings at New Hope Baptist, located there in the community. Atkinson's father and grandfather had been Town Council members, and she had inherited their will to improve the lives of residents. Atkinson often encouraged young people to continue their education, McCrory said. 
More than anything, she was kind, according to the mayor. 
"The fact that she cared enough about you to know what you were doing and that you were doing good, that just meant a lot," McCrory said. 
A viewing for Atkinson will be held at New Hope Baptist Church in Hobson City on Saturday from 10 a.m. to 2 p.m., followed by a funeral procession that will travel along Atkinson Drive, then into Oxford on the route Atkinson used to walk to work, and finally back to the Hobson City cemetery for a funeral service. 
Due to COVID-19 concerns, only immediate family will be able to stand graveside, but McCrory said others may attend at a safe distance.