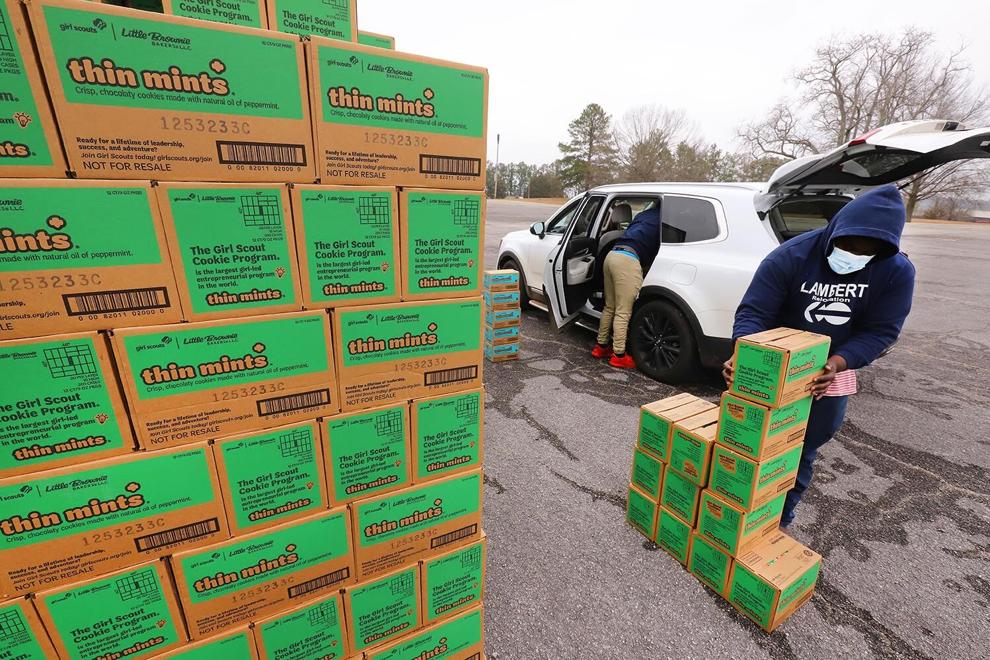 Friday morning marked the start of one of the biggest female-run business ventures Northeast Alabama has ever seen: Girl Scout cookie season.
More specifically, it was the day local Girl Scouts could start delivering cookies they had already sold or planned to sell, said local girl scout leader and council volunteer Paula Lott.
"This is one of the biggest girl-led businesses in the world," she said.
Lott, who oversees Girl Scout troops in Calhoun, Cleburne, Clay and Randolph counties, as well as in Munford and Lincoln, said troop leaders were picking up all the boxes their troop members had pre-ordered. 
"I'm excited," Lott said. "Cookie time is always a good time for us."
Dozens of cardboard boxes carrying the cookies were stacked in a parking lot at Fort McClellan on Friday morning, many of which volunteers loaded into U-haul trucks, minivans and cars.
Photos: Girl Scout Cookie Drop
Photos of the Girl Scout cookie drop at McClellan.
Nearly 20% of the profits from cookie sales go directly back to troops, Lott said, while about 45% goes to the Girl Scout Council of North Central Alabama for things like programs, events and property maintenance.
Lott said Girl Scouts learn five skills from selling cookies: goal setting, decision making, money management, people skills and business ethics.
"All of that is essential for everything in life," she said. 
As the Scouts gain more experience, they start to take more of an active role in selling the cookies.
"We have some that are natural sellers," Lott said. "They can talk people into anything."
The COVID-19 pandemic has slightly decreased numbers, Lott said. She said places where troops normally set up booths, such as Walmart, have increased restrictions, and some troops and members don't feel comfortable selling cookies door-to-door. Nonetheless, she said, about 5,000 boxes were pre-ordered.
"Everything is still clicking," she said.
Valerie and Anna Jones are a mother-daughter Girl Scout duo. They live in Oxford, where Anna is a sophomore at Oxford High School. To learn mo…
Buyers have the option to donate boxes to local first responders and healthcare workers as part of Girl Scouts' "Hometown Heroes" program.
Anyone who buys five boxes will be put into a drawing to win five cases, she said.
Next week, local Girl Scouts will be selling door-to-door, and booth sales outside stores will start March 5, Lott said.