Birthing of Charley Pell ...
The old three-hole notebook, its cover swirling with roses on the vine, had been laying on the back shelf for years. I had even forgotten it was there ... until this past week.
It had belonged to my mother, held yellowed copies her oldest son had written for The Anniston Star. Mom left me in '96, but her memories didn't. Opening the notebook, a remembrance, of how proud she had been, held me as I idly turned the pages and hit on a column I had written almost three decades ago:
Sad times for an old friend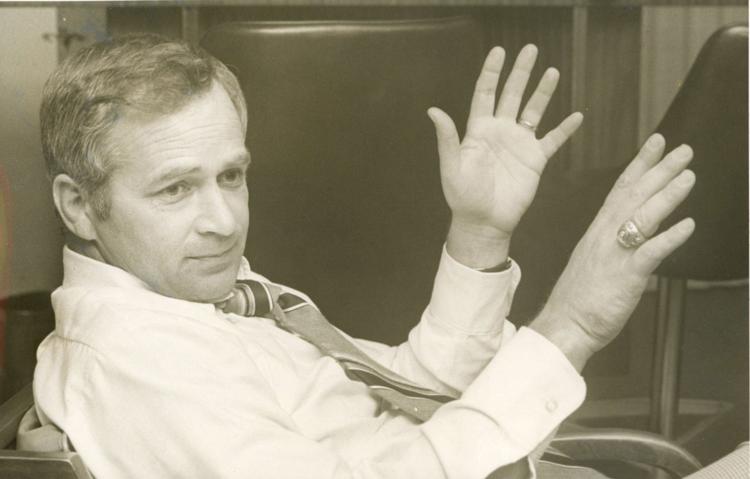 The column was dated Feb. 6, 1994 and was about Charley Pell's failed attempt to end his life. I'm not inclined to kick the where's and why's around here, but some memories of the good times with a close friend came calling ...
I FIRST KNEW Pell as a graduate assistant coach at Alabama. Moving quickly, Pell was then hired by the late Charlie Bradshaw at the University of Kentucky.
The late Jim Blevins had just been fired as head football coach at Jacksonville State when, on a Friday morning, the phone rang on my desk.
I called the late Dr. Houston Cole, president at JSU, and passed along the message ...
"Tell Charley to be in my office at 9 in the morning and we'll talk."
"I'm on my way. I'll call you when I get there."
We met for dinner, talked into the wee hours of the morning in his motel room. I wouldn't hear from Charley again for three days.
After his meeting with Cole, I couldn't find Charley. I called his parents in Albertville, they had no idea. I called Cole. His secretary said he was "out and can't be reached."
I knew Charley had the job, said so in a Sunday story, and got the jitters Monday when someone said they'd seen Jim Glover, head coach at Etowah, in the motel parking lot.
The jitters went away when Pell drove up.
PELL TURNED JSU into a national power ... and again the phone on my desk rang in Charley:
"Meet me at Lee's at 11:30. I'll buy lunch."
I was there at 11:30, Charley wasn't there at noon. I left a nasty note, headed for home. It is 12:30, the doorbell rings. I tell Charley he is not welcome, that I am no longer covering JSU, another writer would be in touch.
In less than 10 minutes, Charley Pell is sitting at my kitchen table drinking a Bloody Mary and I'm cooking up eggs and bacon for our lunch.
Charley Pell could charm the chrome off a trailer hitch. I often said if Pell wanted a player, he'd go have a few drinks with the daddy, help the mother wash the dishes, and take the kid home with him.
IT IS THE spring of 2001. Pell's coaching career, including head jobs at Clemson and Florida, are in the rearview mirror.
He and wife Ward have taken up residence in Southside, Ala. Pell has lung cancer.
Ten days or so before he dies, I pick up a bucket of Kentucky Fried and head to Charley's for lunch.
It is my last visit with a dear friend. I think both of us knew it. But there is no playing of old times, of good times and bad times. Football is barely mentioned.
What we do is talk about God and faith and the final curtain. Mostly, I listen to Charley, learn his near death by his own hand led him back to the God of his childhood. When I leave, I know one thing:
Charley Pell was headed for a better place ...
Why this? I read Sad times for an old friend three times ... and was as moved as the last day I spent with Charley Pell.