To love is to grieve . . .
For Jack Thomas the loving began in his 16th year.
"I was 15, maybe 16. The school house at Clanton had burned and we were having classes in the basement of a church. That's the first time I saw her.
"One look was enough. I had a sweetheart, but I told myself 'That's the girl for me.'"
The grieving began for Jack Thomas when Opal Acton Thomas slipped away just after midnight on Dec. 26, this past year. In the rear view mirror was 72 years of love through two sons, 25 moves, and finally a last stop in a comfortable three bedroom in Saks.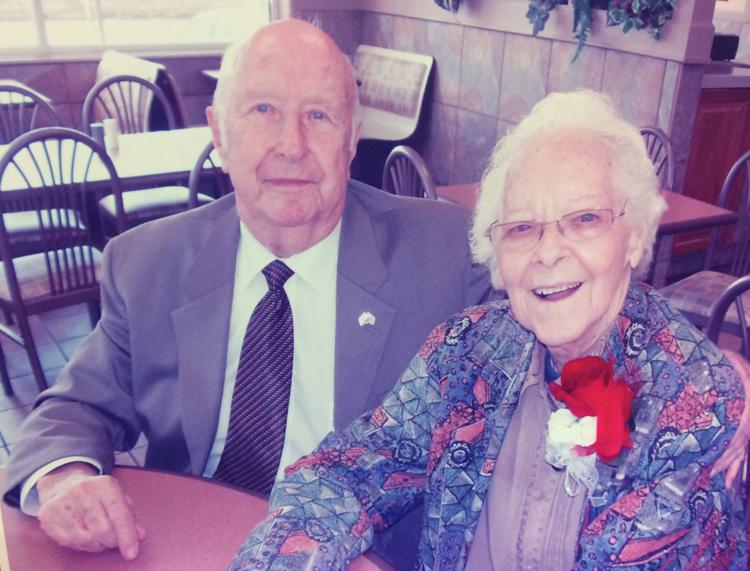 For Jack Thomas, that is merely a line in long ago wedding vows. Death was the finish line for a great American love story, but death did not part Jack and Opal:
"She loved to go to Cheaha when the leaves were turning. We'd pick up a biscuit in Munford and drive across the mountain. We camped all over the Southeast for years.
"I miss her something fierce and I tell her that every day, usually when I'm driving around. I talk to her all the time."
In those drives, in every day's grieving and missing, I suspect Opal Acton Thomas talks to Jack Thomas.
Pictures on the walls and pictures in frames sitting on end tables and coffee tables and a bunch of other places say that she still lives in the home in Saks as well as in Jack Thomas' heart.
A line from a country song comes to mind:
He was, in the beginning, military . . .
"I moved her 25 times in three different countries."
Sometimes the moves were quicker than the next breath. Like  a honeymoon night. Their son Jack Jr. tells the story:
"Driving between Prattville and Clanton, Dad turned to Mom and said 'Do you want to get married?' She said yes, so Dad did a u-turn, went to a drug store to buy a ring, found two witnesses, and woke up the pastor at the First Baptist Church of Prattville.
"Later that night they drove back to my grandfather's house. It was raining. Granddad answered the door. When Dad told Granddad they were married, he was speechless . . . but then said 'Well, come in out of the rain.'
"Dad caught a bus the next morning to return to Jacksonville (Fla.) with a ring on his finger to a ship headed for the South Pacific."
The drugstore ring made it through the remainder of World War II, which ended with Jack on a ship headed for an invasion of Japan. In the following years of "we had to move yesterday," Jack Thomas replaced the drugstore ring several times, each bigger and more expensive than the last.
Now in the Air Force, after World War II, when Jack left for the next assignment, Opal was with him. Their journeys led to the Philippines, the Panama Canal Zone, and enough states for a State Farm Atlas. Also along the way Jack and Opal picked up some extra luggage, sons Jack Jr. and Steve.
I don't know if Jack gave Opal another ring on their 52nd or not, but he gave her something I suspect Opal treasured above the diamonds on her hand.
He wrote her a poem. It hangs on a wall as you turn into a bath down the hall.
Just a touch of a lover's heart for his lover after 52 years. In part:
"Our love still grows as much as the start,
"The good times and memories are alive in our hearts,
"We are as committed today as if it were new,
"As we celebrate our wonderful fifty-two."
In recent years I'd see them from time to time having breakfast at Jack's on Quintard. They always sat side-by-side, not across from each other.
"I guess it was because I always wanted to be close to her."
He still is . . . and believes she still feels the same . . . after all the years and a last goodbye on Dec. 26, 2017.
So this morning, as you sit across the table from "yours," say a thank you for such as "theirs."