"If you live to be a hundred you've got it made. Few people die past that age." – George Burns
Put that in stone and it's going to be a while before they send a black hearse out to NHC Assisted Living to pick up J. C. Lindley for his last ride.
Friday Lindley notched his 102nd year.
Roll that one around in your head. The birthing date for a Randolph County farm baby was July 20, 1916, the United States  has yet to enter World War I, electricity and indoor plumbing are 15 miles away in Lineville, and a date with his first mule is still eight years away.
And, 102 years later, July 20, 2018, he can still drive a car:
"I still have my mind, haven't lost anything but my money."
Longevity is not just another word in Webster for Lindley's family. His sister Bessie lived to be 101, his father lived to be 102.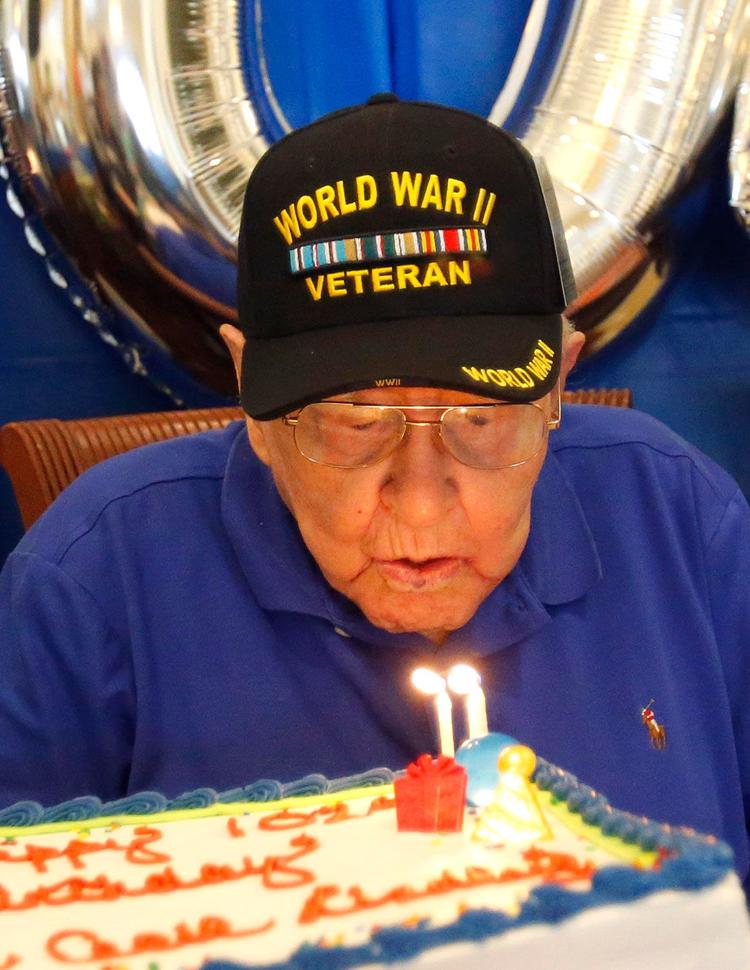 From mule boy to his retirement from vocational education back in 1982 has been mostly good, but there were some sad times along the way. He lost one of his two sons in an accident at age 39. His first wife died in 1993 after 50 years of marriage.
Another stall in his career came in 1942 when he was drafted into the Army Air Force and wound up in Sydney, Australia.
Putting it another way, J. C. Lindley was pretty much the story of rural South life from back there to here.
His climb up the ladder in his profession is a ride too long to be covered in this space.
A skip into a career in vocational education came when he walked away from the Anniston Ordinance Depot  and too little pay.
"I was married and making $1,800 a year. Couldn't make it. Went to Anniston High and was hired in the vocational department. Made $2,800 a year . . . $1,000 a year raise."
Before that there was two years at Snead Junior College, two years at Jacksonville Normal (now JSU), and a Masters in vocational education from the University of Alabama.
"I was about four years old. We lived on a hill. Mother was scared of storms so the house was moved down in a hollow. Cut it in half and slid it down the hill.
"A tornado blew our roof off when I was 16.  I helped daddy build us a new house. We lived in the smokehouse on a dirt floor while we built the house."
When he left the farm he headed for Snead Junior College, got aid, but also had to work for that aid:
"Played basketball there and , was the sixth man on the basketball team at Jacksonville.
"Worked on a farm, hopped tables. After work and on Saturdays we helped the carpenters build Daugette Hall. I didn't have to pay a penny.
 "I remember we went to a tournament in Kentucky once, stayed in a boarding house. Our coach was J. W. Stephenson. I slept with him and he wiggled all night."
Another part of growing up in the rural South in the 1920s was church.
"I was raised in the (Methodist) church. I can't say I'm deeply religious but deep enough. I believe like believing the sun going down in the evening.
"When I was coming up, had nowhere to go but to church and to singings. We'd go to singings and get around somebody's piano and sing."
Music, especially gospel, is Lindley's passion.
He's no George Beverly Shea, but he's pretty good. He gave me two pieces of proof, a couple of self-made CD's.
One is entitled J. C. Lindley Singing Gospel Songs In His Nineties."
Shea was "just 104" when he died and don't bet Mr. Lindley doesn't catch up and the two duet on their favorite song:
OK, I just jumped overboard a bit, but I like the idea and I like what J. C. Lindley sees in his rearview mirror:
"I see a good life, a happy life. I wouldn't have done anything else. If I had it to do over again, I'd do the same thing."
With NHC in MY rearview mirror, that line from Casablanca kept running through my mind:
Wouldn't surprise me one bit if J. C. Lindley will be singing again at his 103 . . .