There's a small table sitting against the wall in the den.
The top is 23.5 inches by 23.5 inches. From the top to the floor it is 30 inches. The legs tilt out from top to bottom, are round, and have a spool effect. A shelf halfway down is pegged into the legs.
The table is of oak. I love oak, the blonde hates oak, which is just one of the things we see differently. I am man, she is woman, and I guess that explains that.
Now, if you still have Friday's paper, turn to page 1D. You'll see pets to be adopted and a picture of the Anniston Library's bookmobile. It is two-tone white on blue. A long shelf of colorful books is on its sides. The bookmobile's stops are listed.
So what does a table against a wall have to do with a lending library on wheels? From a Jan. 20, 1943, story in The Star:
"Mrs. Marguerite Edwards died this morning at Garner Hospital after a short illness.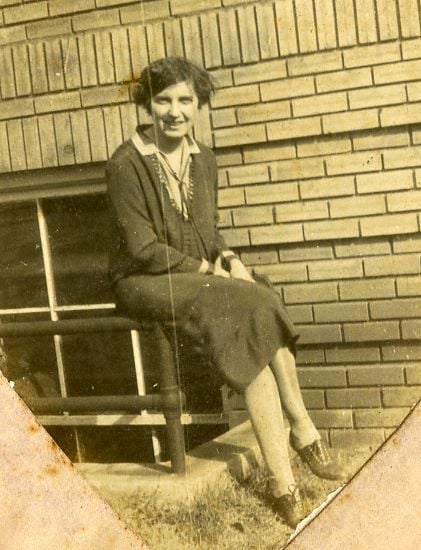 "Since she was appointed county librarian in 1929, Mrs. Edwards has been one of the most loved women in the area. When she began her work the library quarters were in a stuffy room in the basement of the courthouse."
Now fast forward to more of the obit from 1943:
"Today the county library is a show place of the courthouse ... and people from the county come to the courthouse to go to the library. All over the county, too, goes the 'bookmobile,' which Mrs. Edwards fought for, and got ...  into countless homes even in remote sections of this county now go worthwhile books. In 70 communities in this county citizens have petitioned and are operating branch stations of the county library."
The rest of the story ...
IT IS OCTOBER, 1933, and a sometime sawmiller-carpenter-sharecropper by the name of Bernard Houston Smith has told a preacher's daughter, Flora Cobb, enough lies to get her in front of a preacher. He must have done a darn fine job because the preacher was her father.
It is a part of our family's lore that the oak table sitting against the wall in our den was a wedding present from Marguerite Edwards. She is supposed to have told my mother that the table belonged to her grandmother.
I was first of five kids born to B.H. and Flora Smith.  A third child, a girl, was named after Mrs. Edwards, who was known as Margaret instead of Marguerite. Or maybe my parents misunderstood "Margaret" for Marguerite.
Margaret Alice Smith was born June 6, 1941, in Houston, Texas. Dad's efforts to feed a growing family had led to Texas for work in the Galveston shipyards.
When we came home in early 1942 in a two-door, dark green, '39 Ford, Mom held Margaret in her lap the whole way. Me and a sister, Mary Jo, made the trip atop our belongings piled in the back seat.
We lost Margaret Alice, a good-looking brunette, Aug. 15, 1965, in a car accident just this side of Tallapoosa, Ga. She and a "steady" whose name is lost in the past, had lunch with Mom and Dad that Sunday, left to visit the Cyclorama in Atlanta. The accident, in a rainstorm, happened on the way back ... for supper with Mom and Dad.
When I look at the small table against the wall in our den, I think of Houston and a '39 Ford and a small baby girl sleeping in my mother's arms as we drive from daylight into night and into a dawning in my grandfather's yard ... the preacher who had given his daughter's hand in marriage to a sometime sawmiller-carpenter-sharecropper back in '33.
I also hold close the memory of a dark-haired brunette who was just as beautiful on the inside as she was outside.
Golfer Gary Player once said that "memories are the soft pillows of our lives." They can also be sad.
I loved Margaret Alice Smith ... and I love the oak table against the wall in our den, too.