CRIMINALIZING MENTAL ILLNESS
Forty percent of county jail inmates mentally ill
'These people don't belong in jail,' says sheriff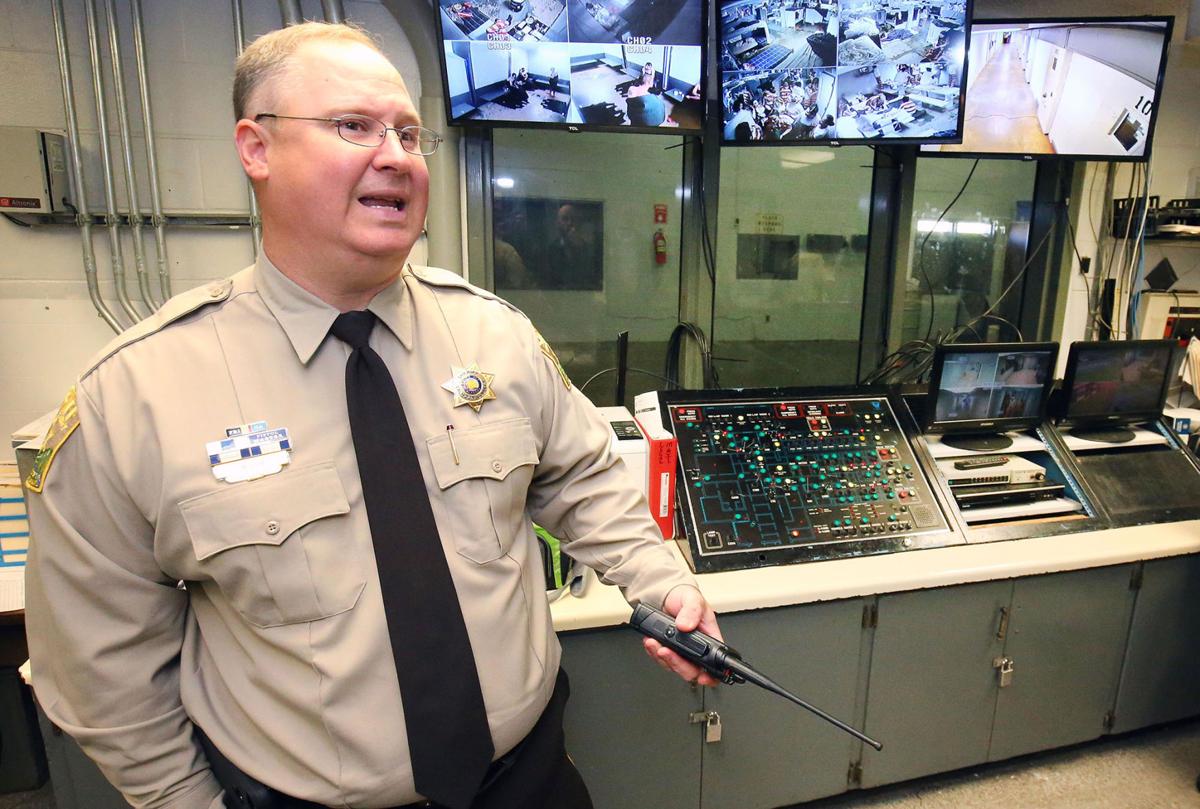 The defendant, Jordan Stewart Baker, remained in the Calhoun County Jail this week on three murder charges, reckless driving, attempting to elude and first-degree theft, according to court records.  
"If he'd been taken care of properly from the beginning this might not have happened," Calhoun County Sheriff Matthew Wade said earlier this month.
Cases like Baker's, in which offenders suffering from mental illness harm others, are becoming an all-too-familiar narrative for law enforcement officials, Sheriff's Office Chief Deputy Jon Garlick said earlier this month. Garlick is the county's mental health officer, but he doesn't have as much power to commit patients as he feels he needs.
"Something's got to change," he said.
About 200 of the Calhoun County Jail's 500 inmates have a diagnosable mental illness, including drug addiction, and about 10 percent of those have a severe personality disorder, Garlick said.
The chief deputy, however, said those people should be in the care of mental health professionals who can give them individualized attention and medical care, unlike jail staff who attend to about 500 people on a daily average.  
"The state has successfully criminalized mental illness," he said on Thursday.
Garlick has had enough and he said the state needs to "suck it up and spend the money to build more beds." Mental health professionals, however, say there also needs to be better preventive care for patients.
Locally, Garlick has few options of where to take patients in a crisis, he said. Regional Medical Center stopped taking patients without a court order about two years ago, the chief deputy said, and it can be difficult to get patients to the state-funded Highland Health Systems in Alexandria outside of regular business hours.
Many people who don't receive the treatment they need end up committing crimes, and their care falls on the medical staff at the Calhoun County Jail, Wade said.
"These people don't belong in jail," Wade said. "They have a disease and they can't help that."
Garlick said it's that percentage without services that often commit crimes.
As the mental health officer, Garlick helps patients or families of patients find mental health resources. He also used to be able to respond to someone in a crisis and get them into a treatment facility for a 72-hour hold, but that's no longer the case, he said.
Until 2015, Garlick could take a patient in crisis to RMC, where that person would be medically cleared of any other illnesses or conditions in the emergency room before being given a bed and treated by a mental health professional, the chief deputy said. But according to state law, the patient must be taken to a "designated mental health facility."
"RMC is not designated," Garlick said. "They were technically within their rights to refuse our 72-hour holds."
Joe Weaver, CEO of Stringfellow Memorial Hospital in Anniston, which RMC operates, said by phone on Friday that he'd not been included in any conversations about the 72-hour holds.
"That's more of a clinical issue," he said.
According to state law, the Department of Mental Health decides which facilities become designated, and the facilities that do so must adhere to standards written by the department. Designated mental health facilities have been the Mental Health Department's answer to the closing of its psychiatric hospitals in recent years.
Weaver said he was unaware of any discussions "in a formal setting" about becoming designated. Dr. Andrea Thomas, director of the psychiatry department at RMC, said she'd like RMC to become designated.
"Every other hospital I've worked at in the state is designated," she said. "That's something we're looking at."
Thomas said she had conversations with RMC officials about the benefits and downsides of becoming designated.
"Being designated gives you more flexibility," she said, explaining that committed patients who are waiting on beds at a state hospital are in stable condition, they can be released.
On the downside, becoming designated opens up the hospital to more patients, some of whom can be violent, Thomas said.
"For the most part though, I don't see a downside to becoming designated," she said.
Since 2012, the state has closed Searcy Hospital in Mount Vernon, Greil Montgomery Psychiatric Hospital and North Alabama Regional Hospital in Decatur. Only the Tuscaloosa-based facilities Bryce Hospital, Mary Starke Harper Geriatric Psychiatry Center and the Taylor Hardin Secure Medical Facility for the criminally mentally ill remain.
The smaller facilities, spread around the state, are designed to save the state money and provide more localized mental health care. Efforts to reach the commissioner of the department were unsuccessful.
Highland Health Systems, which operates a 16-bed facility in Alexandria, is one of those designated mental health facilities. The facility, however, is often full of court-ordered commitments, and when there is an open bed the patient can only be committed after being medically cleared, Garlick said.
"During business hours they can check them there but outside of those hours they don't have the personnel to do a physical," he said. "And those that do get a physical can be denied a bed for just having high blood pressure."
Efforts to reach Mickey Turner, director of Highland Health, were unsuccessful.
Without those 72-hour holds, families of those suffering from mental illness are often left with no options, the chief deputy said.
"If they are financially able, family members can get patients into another private facility but even then, the patient can deny services and without a court order the facility has to respect that," Garlick said. "That's when patients often end up committing crimes.
---
---
​Staff writer Kirsten Fiscus: 256-235-3563. On Twitter @kfiscus_star.