After rain closed roads and delayed school across Northeast Alabama on Monday, forecasters say storms coming later this week could flood the area again.
Meteorologist Daniel Martin, who works at the National Weather Service office in Calera, said Tuesday the area is expected to see between 1 inch and 1½ inches of rain from thunderstorms late Wednesday night through early Thursday morning.
"Even just an inch of rain is enough to cause localized flooding, because the ground is so saturated," Martin said.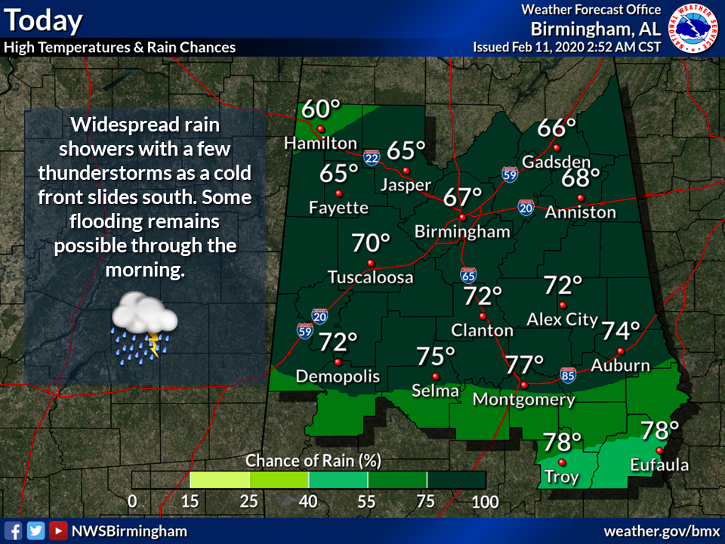 The weather services issued a flood watch Tuesday afternoon, which will be in effect between 4 p.m. Wednesday and 6 a.m. Thursday.
Martin said the thunderstorms might also pose a low risk for damaging winds and tornadoes, particularly between 3 a.m. and 9 a.m. Thursday.
Until then, Martin said, the area will likely see a few scattered showers Tuesday and a 30 to 40 percent chance of rain during the day Wednesday.
Northeast Alabama was under a flash flood warning Monday until 8:30 p.m., as heavy rain continued to fall.
Photos: Heavy rain in Northeast Alabama
Photos of the rain and cold in North East Alabama Monday.
The National Weather Service issued the warning at 2:30 p.m., moving up from a flash flood watch that was set to expire Tuesday night and an areal flood watch — in which flooding happens over a long time — set to expire later Monday evening. The warning included Calhoun, Talladega and St. Clair counties. 
By this afternoon, Monday, Feb. 10, Talladega and St. Clair counties had already gotten a pretty thorough soaking, and the National Weather Se…
"A warning means we've gotten a report of flooding or it's very likely to occur soon," Gerald Satterwhite, also a meteorologist at the weather service office in Calera, said Tuesday. "It's time to take action for people that are in those flood-prone areas or who have seen flooding nearby." 
About 2.11 inches of rain fell from 8 a.m. to 4 p.m. Monday at the Anniston Metropolitan Airport, according to data from the National Weather Service's automated station there.
Myles Chamblee, an officer of the Calhoun County Emergency Management Agency, said Monday there were reports of flooding in Anniston, and the Sheriff's Office had reported flooding on Post Oak Road and Cameron Court off of U.S. 431 in Alexandria.  
Anniston officials reported through the city's Facebook page that flooding had impacted several roadways, including Black, Gurnee, 11th, West 13th and West 15th streets, and Duncan Avenue. 
Oxford police had closed off Recreation Drive by 4 p.m. Monday near its intersection with McCullars Lane in the area of the Oxford Civic Center. Ball fields near the civic center had been flooded. Oxford Fire chief Gary Sparks said that Recreation Drive was one of three roads flooded; the others were Wilson-Willingham Road in Coldwater and part of Ponderosa Trail in Eastaboga.
"That number's probably going to rise as the rain keeps falling," Sparks said.
If there is flooding later this week, Martin said Tuesday, locals are urged to stay indoors. If they have to drive, Martin urged motorists to avoid areas that are prone to flooding and to stay aware of their surroundings.
"It could still be dark," Martin said. "I know throughout Central Alabama there were so many roads flooded that they ran out of barricades."