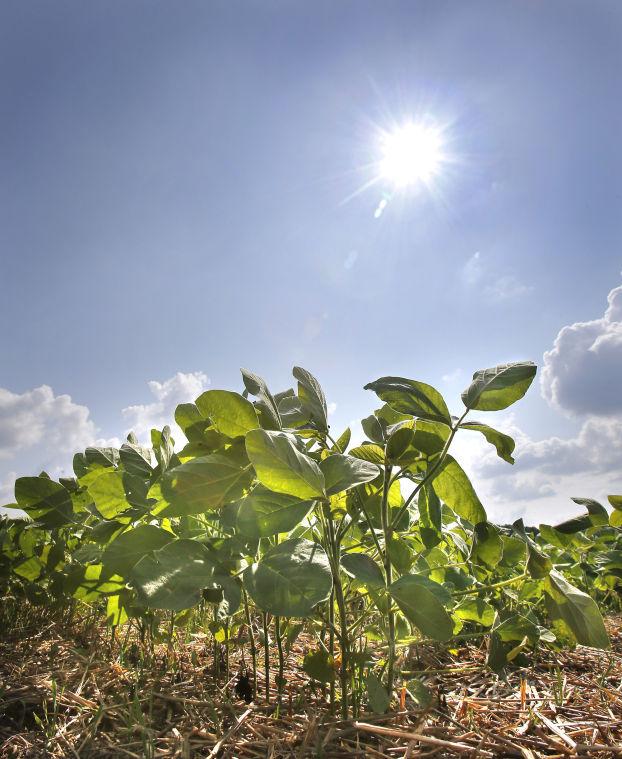 Doug Trantham says he supports a trade war with China for its long-term effects, even if it has a negative short-term effect on farmers like him.
"In the long run, when this is all settled, it will be better for the agricultural industry," said Trantham, vice president of Trantham Farms in Alexandria. "We just have to work through it so that everyone is trading fairly."
Trantham's soybeans and cotton, along with a number of other products from Alabama farms, are on the list of American products China plans to hit with $60 billion in tariff increases announced Monday. This was in response to President Donald Trump's $200 billion tariff increase placed on Chinese products last week.
This tit-for-tat placement of tariffs has been occurring since January 2018 after many years of unlawful Chinese trade practices that harm U.S. businesses, according to Trump. China believes the United States is no better, calling U.S. trade practices "unilateralism" and "protectionism," according to a document released by the Chinese Embassy in the United States last March.
Agriculture produced in Alabama that could face higher tariffs include: chicken eggs, potatoes, sweet potatoes, sweet corn, tomatoes, peaches, blueberries, apples, strawberries, soybeans and cotton, according to a list provided by the office of the United States Trade Representative.
Doug Gibbs, the operations manager at Gibbs Farms in Ranburne,believes the trade war is hurting everybody, but the hurt is nothing new. While his farm produces cattle, a commodity not directly affected by the tariffs, he has friends and family who do produce commodities facing higher tariffs.
"I am a farmer. Everybody I know and work around is a farmer," he said. "We are ready to get this stuff over with."
Gibbs said he believes China is purposely targeting retaliatory tariffs at Trump voters, since farmers tend to be more conservative politically, instead of trying to reach a fair deal. While he says the tariffs hurt local farmers a little, the hurt is worth the United States not backing down to China and their threats.
"It's not good for anybody, but letting a bully pick on you all the time and turning the other cheek isn't good either," Gibbs said.
Henry Kinnucan, graduate program officer for the department of agricultural economics and rural sociology at Auburn University, acknowledges that China's trade practices "need to be dealt with" but he is skeptical of the efficacy of targeted tariffs.
"It's good that Trump is calling them in to account for some of their trade practices, but the better approach is through negotiation," Kinnucan said. "Trump does not have the luxury of keeping this going forever. The Chinese have the ability to play this out in the long term and they will."
Sherman Robinson, non-resident senior fellow at the Peterson Institute for International Economics, is also concerned about the long-term effects of the trade war. Robinson agrees that China creates serious problems by trading outside of the World Trade Organization, but he does not want the U.S. to appear to be an "unsafe trading partner."
"These are not one-time deals to build a hotel. These are ongoing negotiations on trade," Robinson said. "If you are perceived as unstable and untrustworthy, nobody will negotiate with you."
One of the problems with a trade war is the tense trading environment created around the world, according to Robinson.
"Eventually the world market will re-adjust around it, but that takes time and it is costly," Robinson said. "In the meantime, we get hurt."
State agriculture commissioner Rick Pate believes most local farmers are optimistic about the future of their business. Instead of focusing on the products that are struggling due to higher tariffs, like soybeans, they are taking advantage of products that are doing well in the market, like livestock, he said.
"When something is down, something else is up," Pate said.
According to the U.S. Department of Agriculture, poultry and cattle currently account for over 80 percent of Alabama's agriculture sales. In a survey conducted in 2017, cattle products alone were valued at over $4 million, a $600,000 jump from information gathered in 2016. Soybeans, on the other hand, saw a $26 million decline in production from 2017 to 2018.
Kinnucan, on the other hand, is not as optimistic as the farmers. He is concerned about the farmers' livelihood if trade is diverted. If China can't buy directly from the U.S. without increased prices, then it will buy U.S. products from other countries who buy American products without tariffs. He says this is risky because it could potentially cut the U.S. out of their trading market completely.
"Bless those farmers for their faith," Kinnucan said. "I hope they are right because farming is a tough business, but I am fearful that they are being let down."
Earlier this week, Trump mentioned providing up to $20 billion worth of assistance to farmers, possibly through direct payments and commodity purchases to help offset the loss of revenue because of the effects of the trade war.
Sen. Doug Jones, D-Ala., has also proposed amendments to the Trade Adjustment Assistance program to allow farmers who have been hurt by the trade war to be eligible for government assistance. Under the current program, farmers "whose exports are hurt by changing policies and retaliatory tariffs" are not eligible for aid, according to Jones.
According to reports in various media, Trump said Monday he will talk to China's president Xi Jinping at the G20 summit in Japan in late June.