There will be a new face on the bench in Calhoun County soon, as a prosecutor unseated an incumbent judge Tuesday evening in the Republican primary elections, and another incumbent easily bested a challenger.
Assistant District Attorney Randy Moeller defeated Place 2 District Judge Chris McIntyre with 61 percent of the vote as of 10 p.m. Tuesday. District Judge Tom Wright, meanwhile, defeated McIntyre's mother, Marilyn Hudson, to keep his Place 1 seat.
"This is a statement by the voters," Moeller said. "They want their courtrooms run efficiently and fairly. I will reduce that backlog."
Moeller brings nearly 25 years of experience to the Place 2 bench as both a defense attorney and prosecutor. McIntyre, 39, took the bench in 2012 after working in private practice and serving as a prosecutor for the city of Jacksonville.
Efforts to reach McIntyre on Tuesday evening were unsuccessful.
Moeller spent the evening surrounded by family, friends and other attorneys as they watched the numbers roll in. District Judge Tom Wright not only celebrated with Moeller in the prosecutor's victory, but also celebrated his own.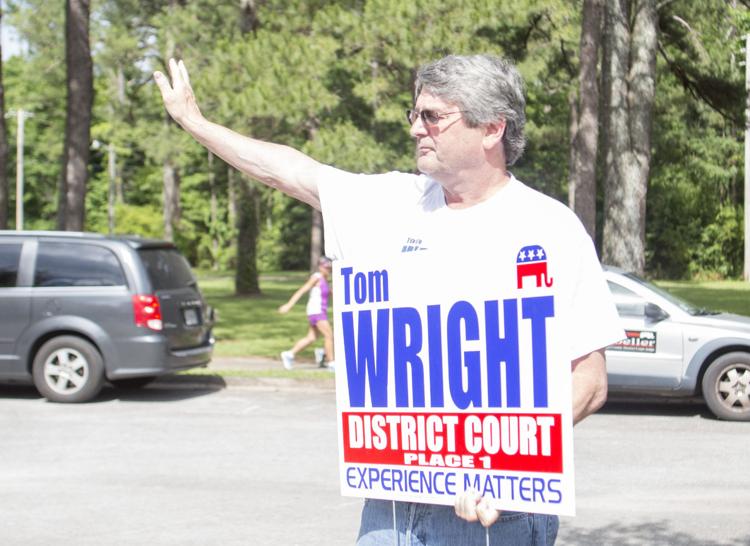 Wright, 56, was appointed to the family court seat in December 2016 after Judge Laura Phillips retired. The judge took on Jacksonville attorney Marilyn Hudson, 68, in the primary defeating her in a landslide with 70 percent of the vote.
"It's hard to celebrate," Wright said. "This race was so distasteful."
Hudson accused Wright of lying about his 30 years of experience, being involved in a backroom deal with former Gov. Robert Bentley for his appointment and having friends harass her and her family, including her son McIntyre. Wright denied the accusations and defended himself throughout the campaign.
Attempts to reach Hudson were unsuccessful.
"I have always trusted in the people of Calhoun County," Wright said. "I trusted them to do the right thing and they have. I look forward to serving the people and children of Calhoun County again."
Wright added that he was happy Moeller would be taking the bench.
"I'm proud of Randy and I look forward to working with him," he said.