Ten special-needs students are preparing for full-time jobs following their graduation Wednesday from Project Search, a program at Regional Medical Center.
"In high school, everyone saw us with, well, our disabilities or our little tiny little problems," said Caitlin Hilderbrand, an intern in the program. "Then, we got into Project Search and they taught us, even with our disabilities. We still made it. We still got a job because of our disabilities."
Project Search is an immersive school-to-work training program for students with disabilities, said Louis Bass, chief executive officer of RMC. Some Calhoun County schools help students enroll in the program.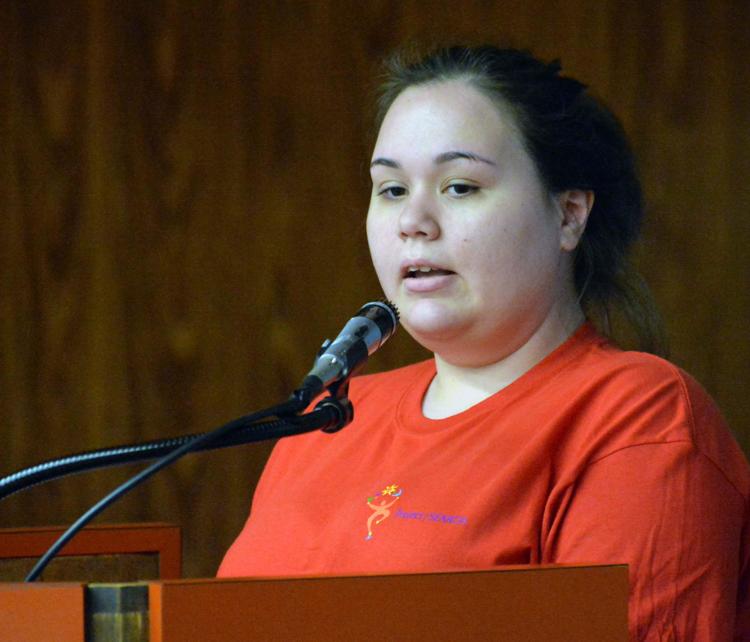 Hilderbrand shared that she and other students had heard negative comments from other students in high school about their ability to get jobs and "make it in this world," but that Project Search boosted their confidence.
"So, even though we can't learn fast, we talk loud, we can't walk straight or even are in a wheelchair, we still made it," she said. "We're the proof. We proved those haters wrong."
Bass said the program exceeded the expectations of everyone at RMC.
"We were not sure exactly what we were getting into. We didn't really know what to expect," Bass said. "But I'll tell you what, I think the last two years this program has been praised by our staff and by our team leaders. These are some of the best students that we have ever seen, so we are so proud of all these graduates."
Twelve special needs students completed a 9-month program with RMC. Some will transition to full-time jobs following the program. pic.twitter.com/O1CVccGnyu

— Tori Bedsole (@ToriBedsole) May 15, 2019
This is the second year for the program, and Michele Williams, skills training instructor for the Opportunity Center, said she hopes to see the program continue to grow.
"We had 13 departments participating in the program this year," Williams said. "That is up from the 10 that participated last year, and we already have more on the board for next year."
Students were able to work in multiple departments, ranging from radiology and respiratory services to security and occupational health.
Graduate Bradley Green landed a job at Jack's on Quintard Avenue through the program.
"We just want to say how proud we are to have Bradley as part of our team at Jack's in Anniston," said Amy Cook, assistant manager of Jack's. "Bradley has been a great asset to our company. He is always friendly, not only with his fellow employees, but with customers as well."
Cook said Green does everything he can to make his co-workers' days better.
"Any help that he offers is always with a kind word," she said. "We are appreciative of the hard work Bradley puts into his job."
Jennifer Moon, transition coordinator for the Calhoun County Board of Education, said the program will also be welcoming more students next year.
"We have invited Oxford City Schools to participate in the program, and they will be bringing at least one student in next year," Moon said.
Guest speaker Danny Shears encouraged the students to volunteer in the community.
"Some of the best times in your life will come from volunteering," Shears said. "You will make some of your favorite memories from volunteering to help somebody. You can take it to the bank.
"You can make a difference, even with the little things."
Graduates of the program were Kristen Browning, Bradley Green, Colton Harris, Caitlin Hilderbrand, Patrick Ireland, Hannah McCurry, Luke Sasser, Jordan Stolworthly, Gavin Whitt and Hunter Willingham.