About two-thirds of Alabama's 2015 graduates went on to college, according to a study released Tuesday, a figure not matched by most of Calhoun County's public schools.
Jacksonville and Oxford were the only schools to post higher percentages than the state as a whole, though most schools sent at least half their graduates on to college in 2015.
That study, released by the Public Affairs Research Council of Alabama, used data from the Alabama Commission on Higher Education to show how many of the state's children further their education the year after high school graduation.
PARCA's study shows that statewide, of  those students in the graduating class of 2015, 64 percent enrolled in higher education: 32 percent at a two-year college, 32 percent at a 4-year institution. Meanwhile, 36 percent did not enroll in that first year after graduation.
Thomas Spencer, senior research associate at PARCA, said by phone Tuesday that the study showed a slight reduction in the number of students statewide who went on to two-year colleges. He suspects that's because many of those students took advantage of an improving economy and went straight into jobs after high school.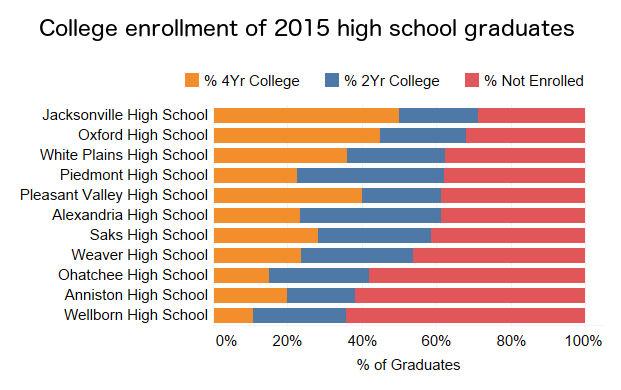 Poverty continues to play a role in college attendance rates, Spencer said. Students from higher-income families tend to go to college in larger numbers than do children from lower-income families, he said. The reason for that disparity includes the cost to attend, and the expectation among parents who attended college for their children to do so as well, he said.  
The state did have more students graduating high school in 2015, the study notes, with 89 percent doing so. The number of those graduates who did not enroll in college the year after graduation also increased, however, Spencer said.
According to those numbers, Jacksonville High school ranks highest among the eleven public high schools in Calhoun County, sending all but 29 percent of graduating seniors in 2015 on to college.
Of those 2015 Jacksonville graduates, perhaps not surprisingly the local high school closest to Jacksonville State University, half went to four-year universities, while 21 percent went to two-year colleges.
Attempts to reach Jacksonville schools Superintendent Mark Petersen were unsuccessful Tuesday.  
Piedmont superintendent Matt Akin said by phone Tuesday that the number of Piedmont High graduates attending college, which ranked third among local schools, shows the system's efforts to get students ready for college and see them attend. Piedmont sent 39 percent of its 2015 graduates to two-year colleges and 23 percent to four-year schools.
"Last year 100 percent of our senior class applied to college. That had been our goal. Let's make sure everyone applies," Akin said, but "our goal now is to make sure they go."  
School administrators and staff are doing so, Akin said, by focusing on building curriculum to include more online class offerings, and by continuing the system's dual-enrollment program with Jacksonville State University and Gadsden State Community College.
Akin said poverty rates certainly have an affect on college attendance after high school, but so too does access to transportation. Akin said he would like to see community leaders support a public transportation system to help local students get to local colleges.
"JSU is really close, but it's still 20 miles away," Akin said. "That's a  big deal if you have just one car in the family. I'm sure that kids in Ohatchee are having the same problems as kids in Piedmont."