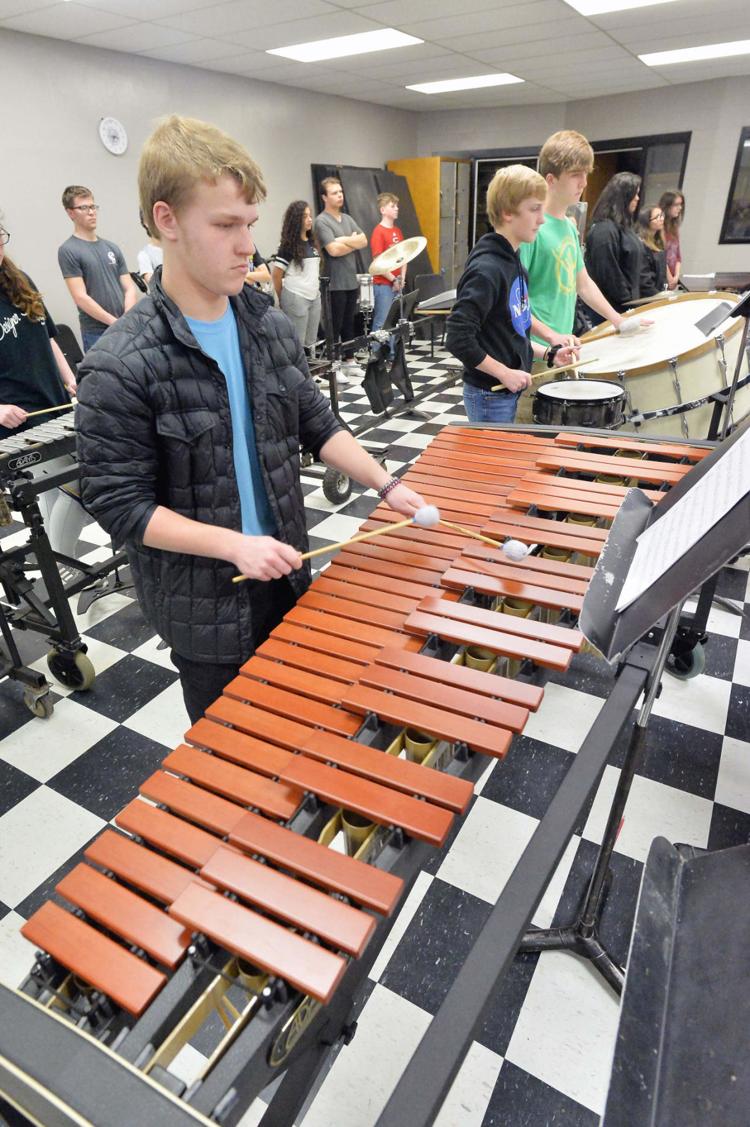 HEFLIN — The rich and velvety tones of a marimba filled the band room at Cleburne County High School Monday morning as the band celebrated receipt of a grant to purchase musical instruments.
The Coosa Valley Resource Conservation and Development Council awarded the Cleburne County band $3,500 to purchase percussion instruments, according to volunteer percussion instructor Mark Truett.
The band purchased a giant concert grand marimba with the grant money. A marimba is similar to a xylophone but its wooden bars, which musicians strike with rubber mallets, are pitched to lower tones. Last year the band purchased a glockenspiel and drums with another grant from the same council.
Truett said the grant money allowed the percussion section to grow from 12 to 24 members in a short amount of time.
"I hope we can keep growing and I hope we can start to see some kids getting some scholarships and going onto college, and that's what I'm trying to prepare them for," Truett said.  
Heidi Richards, executive director of Coosa Valley Resource Conservation and Development, said the organization has celebrations when the grant process is complete. She said other Cleburne County grants include a walking track at the Rosewood Community Center in the northern part of the county and an outdoor classroom at Cahulga Creek Park in Heflin.
Cleburne County High School student plays a new marimba the band purchased with a $3,500 grant from the Coosa Valley Conservation and Development Council Monday morning. pic.twitter.com/g72OiW6W5l

— Bill Wilson (@bwilson_star) May 6, 2019
Richards said she hopes the money the school has received over the past two years will help students.
"It's exciting and it will help them to compete for scholarships," Richards said.
Randy Price, state senator for District 13, which includes Cleburne County, was invited to the celebration.
"We're glad to be here to support the band program and another opportunity to support Cleburne County Schools and that's why we're here today," he said.
Doug Baker, Cleburne County High band director, said it's imperative for the students to have instruments to play. Baker said that the marimba was used in the band's spring concert.
During the celebration, the band performed three selections. The new marimba added deep and rich tones to the performance.