JACKSONVILLE — Alex Rocco already knew how he would use the $200 prize he received Friday for winning the best research paper in the graduate division of Jacksonville State University's annual Student Symposium.
"I'm looking at being recruited for a Ph.D. program in Florida, so I'm probably going to buy a new fly-fishing reel for when I get down there," Rocco said.
Rocco, who is scheduled to receive a master's degree in biology from JSU this spring, was one of dozens of students to present to the public a paper or poster in this year's symposium, which was the event's 25th iteration. From Wednesday through Friday morning, students were given 10-minute windows to condense countless hours of research into a precise presentation of findings at JSU's Houston Cole library.
Students from the schools of science, social studies and arts researched a wide variety of topics, while judges selected winners from each school at both undergraduate and graduate levels, who were named Friday afternoon.
"This event is all about the students and what they have done," said David Thornton, a JSU computer science professor and chair of the symposium. "We had to pick between some very different disciplines."
Rocco told an audience Wednesday afternoon of his work comparing the aggression levels of crayfish native to Alabama to an invasive species. Rocco said he had a little practice presenting before the symposium.
Photos: 2020 JSU Symposium
Photos of the 2020 JSU Symposium awards.
"I presented my research, pretty much the same powerpoint, at a national conference," Rocco said. "My adviser liked my talk and said I should submit it to the symposium."
Shelby Harris, winner of the best poster category at the undergraduate level, was no stranger to presenting research either.
"I'm a senior, and this is my third symposium," Harris said. "I just love presenting research."
The Alexandria native designed a poster to show her findings of a study of a gene and its variation that links to autism and epilepsy. A computer model of the gene and proteins helped Harris's research.
"We can run novel drugs through a simulation and tell whether the drug is going to have a good effect or a bad effect without having to push drugs to a patient or a mouse model," Harris said. "So it will save time and save having to kill mice by giving them bad drugs. That was really the point, is to be able to model the protein to find ways to better treat it."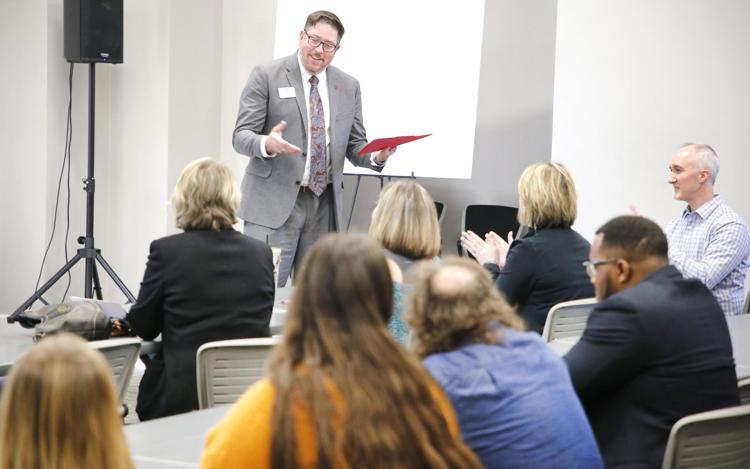 Harris said the last three years of participating in the symposium have helped her develop a love of research and higher education. She plans to pursue a master's and doctoral degrees.
"I didn't come to JSU to be a biology major, but I really just found that I love science," she said. "Just talking about science with other people and presenting it in the best way possible is really a passion of mine."
The symposium is designed to help introduce students into the higher levels of research and academic study, according to Thornton.
"You guys really are restoring our faith in humanity," Thornton told assembled students at the awards ceremony Friday. "You're the future. Even if you didn't win, you could be the one to cure cancer."